There is not really much to say about tonight's entry other than it's simple and good. Who doesn't love steak? Well, I guess some people don't but surely, they are not in their right mind (just joking!). More than steak, I love doing very little because I'm lazy. Combine little hands on time with steak and you've got a meal I'm happy to make! It does require advanced planning because of the marinading but hands on time is minimal. Pair the steaks up with mashed potatoes like we did and there you go, simple, filling, and yummy!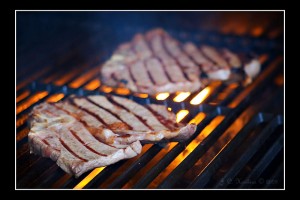 Grilled T-Bone Steaks
1 large lemon
3 tbsp olive oil
1 tsp kosher salt
1/2 tsp ground black pepper
2 thin cut T-bone steaks (one per person)
Cut the lemon in half. Squeeze the juice of one half of the lemon into a large zipper-lock bag. Reserve the other half. Add the oil, salt and black pepper. Add the two steaks, press the air out and seal the bag. Massage the marinade into the meat and refrigerate for 5 to 6 hours.
Remove the steaks from the refrigerator one hour prior to grilling to bring down to room temperature. Heat a gas grill on high for about 15 minutes (the grates should be close to 500°F). Remove the steaks from the marinade and discard the marinade. Brush the grill grates with oil and place the steaks directly above the heat source. Grill for 3 minutes per side for medium or grill to your liking.
Remove the steaks from the grates and place in a lipped cookie sheet or plate and cover with foil. Let them rest for 5 minutes before cutting. Sprinkle the steaks with the juice from the reserved lemon half before eating.
Serves 2
Simple? I think so! This is a pseud0 bistecca alla florentina but I could not be bothered to grind peppercorns with a mortar and pestle to get them to the cracked but not ground stage. It's still pretty tasty and we got our steaks from Wal Mart so goodness knows they were not the best quality!