I know that I am still pregnant with our first child and so my husband is not technically a father yet but a father to be, however, I wanted to do something special for him today. He loves chocolate and I don't like it so it's not often that he gets to eat chocolate anything, much less cake. I had been wanting to bake and decorate a cake for a while so this was the perfect opportunity.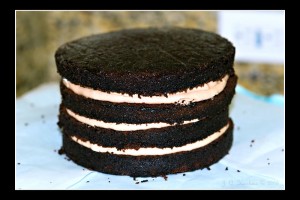 For some reason, I had a hard time deciding what I wanted the cake to look like. I knew the flavors I wanted and that it had to be covered with buttercream but because roses are not very manly, I was left with few options. To make matters worse, I couldn't put as much effort into it as I would have wanted because I have been feeling very tired lately. This baby is sucking up all my energy and all I want to do is sleep.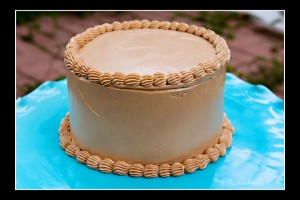 I did muster enough energy to finish the cake today and do very simple piping on it. After all, this wasn't a showpiece cake, it was simply a "you are great so here's some chocolate cake" cake. He appreciated it. It was a small cake but still too big for him to eat all by himself so I sent my mom home with almost a quarter of it and they had some here. They all loved it and my mom and grandmother keep insisting I should start making cakes for sale. If only Florida licensed home bakeries!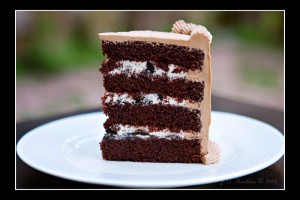 Chocolate Butter Cake with Cookies and Cream filling and Chocolate Buttercream
For the cake:
Grease and line the bottom of two 6 x 2 inch round cake pans. Preheat the oven to 350°F.
-In a bowl, combine and whisk until there are no lumps:
1/2 cup hot coffee
1/2 cup cocoa powder
-Add and whisk until smooth:
1/2 cup cold water
-On a piece of wax paper, sift together:
1 1/2 cups cake flour
1 teaspoon baking soda
1/4 teaspoon baking powder
1/4 teaspoon salt
-In the bowl of an electric mixer fitted with the paddle attachment, beat at high speed until light and fluffy:
4 oz (1 stick) unsalted butter (softened)
1 1/4 cups granulated sugar
-On medium speed, add slowly and cream well:
2 large eggs
3/4 teaspoons pure vanilla extract
Add the dry ingredients, alternating with the cocoa mixture, into the butter and egg mixture, mixing until smooth.
Pour half of the batter (2 cups) into each of the cake pans. Bake for 35 to 40 minutes or until a skewer inserted in the center comes out clean. Cool the cakes on a wire rack for 15 to 20 minutes before turning them out of their pans.
For the filling:
-In the bowl of an electric mixer attached with the wire whisk, whip at high speed until stiff:
1 1/4 cups heavy cream
1/8 cup confectioner (powder) sugar
1/4 teaspoon pure vanilla extract
-Gently fold in:
10 chocolate sandwich cookies, such as Oreos, crushed into medium pieces.
For the buttercream:
3/4 cups granulated sugar
3 large egg whites
small pinch of salt
11 oz unsalted butter, softened
3 oz semisweet chocolate, melted and cooled
In the bowl of an electric mixer, combine the sugar, egg whites and salt. Set over a pan of simmering water. Whisk constantly until the sugar has dissolved and the mixture registers 160°F on an instant read thermometer. Return the bowl to the mixer, using the wire whisk attachment, whisk on medium-high speed until stiff, glossy peaks form and the mixture is cool, about 10 minutes.
Switch to the paddle attachment. With the mixer on medium speed, add the butter 1 or 2 tablespoons at a time, mixing well after each addition. Mix, scraping the bowl as needed, until the mixture is smooth. Mix in the melted and cooled chocolate and beat until combined.
To assemble the cake:
Using a cake leveler or serrated knife, remove the domes from the cakes if necessary and split each cake into two equal layers for a total of 4. Place the one of the bottom layers on a cake stand or plate and spread some of the filling evenly on it. Place the next layer of cake on top of the filling and spread more filling on it. Repeat until you have used all 4 layers of cake, using one of the bottom layers inverted on the top of the cake for an even top. You will have filling left over.
Spread the buttercream evenly on the top and sides of the cake, smoothing as much as possible. Because of the fresh cream filling, this cake needs to be refrigerated until ready to be consumed. Any leftovers should be refrigerated as well.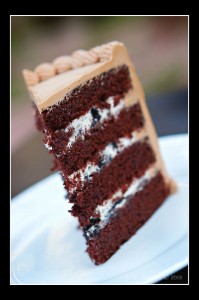 This cake is a combination of recipes and I'm told it was delicious. I know the cookies and cream filling was because I did try that. The buttercream is very smooth and soft and does not do well in the heat so refrigeration is key for this cake. It can be taken out of the refrigerator to soften up a bit for about 10 minutes before serving but not much more. A cake this size should feed at least 8 to 10 people with generous portions but definitely more with smaller ones. I still have to figure out what to do with the leftover filling!
If you are really into it, you can pipe a dam for the filling using a #12 piping tip and crumb coat the cake before applying the final icing. This is what I did but it is not at all necessary.
And just because it's Father's Day, here are a few pictures of our baby from the 3D ultrasound session we had a couple of days ago. He has my nose!