When life hands you extra caramelized apples….make ice cream! In the last couple of days, I've been making something that required I caramelize apples. I had half of the apples left over and I kept wondering what to do with them. I didn't want to throw them away because they were so good but I knew that if I froze them, we'd never eat them and they'd end up in the trash anyway. So, what's a girl to do? Well, a girl's to experiment! I LOVE Haagen Dazs' Caramelized Pear and Toasted Pecan ice cream so I decided to do something similar with the apples, sans nuts.
I took a basic ice cream mix and customized it a little to give it flavor since the apples would go in at the end of churning. The beauty about this mix is that it is not a custard so there is no cooking involved, just mixing. It tastes great and it feels smooth in the mouth. I had never tried an ice cream recipe with no eggs thus no custard but after this one, I think I may just have to make more like that because it is SO easy.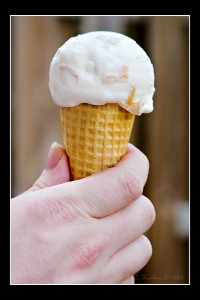 Caramelized Apple Ice Cream
For the apples:
2 Fuji apples, peeled, cored and cut into 1/4 inch pieces
1/4 cup granulated sugar
1/2 tsp ground cinnamon
1/2 tsp vanilla extract
1/8 cup (1 fl oz) fresh lemon juice
2 tbsp unsalted butter
Toss all the ingredients except the butter in a bowl to combine. Melt the butter in a saute pan over medium heat until slightly nutty in color (no more than 6-8 minutes). Add the apple mixture and saute until they are softened and caramelized, approximately 10-15 minutes. The apples should have retained their shape and not fallen apart. Cool completely before using.
For the ice cream:
3 cups whipping cream
1 cup whole milk
1 can (14 oz) sweetened condensed milk
1 tbsp vanilla extract
Whisk all the ingredients in a bowl until well blended. Cover the bowl with plastic wrap and refrigerate until the mixture reaches 40°F, or overnight. Transfer the mixture to the ice cream churner and freeze according to the manufacturer's instructions.
During the last 5 minutes of churning, add the completely cooled apples to the ice cream mixture. Transfer into a 2 quart freezer safe container and freeze for at least 6 hours before serving.
Makes 2 quarts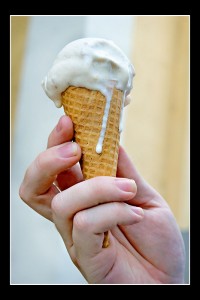 For obvious reasons, you will need at least a 2 quart churner. That's the top range of mine and it was spilling over slightly once I added the apples. Depending on the fat content of the cream you use, the ice cream won't freeze hard. I actually used heavy cream which has at least 36% fat and after hours in the freezer, it was still the consistency of soft serve and then it started dripping when we took it outside to photograph but this IS South Florida. There is nothing wrong with that mind you, I don't particularly like hard frozen ice cream.
This actually turned out really good, I dare say it's one of the best, if not the best, ice cream that has come out of my kitchen. I haven't made many but I've made my fair share, even by hand! On that note, this can be done by hand but it's difficult because you'll have to stir the mixture every so often to prevent ice crystals from forming. I do not EVER want to go back there!
Edit: Just now (the day after) I went for some more ice cream. Turns out, it froze just fine and I just didn't give it enough time to freeze yesterday before I tried to scoop it out. So, nevermind the comment about soft serve consistency!