I'm stubborn, there's no question about that. When I get something stuck in my head, I just can't let it go. I got the berry muffin thing going and by golly I was going to get it right! Thankfully, it only took two tries. After the strawberry muffins, which left much to be desired, I decided I was going to actually try muffins with blueberries. The muffin recipe wasn't great so I looked for another one. I turned to an old friend, Alton Brown, and tried one of his recipes instead. Well, he did not disappoint.
For the first time in as long as I can remember, I followed the recipe to the T. Mostly because I wanted to see if he was really as good as we think he is (it's the first of his recipes I've ever tried) and also because I didn't want to take any chances. The recipe calls for yogurt, quite a bit of it, and I wasn't too sure about that but I went ahead and used it anyway. It doesn't give the muffins a yogurt taste but it does make them tender and yummy.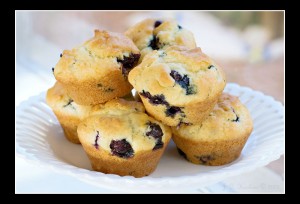 This is the recipe from his book I'm Just Here for More Food: Food x Mixing + Heat = Baking and it's a base onto which you can add basically any berry, nut, chip, etc you want. I just went the blueberry way. This is what AB has to say about the recipe:
"If you walk into a Starbu…um, a coffee place these days and order a muffin, what you'll get will be something between a carrot cake and a classic cupcake – that's not a real muffin. Real muffins should be coarser and less sweet than a cake, and although they contain enough fat to be tender, I wouldn't exactly call them moist. I would, however, call them delicious."
He's biased, but I'm not. The muffins ARE delicious.
Old-School Blueberry Muffins
11 oz (2 1/4 cups) all purpose flour
2 tsp baking powder
1 tsp baking soda
pinch of salt
3 3/4 oz (1/2 cup) sugar
1/2 cup vegetable oil
1 large whole egg
1 large egg yolk
1 cup plain yogurt
1 to 2 cups blueberries
Place oven rack in the center of the oven and preheat to 375°F. Grease a 12 whole muffin tin and set aside.
Whisk the flour, baking powder, baking soda and salt in a large bowl and combine well. Whisk together the sugar, vegetable oil, whole egg, egg yolk, and yogurt until well combined. Add the wet ingredients to the dry ingredients and mix just until the batter comes together. Do NOT mix smooth. Carefully add mix in the berries.
Drop the batter into the prepared muffin tin. The cups should be full.
Bake for 18 to 20 minutes, or until the muffin interiors hit 210°F or a toothpick inserted in the bottom of a muffin comes out clean.
Remove from the oven and immediately turn the muffins on the sides so that steam can escape the pan. Skip this step and you'll end up with mushy muffin bottoms, which is OK if you like that kind of thing.
Serve immediately or store in an airtight container for up to a week or until they taste gross, smell bad, or grow fur.
Makes 12 standard muffins.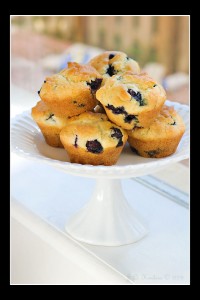 The way that AB writes the recipes, especially in this book, is a bit out of the ordinary and you have to flip through pages to find the mixing methods, etc. So, I've edited the instructions so they make sense here. However, the process is the same and the ingredient list is verbatim minus gram measurements.
As I said before, the muffins are great, however, my husband doesn't think so. After tyring them yesterday, he informed me that he just doesn't like muffins with berries in them. He said he muffin part was fine but likes nuts and chocolate chips in his muffins, not fruit. Oh well, can't win them all!
PS. Some of you have asked about my cake stands and where I get them. Well, I've started collecting cake stands in the last few months. I started mostly because I love pretty things but also because I wanted to start collecting props for food photography, which I do quite often and mostly exclusively for the blog. Anyhow, I currently own seven and most of them have been acquired at places like TJ Maxx and Marshalls/Home Goods. My favorite has to be the one with the shoes as the base. Then again, I love shoes more than I love cake stands!