According to my husband, he hates pasta and macaroni and cheese. OK, the pasta part is a bit complicated. He will eat pasta as long as it's swimming in sauce because he doesn't like to taste it. Macaroni and cheese is different, he says the last time he had was when he was 7 and didn't like so he hasn't eaten it since. Mind you, I haven't exactly had great mac'n'cheese ever so I am a bit iffy myself. Even knowing all that, I decided to venture into the macaroni and cheese idea as a meal but with a twist.
The original recipe sounded good, despite our preconceived notions. I asked him if he minded trying it out and he said he'd try it and see what happens. I figured, what's the worst that can happen? We hate and don't eat it. Oh well. We won't know until we try. After all, it wasn't a typical macaroni and cheese recipe, it had ham and Parmesan, making it a bit more sophisticated than the boxed stuff. Then again, EVERYTHING is more sophisticated than the boxed stuff.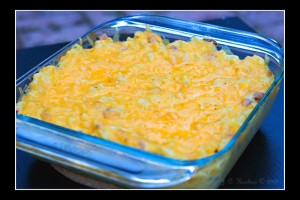 I modified the recipe to use the ingredients I had in the house, I was not about to buy stuff I wouldn't use for anything else. I wasn't expecting much of it to be honest but we were both very pleasantly surprised. The flavors were great and it tasted absolutely nothing like the gross Kraft stuff or even like any commercial macaroni and cheese from the supermarket I've ever tried. It was balanced and didn't taste fake, if that makes any sense.
Creamy Macaroni and Cheese with Ham
2 cups uncooked elbow macaroni
1/4 cup (half a stick) of butter, cubed
1/4 cup all purpose flour
2 cups of milk
2 chicken bouillon cubes, crushed
1/4 tsp black pepper
8 oz shredded extra sharp cheddar cheese
1/4 cup freshly grated Parmesan cheese
8 oz cubed fully cooked ham
Preheat the oven to 350°F
Cook the macaroni al dente according to package directions; drain and set aside. In a large saucepan, melt the butter over low heat. Whisk in the flour until smooth. Whisk in the milk, chicken bouillon and pepper. Bring to a boil; cook and stir for 2 minutes or until thickened. Remove from the heat. Stir in half of the cheddar cheese plus all Parmesan cheese, ham and macaroni.
Transfer the mixture to a greased 2 quart baking dish. Sprinkle with the remaining half of the cheddar cheese. Bake, uncovered, for 20 to 25 minutes or until bubbly. Let stand for 5 minutes before serving.
Serves 4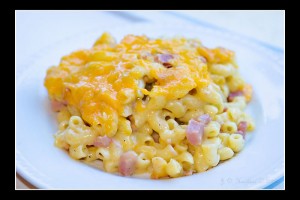 The Parmesan and the ham add an extra "oomph" to an otherwise simple dish. We, the mac'n'cheese haters, ate 3/4 of the entire thing. That's a lot of macaroni and cheese! I was really surprised at how good it was and even my husband said that it was really good. As we were eating, we wondered how come Kraft sells so much of the vile boxed mac'n'cheese when it's so gross and homemade was so good. Then my husband said "our kid is not allowed to that boxed stuff!" LOL
It just goes to show that if you don't like something, chances are you've never had it done well.