For the past couple of months we've been discussing making meals in large batches and freezing portions to use after the baby comes. I probably won't have much time, or desire, to cook then but we'll still have to eat so something needs to be done. I've started doing this in the past few days. First, I made a butternut squash soup and that was so good that we ate a lot of it, leaving only maybe one portion left to freeze. I guess we'll have to pad that up with some salad when we do defrost it.
Today, I made a beef and barley soup in the slow cooker. To be honest, I didn't have high hopes for it but it turned out to be very good too. This was a huge batch, it maxed out my 6 quart slow cooker but we'll have plenty left to freeze, even after eating a couple bowlfuls each. The beef was perfectly cooked, the barley (which I sometimes I have trouble with) is perfectly tender and the flavors work really well. It's not the kind of slow cooker recipe where you just throw everything in there and cook, it does require some stovetop cooking but it's very much worth it and you can tell in the flavor.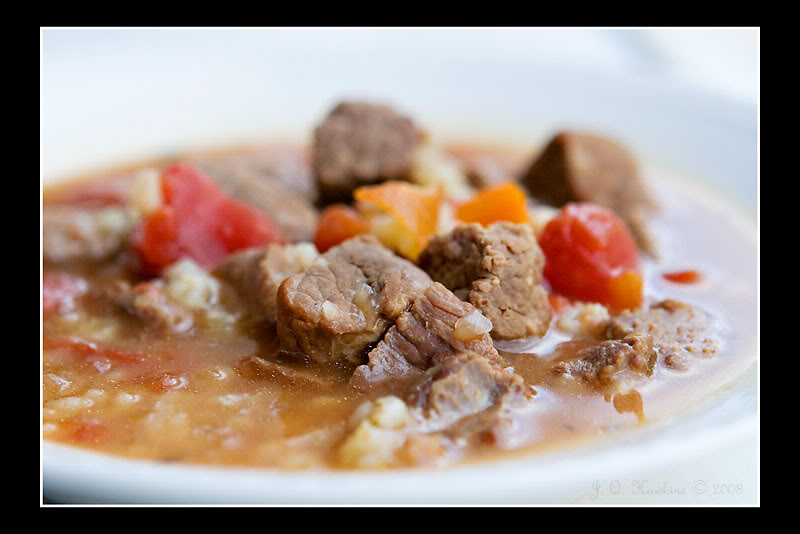 Slow-Cooker Beef and Barley Soup
3 lbs stewing beef cut into 1/2 inch pieces
salt and pepper
2 tablespoons vegetable oil
1 large onion, chopped
2 carrots, peeled and diced
1/2 cup chicken broth
2 14oz cans diced tomatoes
4 cups low sodium beef broth
4 cups low sodium chicken broth
1 tsp dried thyme
2/3 cup pearl barley
Dry the beef with paper towels, then season with salt and pepper. Heat 2 teaspoons of the oil in a 12 inch skillet over medium-high heat until just smoking. Brown half of the beef, then add to the slow cooker. Return the skillet to the medium-high heat and repeat with 2 more teaspoons of oil and the remaining beef.
Add the remaining 2 teaspoons of oil to the empty skillet and heat over medium heat until shimmering. Add the onions, carrots and 1/4 teaspoon salt. Cook until the vegetables are softened, about 5 minutes. Stir in the 1/2 cup of chicken broth, scraping up any browned bits. Simmer until the stock has reduced by half, about 1 minute, then pour into the slow cooker.
Add the tomatoes with their juices, the broths, thyme and barley to the slow cooker. Cover and cook on either low or high until the beef is tender, 6 to 7 hours on low or 4 to 5 hours on high. Before serving, season with salt and pepper to taste.
Serves 6 to 8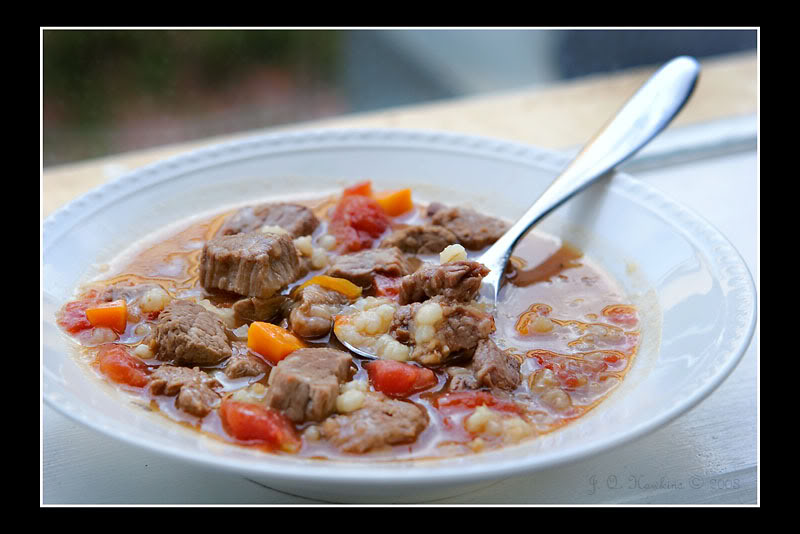 I cooked the soup for 7 hours on high and, like I said, it was the perfect time. I'm not sure how well cooked barley is going to freeze but I guess that's just a chance I have to take.