It sure looks like I've been grilling a lot lately and that probably has something to do with the fact that clean up is easy and I'm lazy LOL. That and well, it's summer; not that it matters much since it's basically always summer here but I digress. My favorite thing about grilling, aside from the easy clean up, is that the house doesn't stink of food for hours after I'm done cooking and that it doesn't get hot in the kitchen, which is open into the family room where we spend basically all our awake-at-home time. I would much rather keep the smell and heat out there where it quickly dissipates.
I'm new to grilling, we've only had this grill for a few months so I'm still experimenting. I've grilled burgers but already prepped ones. This time, I thought I'd give making my own burgers from scratch a go. I've done this before but grilled them on a cast iron grill pan on the stove and it's not quite the same. I could have gone with a basic beef burger but I was feeling adventurous when I made the dinner menu for the week (tentative anyway) and decided to kick it up a notch, as Mr. Lagasse would say. That and I still have some Cajun Blackening Rub left and it needs to be used before it loses its potency. With all that in mind, I picked the Death-Defying Cajun Burger from one of my favorite (and few) grilling books Mastering The Grill.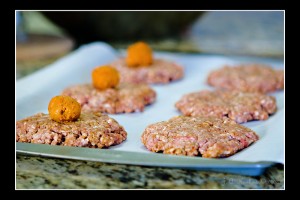 If you think the death-defying quality comes from the spices, you are mistaken my friend. They have a nice kick but most of all, they are not for those on a diet. Then again, if you are on a diet then perhaps burgers should be out altogether. These babies are loaded with cholesterol, sodium and fat and I, nor the author, make no apologies for it. As the author puts it "Schedule your next bypass and bite into a burger with a heart of spiced butter that bleeds with flavor."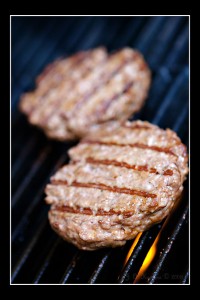 Death-Defying Cajun Burgers
4 tablespoons unsalted butter, finely chopped
2 tablespoons Cajun Blackening Rub
1 1/2 teaspoons tomato paste
2 pounds ground beef chuck
oil for coating the grill grate
6 hamburger buns, split
Heat the grill on medium-high (425°F to 450°F)
Using a small knife or fork, mix the butter, 1 tablespoon of the Cajun rub, and the tomato paste onto a plate, until blended. Divide the butter mixture into 6 balls and refrigerate.
Using your hands, mix the beef and the remaining 1 tablespoon of the Cajun rub in a bowl until well blended; do not overmix. Using a light touch, form into 12 patties no more than 1/2 inch thick.
Put a butter ball in the center of each of 6 patties; top with the remaining patties and press together, taking care to seal the edges well. Refrigerate until the grill is ready.
Brush the grill grate and coat it with oil. Put the burgers on the grill, under direct heat, cover and cook for 9 minutes, flipping after about 5 minutes, for medium-done. Add a minute per side for well-done.
To toast the buns, put them cut-side down directly over the fire for the last minute of cooking.
If serving the burgers directly from the grill, serve on the buns. If the burgers will sit, even for a few minutes, keep the buns and burgers separate until before serving.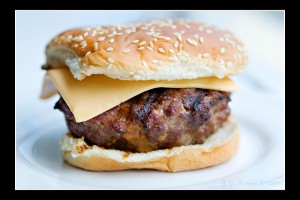 I'm lazy and have the tools so instead of mixing the butter, rub and tomato paste by hand, I just put them in the food chopper attachment of my immersion blender and pulsed it until it was all combined. Beats doing it by hand!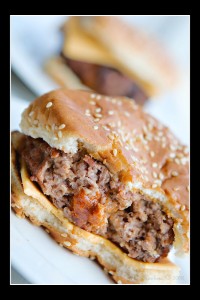 As you can see, not only were we defying death, we were suicidal and put a slice of cheese in there too. Can't have burgers without cheese! I even considered bacon and my husband thought about Thousand Island dressing but that would have been overkill.