It's funny how quickly people get used to things and start expecting them, almost as if it was a routine or tradition and it would be sacrilege to break it. By people I mean my husband. This morning when we woke up he asked me "Are you hungry?" I said I was a bit hungry and then he replied "Well, are you making pancakes, waffles or are we going to The Original Pancake House?" Hold on a minute buddy….what is this "Are you making pancakes or waffles business???" Sheesh, I know I've been doing so for the past few weekends when we have not gone to TOPH but c'mon, don't get used to things so quickly! Truth be told, we have been doing one of those 3 things every Sunday for at least a couple of months so surely, being Sunday, it was the "traditional" thing to do.
Well, who am I kidding? I love a good breakfast on Sundays as much as the next person I was also pretty hungry and going to TOPH would have taken longer than I was willing to wait so I settled on making something here. I still wasn't sure if I wanted pancakes or waffles until I remembered how much the darned All Clad waffle maker cost then I decided I better use it!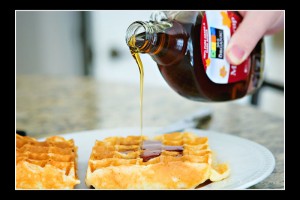 At this point, it should be no secret that we love Alton Brown around here and inspired by the success of the blueberry muffins (husband's opinion aside), I opened the book to the waffle recipe I had bookmarked and got busy. Most recipes are written for at least a family of four and I've found out that waffles and pancake recipes are usually written for more than that. Most times they are easy to halve but not others. AB's Luft Waffle recipe is one of those. It calls for 3 eggs, which is not impossible to halve but it is a pain in the butt. I went ahead and made the whole batch and will be freezing the leftover waffles. AB says the recipe makes six 8-inch round waffles, and it probably does if you use that sort of waffle iron but in our iron, it make 9 deep pocketed 4.5×4.5 waffles. Two waffles each is plenty so we really only needed half of the recipe.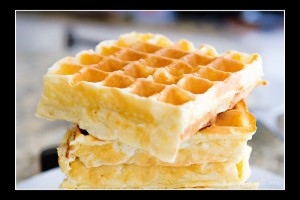 Luft-Waffle
Dry ingredients:
9.5 oz (2 cups) all purpose flour
1 tsp baking powder
1/2 tsp baking soda
1 tsp salt
Wet ingredients:
2 oz (4 tbsp/ 1/2 stick) unsalted butter, melted and cooled slightly
3 large eggs, beaten
16 oz (2 cups) buttermilk
3 tbsp sugar
Combine the dry ingredients in a large bowl and mix well. Whisk the melted butter and eggs well then combine with the rest of the wet ingredients and whisk well.
Add the wet to the dry and mix just until the batter comes together. Do NOT overmix.
Set the batter aside for 5 minutes (or refrigerate for up to an hour). In the mean time, preheat the waffle iron according to the manufacturer's instructions.
Ladle the batter onto the waffle iron and spread lightly with the back of the ladle. Close the waffle iron and bake until the waffles are golden and crisp on both sides and can be easily removed from the iron; 3 to 4 minutes.
Repeat until you've used up all the batter.
Serve immediately or keep warm in a 200°F oven or by swaddling in a clean kitchen towel and nuzzling under a heating pad set to high until ready to serve.
Eat with plenty of real maple syrup and butter.
I tried different settings on my waffle maker to make them crispier or lighter, however, I found out that after you take them out of the iron, if you don't put them on a cooling rack they go soggy. Don't despair, they can be re-crisped by quickly popping them in the toasted for about a minute or even less.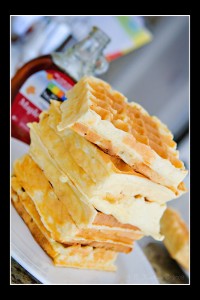 Having these waffles with real maple syrup as opposed to breakfast syrup made a world of difference. Mind you, you ARE paying for it since maple syrup is so expensive but it's worth it. If you are adventurous, or perhaps just Southern, you can serve them under fried chicken…as AB probably has!