I was looking at the fridge last night and I saw a container of strawberries that I didn't remember I had bought. They were in a low drawer so they were mostly out of sight. I hate for berries to go bad (and they often do) so I immediately started looking for something to use them for. They were not good enough to eat on their own, they had started to go soft, so just munching on them was out of the question. Then I had the idea of making muffins. Sure, why not? I mean, you can make muffins out of most type of berries, why not slightly overripe strawberries?
I looked for a strawberry muffin recipe but didn't like any of the ones I came across. I finally settled on a recipe that originally called for blueberries but I'd substitute them with the strawberries. I put the book on the cookbook holder and went to bed determined to make muffins for breakfast.
Morning came and I turned the oven on to preheat while I performed my morning routine of turning the computer on, checking my email and the shoe sales just in case there was anything new or a new great deal. Alas, there was! Anyhow, with the oven heating and morning routine performed, I got down to mixing ingredients.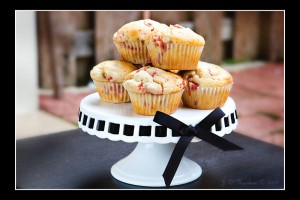 The recipe, as usual, was for a large batch, 12 muffins to be exact, so I halved it. I know we're not going to eat 12 muffins and I was feeling too lazy to dice 2 cups of strawberries so 6 muffins worked just fine. I was already hungry so I worked as quickly as I could.
Strawberry Muffins
1/2 cup sugar
2 1/2 cups all purpose flour
1 tbsp baking powder
2 eggs
1 cup milk
1/2 cup (1 stick / 1/4 lbs) unsalted butter, melted
1 tsp vanilla extract
2 cups fresh diced strawberries
Preheat the oven to 400°F. Place 12 paper baking cups in a muffin pan.
In a medium bowl, combine the sugar, flour and baking powder with a spoon. In a large bowl, lightly beat the eggs and combine them with the milk, butter and vanilla extract with a whisk until smooth. Add the dry ingredients and stir until well incorporated. Add the diced strawberries and stir until combined. Spoon the batter into the baking cups.
Bake for 20 to 25 minutes. Remove the pan from the oven and cool for 5 minutes. Serve the muffins immediately.
Store in an airtight container for up to 2 days or freeze for up to 3 months.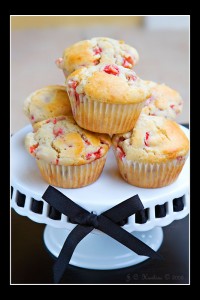 It's a simple recipe and I know that Alton Brown would be horrified at the thought of baking muffins in paper cups, after all, he once said "Hey, wait a minute! We don't need no stinking paper cups, these aren't cupcakes!" but it makes the clean up and eating much easier. The muffins were not perfect but they were plenty good to satisfy my sudden craving for muffins and to fill my stomach, not to mention they make good use of the strawberries.