A Dutch one that is! I can't remember the specific episode but at some point in Good Eats, Alton made a Dutch Baby. Until then, I had never heard of such a thing although I was familiar with a close cousin, the Yorkshire Pudding. The process and science behind them is the same though the ingredients do vary. That's not surprising since a Dutch Baby is supposed to be sweet, or at least eaten with sweet toppings and a Yorkshire Pudding is savory and eaten with meat.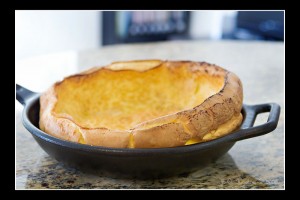 Time passed and even though I didn't forget about the Dutch Baby, I didn't make it either. Sometime after that I acquired a book called The Cast Iron Skillet Cookbook which, incidentally, had a recipe for Dutch Baby. Still, no making it. We've been going to The Original Pancake House for breakfast for the last couple of weekends and they serve Dutch Babies. They take 30 minutes to make and I've always been too hungry to wait that long so I went with Belgian Waffles both times. The last time, however, something caught my eye. One of the waitress walked by with this gigantic looking thing and I was taken aback. Turns out it was a Dutch Baby. They looked impressive on TV but in real life they were just mind-blowing.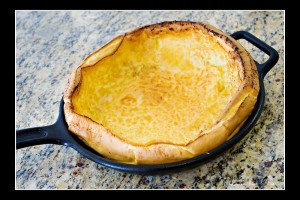 Fast-forward to today. We were sitting on the couch and getting hungry after having gotten up early (for me). I kept pondering what to have for breakfast and I really wanted another Belgian Waffle but going back to the restaurant was just going to take too long. I pulled the book I mentioned before and asked my husband if he wanted Dutch Baby for brunch and he said yes. He had also been wanting to try them since said Good Eats episode. The ingredients list is very simple and consists of things I always have in the house so it was really a no brainer, and as it turns out, very easy to make with very little hands on time. Perfect!
Dutch Baby
Serves 2
2 tablespoons unsalted butter
4 large eggs
1/2 cup all purpose flour
1/2 cup milk
Topping:
3 tablespoons unsalted butter
1 lemon (for juice)
vanilla sugar or powder sugar to taste
Preheat the oven to 425°F. When the oven reaches the correct temperature, melt the butter for the Dutch Baby in a 12 inch cast iron skillet over low heat. Mix the eggs, flour, and milk in a blender over medium speed until just blended, 5 to 10 seconds. Pour the batter into the skillet with the melted butter.
Place the skillet in the oven and bake until the top puffs up and is slightly golden, 20 to 25 minutes.
To clarify the butter for the topping, melt it over low heat in a small saucepan. Skim off and discard the foam. Remove the pan from the heat and let stand until the solids settle, about 5 minutes. Pour through a strainer into a cup.
When the Dutch Baby is done cut into 4 wedges and serve immediately drizzled with the clarified butter. Sprinkle with lemon juice and sugar to taste.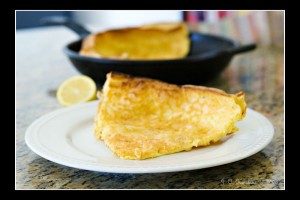 That's it! It looks pretty impressive, especially if you've never seen anything like this before. The pancake looks like it's going to rise out of the pan. From what I gather, Dutch Babies are traditionally eaten with sugar and lemon juice but I'm sure they are equally tasty topped with other things. Alton's recipe is a sweet batter and I think I'll try that next time and see how it goes.
There is one more thing that impressed me at The Original Pancake House, the Apple Pancake….I may have to try that next!