I'm one of those people that when I try something and like it, I keep on making it until I get it right or find a recipe that is better than the original. This has been the case with pancakes, waffles, muffins, cakes, Tarte Tatin (which I haven't gotten right yet) and now with Dutch Babies. The first Dutch Baby was good, no question about it but it was a bit too eggy for my taste.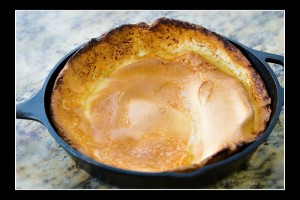 I decided to go back to the person who I learned about Dutch Babies from, Alton Brown, and try his recipe this time. Yes, I know I've been making a lot of his stuff lately but it is obvious that they work, otherwise I wouldn't keep going back to him. The difference between the previous Dutch Baby and and Alton's recipe is that Alton's call for less eggs and for sugar. AB's recipe is indeed, in my very humble opinion, better. It doesn't make quite as an impressive looking Dutch Baby but it wins in taste, hands down.
Alton Brown's Dutch Baby
3 tbsp butter, melted and divided
2 3/8 oz (about 1/2 cup) all purpose flour
3 tbsp vanilla sugar, plus more for serving
1/2 tsp kosher salt
1/2 cup whole milk, room temperature
2 large eggs, room temperature
Lemon wedges
Preheat the oven to 375°F.
Place 2 tablespoons of the melted butter into a 10 inch cast iron skillet and place in the oven. Set the remaining tablespoon of melted butter aside to cool slightly. Wait 10 minutes before assembling the other ingredients.
Place flour, vanilla sugar, salt, milk, eggs and remaining tablespoon of melted butter in the bowl of a food processor or blender and process for 30 seconds. Carefully pour the batter into the preheated skillet. Bake on the middle rack of the oven for 30 to 35 minutes or until the edges are puffed and brown. Sprinkle with additional vanilla sugar and serve with lemon wedges.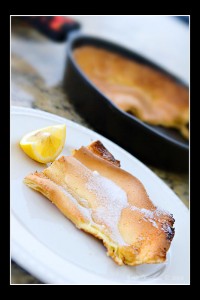 AB doesn't say how many people this recipe is supposed to feed but based on our experience, I will say two people. Mind you, we weren't exactly full after we were done, each one of us could have easily eaten the entire Dutch Baby and perhaps will next time.
What I love about Dutch Babies so far is that the ingredients are usually already in the pantry, they don't take too long to cook and the hands on time is very minimal. So, they are easy to make but very tasty and satisfying. They take a lot less time to eat than they take to cook, interpret that how you will!
I think that maybe I'll try to make a fruit topping of some sort for the next time I make a Dutch Baby, just for variety. However, they are perfectly good, OK, delicious, with just sugar and lemon.
On a side note, please remember that cast iron remains very hot for a long time after it gets taken off the heat or out of the oven! Be careful, don't end up with a burnt forearm like me!