Being home all day, every day, I get tired of being hungry or eating the same thing all the time. I'm too tired (and lazy) to go out and buy things, much less actually make them if they take more effort than throwing stuff into a pan. That's when the bread machine comes into play! Until now, I've been making basic sandwich loaves. I've had success but I wanted to be a bit more adventurous and go for something that didn't need jam or ham to be eaten. I wanted something I could just eat on its own when I got hungry and be tasty and satisfying.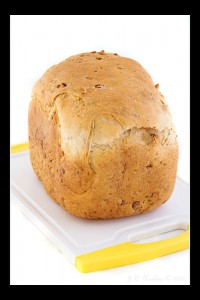 I really wanted to make rum raisin bread but because I was starting so late in the night, I didn't have time to soak the raisins. Then I looked into Cajun Spiced Plait but it would require me to actually bake it outside of the bread machine. Too much work to eat in the morning! I finally settled on a Garlic and Herb Walnut bread that sounded really, really good. The best part was that I didn't need to be awake to put half the ingredients in during the kneading and I didn't need to take the dough out of the bread machine to bake it. As with previous breads, it was just a matter of dumping everything into the bread machine pan, setting the timer and waking up to the smell of freshly baked bread. I can do that!
Garlic and Herb Walnut Bread
For a 2lbs loaf
185 ml / 6.5 fl oz / generous 3/4 cup milk
105 ml / 7 tbsp water
45 ml / 3 tbsp roasted garlic extra virgin olive oil
450 g / 1 lb / 4 cups unbleached white bread flour
50 g / 2 oz / 1/2 cup old fashioned (rolled) oats
50 g / 2 oz / 1/2 cup walnuts, finely chopped
1 garlic clove, finely minced
1 1/2 tsp dried oregano
1/4 tsp dried thyme
2 tsp salt
2 tsp granulated sugar
1 tsp instant (rapid rise) yeast
1. Pour the milk, water and olive oil into the bread machine pan. If the instructions for your bread machine specify that the yeast is to be added first, reverse the order in which you add the liquid and dry ingredients.
2. Sprinkle over the flour and oats, ensuring that they completely cover the liquid mixture. Add the chopped walnuts, garlic, oregano and thyme. Place the salt and sugar in separate corners of the bread machine pan. Make a small indent in the center of the flour but don't go as far down as the liquid and add the yeast.
3. Set the bread machine to the basic/normal setting, medium crust. Press start. Remove the bread from the bread at the end of the baking cycle and turn out onto a wire rack to cool.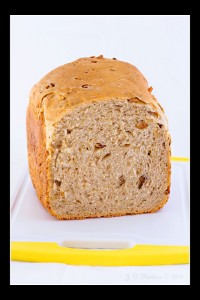 Because I was up with my husband this morning, it was too early to cut into the bread, which had just been taken out of the machine. I sat here on my computer for a whole hour, starving, waiting for the bread to cool so I could have some. The smell was killing me, it was SO good and I just wanted to tear into the darn thing. However, I was patient. I was even patient enough to photograph it before slicing it, after all, I'd kick myself later if I just tore into the loaf and it turned out to be great…..which it did. I thought it would be very garlicky because of the olive oil and the clove but it isn't. The flavors work really great together and I'm trying really hard not to eat the entire loaf before my husband comes home for lunch.