A long time ago, I bought a couple of bags of frozen blackberries which I was planning on making cake filling with. I never got around to it and they've just been sitting in the freezer, taking up space. We had a box of Omaha Steaks meat coming and needed freezer space, which is limited considering how much junk we have in there, so I decided to come up with something to use the blackberries. I had previously considered cobblers, grunts, pies, etc but never made those either.
I love ice cream and gelato and it IS summer in South Florida so I figured the best use for the berries was something frozen. Never mind pies or cobblers, those are wintery desserts but gelato….now, THAT sounded good. I have made blackberry ice cream before and it was alright but it wasn't custard based and I made it by hand in the UK when I didn't have an ice cream churner. It was a bit crystallized and pretty tart. I wanted something creamy and sophisticated this time, something that would remind me of the beautiful Italian gelaterias, especially those on the Amalfi Coast, that I so miss.
Nostalgia kicked in as I was preparing the gelato. Honestly, I never thought I'd miss Italy so much at times. Granted, Naples itself was chaotic but it wasn't without its charms. The food is definitely the best part, be it bread, pasta, pizza, gelato, etc. It's pretty hard to come back to the US to bland so called Italian food when you have been spoiled in such a way by the awesomeness of true Italian food, especially Neapolitan. But I digress.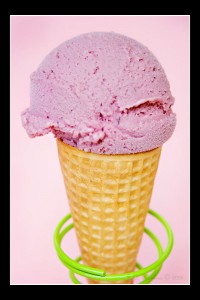 Although it may not seem so, and certainly not from gelato made commercially in the US, there IS a difference between gelato and ice cream. For starters, gelato is not eaten fully frozen but in a semi-frozen state, at a higher temperature than traditional American ice cream. Gelato is made with less cream and more milk than traditional American ice creams but usually contain more eggs and more sugar. All of this makes a difference in the texture and consistency. The difference is very clear when you try the real thing in Italy.
Blackberry Gelato
150 ml (5 fl oz) double (heavy) cream
350 ml (12 fl oz) full cream (whole) milk
4 large egg yolks
100 g (3.5 oz) sugar
1 1/2 tbsp skimmed milk powder
250 g (9 0z) blackberries (fresh or frozen)
1 tbsp powder sugar
3 tbsp raspberry liqueur such as Chambord
Put the cream and milk in a saucepan and gently heat until bubbles start to appear around the side of the pan.
Meanwhile, whisk the egg yolks, sugar and skimmed milk powder together in a heatproof bowl until pale in color. Pour in the hot milk mixture and stir well.
Wash out the saucepan and pour the mixture back in. Cook over medium heat, stirring constantly with a wooden spoon until the mixture reaches 75°C / 167°F on a thermometer, 8 to 10 minutes. Do not let the mixture get any hotter or boil because it will curdle. The custard will thicken a little as it cools. Transfer the mixture to a wide bowl and leave to cool.
In the mean time, put the berries and powder sugar in a pan. Cook over medium-low heat until the juices run and they are soft enough to squish with the back of a wooden spoon. Set a strainer over the custard mixture and pour the berries in. Strain, pushing the juices through with a wooden spoon until all that is left in the strainer is the solids. Scrape the outside of the strainer to collect all the remaining juices and discard the solids. You can skip the straining if you prefer to have chunky pieces in your gelato, just mash the berries well before mixing them in with the custard.
Mix in the raspberry liqueur and stir to combine well. Chill the mixture for at least 30 minutes. Churn using an ice cream machine according to the manufacturer's instructions until frozen. Transfer to a freezerproof container, cover and freeze for 4 hours before serving.
If it is frozen for longer and becomes too hard, remove the lid and transfer to the refrigerator to soften about 50 minutes before serving.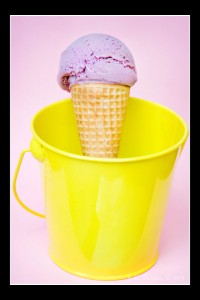 A small machine will work here, the recipe makes about 1 1/2 pints of gelato. This beautifully creamy gelato is a far cry from the previous blackberry ice cream I made and, thanks to the Chambord, the taste is very sophisticated, if that makes any sense. The creaminess, the taste, the color, etc make it a very sexy gelato. If gelati modeled, this one would be a Victoria's Secret Angel 😉