I wasn't going to blog about today's dinner, heck, I wasn't going to make dinner, but my husband insisted I take pictures before eating just in case it was good. Well, I'm glad I did because it turned out to be really good. Not only was it good but it was fairly easy and quick to make, not to mention different. Chili Pork Skewers with Chunky Banana Sweet Potato Mash isn't normally something we have on the menu!
We are creatures of habit and our starch of choice is potatoes so it was nice to have something a bit different and expand our eating horizon. The meal was something I had planned on so it was just a matter of actually getting things together and cooking it. I wasn't sure it was going to work for us (read: I'd like it) but I was pleasantly surprised. I even went ahead and used the jalapeno, which I would have normally left out, and I'm glad I did because it added a nice kick to the whole meal.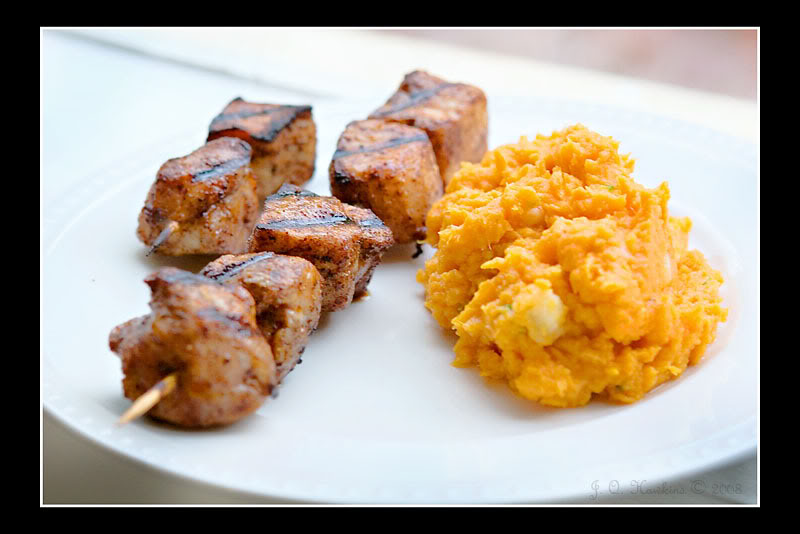 Chili Pork Skewers
1 tsp light brown sugar
1 tsp chili powder
1 tsp kosher salt
1/2 tsp ground black pepper
1/4 tsp ground cayenne pepper
2 tbsp olive oil
1 1/4 lbs pork tenderloin (or 2 thick boneless pork loin chops), cut into 2 inch chunks
In a medium bowl combine all the ingredients except the pork. Whisk well to combine. Add the pork chunks and toss to coat. Thread 5 pieces of pork onto each of 4 skewers. Leave to rest while the grill preheats on medium.
Once the grill is hot, grill the skewers for about 8 minutes, turning once, or until the pork is cooked through but not overdone. Remove from the grill and rest for a few minutes before serving.
Makes 4 skewers (2 servings)
Chunky Banana Sweet Potato Mash
1 lbs sweet potatoes, peeled and cut into 1 inch cubes
1/2 ripe banana, sliced
1 tbsp honey
1/2 jalapeño pepper, seeded and minced
2 tbsp orange juice
Boil the sweet potatoes in salted water until very tender, about 15 minutes. Drain, return the potatoes to the pan and dry over over medium heat for 1 to 2 minutes, stirring constantly.
Remove from the heat and add the remaining ingredients. Mash to the desired consistency. Season with salt and pepper.
Serves 2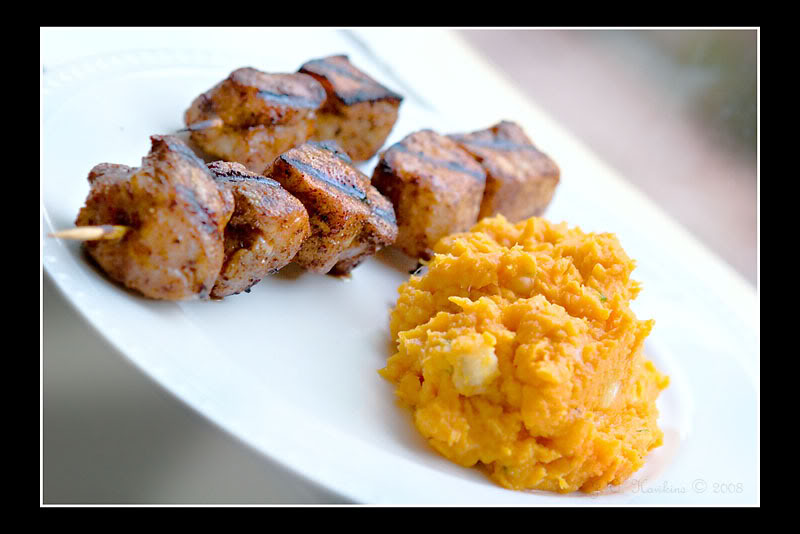 As you can see, it's really fairly simple and quick. I used the loin chops because we buy our meat in bulk and it has to be used but the tenderloin will work perfectly too, even if it's a bit more expensive. I thought the jalapeño would be too much but it isn't. The spiciness of the meat and mash is well balanced with the sweetness provided by the banana, honey and brown sugar. While not burning hot, the heat does build up nicely but it is by no means painful, just a nice tingly feeling on your tongue and lips. It really does work well.
There's an old wives tale that says spicy food induced labor…perhaps I should have used the entire jalapeño! LOL