A few weeks ago I mentioned that I had a great butternut squash soup and that I was going to freeze half of it to for an easy meal when the baby came. I didn't actually post the recipe for the soup and I got a few requests for it. My husband also said that I should blog about it since it was so good and simple. I didn't take any pictures the first time so last week I went ahead and bought another butternut squash to make the soup.
The first time around, we ate a lot of the soup he day I made it and only had about 1 serving left to freeze, which we did freeze but Matt ended up eating it a few days later. It was really that good. This time we supplemented the soup with bread so we have a lot more left to freeze since I made the entire recipe with that intention.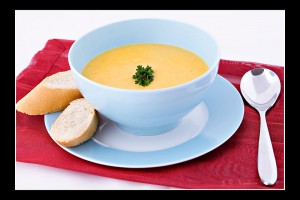 The soup really couldn't be any simpler or quicker. It just takes a few ingredients, half an hour and it's done. To be honest, I think it's something I can very easily whip up even when the baby arrives and I'm short on time. Squash keeps for a very long time and I nearly always have chicken broth and cream in the house so I probably wouldn't even have to think about getting the ingredients.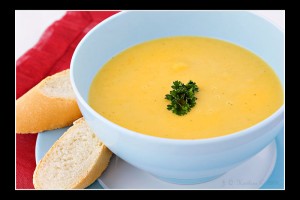 Butternut Squash Soup
2 tbsp unsalted butter
1 onion, finely chopped
1 3lbs butternut squash, peeled, seeded and cut into even small chunks
6 cups chicken broth (48 oz)
1/4 tsp dried thyme
pinch of nutmeg
1/2 cup heavy cream
salt and pepper to taste
Melt the butter in a large stockpot or Dutch oven over medium heat. Add the onion and cook until softened, about 5 minutes. Stir in the squash, chicken broth, dried thyme and nutmeg. Bring to a simmer and cover. Reduce the heat to medium low and cook until the squash is tender, 20 to 30 minutes.
Remove from the heat. Puree the soup in batches in a blender or food processor, or in the stockpot with an immersion blender until smooth.
Return the pureed soup the heat. Stir in the heavy cream. Bring to a brief simmer, then remove from the heat. If the soup is too thick, thin it out with additional broth or water. Season to taste with salt and pepper.
Serves 4 to 6 as a main meal
I like it just like that but my husband prefers it a bit spicy so he adds Tabasco to it. If you want to make it a bit spicy, you can add chili flakes along with the dried thyme and nutmeg. I don't like the taste of Tabasco so the chili flakes would be my preferred way of making the soup spicy.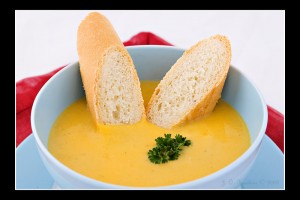 I am still amazed at how good this soup is, especially considering it is so simple to make and has so few ingredients. The day my husband reheated the bit we did freeze, my mom was around. I asked her if she wanted to try the soup and after she heard what went in it, or rather what did NOT go in it (meat) she wasn't convinced but agreed to try it. Well, she finished the rest of the soup but had to share with my little sister!
Who says you need meat to have a good meal???