The more I use the bread machine, the more I like it and the more I want to use it. It's a bit addictive. I mean, what's not to like? All you really do is put a bunch of stuff in a pan and 3 hours and 18 minutes later, voila, you have bread! If you want it in the morning, just set the timer and you'll wake up to fresh bread. Really, it's a no brainer.
I said a couple of days ago that I wanted to make rum raisin bread but thought about it too late so I skipped it. Well, yesterday I remembered with enough time to soak the raisins. I thought I'd make the bread with a purpose other than eating it straight up. What better way to use sweet raisin bread than in French Toast? So, with today's breakfast in mind, I got to work, if you can call it that, on the bread yesterday afternoon.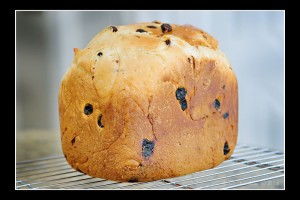 We don't keep dark rum at home so I thought I'd a bit more adventurous (not really) and use some vanilla cognac we have. Turns out, it's great! I don't really think the alcohol you soak the raisins matters much as long as it's something you'd drink….and it's not beer! You can use pretty much anything and it would still be great bread.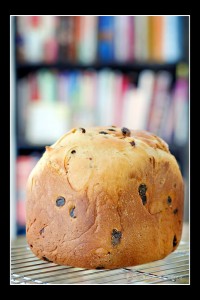 Vanilla-Cognac and Raisin Loaf
For 1 2lbs loaf
90g / 3 1/4 oz / 2/3 cup raisins
30 ml / 2 tbsp vanilla cognac
1 egg
240 ml / 8.5 fl oz / generous 1 cup milk
500 g / 1 lb 2 oz / 4.5 cups unbleached white bread flour
1/2 tsp ground ginger
40 g / 1.5 oz / 3 tbsp sugar
3/4 tsp salt
50 g / 2 oz / 1/4 cup unsalted butter cut into cubes
1.5 tsp easy blend (instant/rapid rise) yeast
15 ml / 1 tbsp clear honey, warmed
Place the raisins and vanilla cognac in a small bowl and leave to soak for 2 hours, or longer if you can. Add the egg and milk to the bread machine pan. If the instructions for your machine specify the yeast is to be added first, reverse the order in which you add the liquid and dry ingredients.
Sprinkle over the flour, ensuring that all the liquid is covered. Add the ground ginger. Add the sugar, salt and butter, placing them on separate corners of the bread machine pan. Make a small indent in the center of the flour and pour in the yeast.
Set the bread machine to the basic/normal setting, medium crust. Press Start. Add the raisins when the machine beeps to add extra ingredients (check your machine's instructions for the time), or after the first kneading.
Remove the bread at the end of the baking cycle and turn out onto a wire rack. Brush the top with the honey and leave to loaf to cool.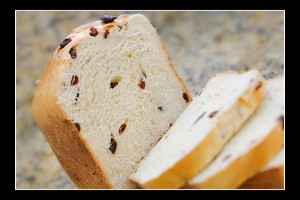 This is a sweet bread so unless you're really strange, sandwiches are out! The bread can be eaten as is, buttered, jammed or like we did, as french toast. There are countless recipes out there for french toast and it's really easy to make so I won't bother to post a whole recipe for it, however, I can give you a rough idea of how to make it. For two people, just take 3 eggs, about 1/3 cup of milk or cream and whisk them together. Dip both sides of the slices of bread in the egg mixture and immediately cook on a hot, buttered, skillet or a griddle until both sides are golden, brown and delicious. That's really all there is to it. Well, that and good maple syrup! This was 100% from-scratch breakfast and it was good! Well, as close as it will ever be since I don't have a maple tree!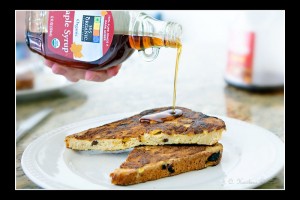 The slices were big and thick so they were quite filling, however, we still have about half the loaf left. I think I'll use it to make bread pudding even though my husband doesn't like it. I do so what the heck!