I first heard about no-knead bread last year when I started blogging. I kept coming across recipes and photos here and there and I really wanted to try it. The only reason I hadn't, aside from laziness, was the fact that the lid knob of my cast iron dutch oven (Le Creuset) is not rated for 500°F, the oven temperature called for in all the recipes. Sure, I had seen other people do it but I was a bit apprehensive about ruining a piece of cookware that costs hundreds of dollars. Of course, the knob could be replaced but what if it melted onto the lid???
Well, after reading about it on a magazine by a publisher who shall not be named, I figured it was OK. Still, it took me 7 more months to give it a shot. Eager to get back in the kitchen now that I am able to, I finally decided to give it a go last night. I was a bit apprehensive because even though every raves about the bread, I kept wondering how good it could really be when it was so hhmm…simple…for lack of a better term. There was no kneading (almost), nothing fancy, nothing that screamed GOOD BREAD. That's probably silly but that's what was going through my mind.
Easy it was indeed, tasty…definitely! I was actually very impressed and I LOVED the crust. I am a sucker for crusty bread (oh Italy…how I miss you!) and the crust on this bread is to die for. I was really satisfied with the result especially considering how uninvolved the recipe is. Of course, not everyone shared my enthusiasm. My husband didn't think it was anything special but was expecting something more like ciabatta. I don't really know why because I never, ever mentioned ciabatta when talking about the bread. He was setting himself up for disappointment by expecting something completely different to what was being made. Serves him right!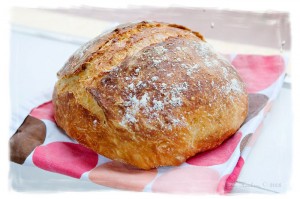 Almost No-Knead Bread
15 oz (3 cups) all purpose flour, plus additional for dusting the work surface
1/4 tsp instant yeast
1 1/2 tsp table salt
7 oz (same in weight and volume) water at room temperature
3 oz (1/4 cup plus 2 tbsp) mild-flavored lager
1 tbsp white vinegar
Whisk the flour, yeast and salt in a large bowl. Add the water, beer and vinegar. Using a rubber spatula, fold the mixture, scrapping up the bottom of the bowl until a shaggy ball forms. Cover the bowl with plastic wrap and let it sit at room temperature for 8 to 18 hours.
Lay a large piece of parchment paper on a 10 inch skillet and spray with non-stick cooking spray or brush with vegetable oil. Transfer the dough to a lightly floured work surface and knead 10 or 15 times. Shape the dough into a ball by pulling the edges into the middle. Transfer the dough to the greased parchment paper lined skillet and spray or brush the surface with vegetable oil. Cover loosely with plastic wrap and let rise at room temperature until the dough has doubled in size and does not readily spring back when poked, about 2 hours.
About 30 minutes before baking, adjust an oven rack to the lowest position and, place a 6 to 8 quart cast iron dutch oven with a lid on the rack and heat the oven to 500°F. Lightly flour the top of the dough and u sing a razor blade or sharp knife, make one 6 inch long, 1/2 inch deep slit along the top of the dough. Carefully remove the pot from the oven and remove the lid. Pick up the dough with the parchment paper and lower it into the pot. Let any excess parchment paper hang over the edge of the pot. Cover the pot and place in the oven. Reduce the oven temperature to 425°F and bake covered for 30 minutes. Remove the lid and continue baking until the loaf is a deep brown, 20 to 30 minutes longer. Remove the bread from the pot and transfer to a wire rack. Cool to room temperature, approximately 2 hours.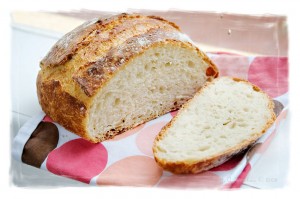 It takes a long time but 99% percent hands off. It's so easy I really think my kid sister could make it. ANYONE can make artisan bread that is this straight-forward! I get the feeling I'll be making it again and will experiment with flavors.
I was worried over nothing, my precious Le Creuset pot survived 🙂