Yesterday afternoon my grandmother asked if I was planning on making any desserts soon because she was craving something sweet. She doesn't really have a sweet tooth according to her but I guess everyone craves sweets every now and then. Because I have to feed the baby every couple of hours, I can't really get into anything too involved so I thought cookies would be good. I didn't want to take a trip to the supermarket and I because it was already the afternoon (today), I didn't want a recipe that required the butter to be at room temp.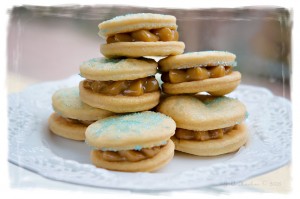 With all those things in mind, I started browsing through a few books to get some ideas. I remembered a cookie I had been thinking about making for a while and as it turns out, required that the butter be chilled. Excellent! The cookies are called alfajores de dulce de leche and this specific recipe came from Martha Stewart's Cookies. The recipe for the dulce de leche itself takes forever (5 hours according to her) but I couldn't wait that long so I made it Cuban style, and really, the only style I have ever seen used by real people. You can use Martha's recipe but if you have a pressure cooker, my way is MUCH faster.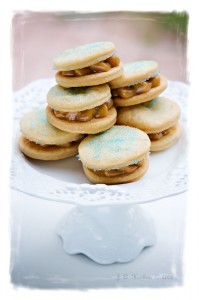 Alfajores de Dulce de Leche
4 cups all purpose flour, plus more for work surface
1/4 cup plus 2 tbsp confectioner's sugar
1 1/2 cups (3 sticks, 3/4 lbs) chilled unsalted butter, cut into pieces
1/2 cup water
sanding sugar for dusting
Dulce de Leche
In the bowl of a food processor, combine the flour and confectioner's sugar. Pulse a few times to combine and aerate. Add the butter and pulse until the mixture resembles coarse meal about 20 seconds. With the machine running, pour the water in a slow, steady stream and process just until the dough comes together, about 20 seconds. Form the dough into two flattened disks and wrap well in plastic. Refrigerate for 1 hour.
Line two baking sheets with parchment paper or nonstick baking mat. Preheat the oven to 350°F. On a well floured surface, roll out one disk of dough to a scant 1/4 inch thickness. Using a 2 inch round cookie cutter, cut out rounds form the dough and transfer to the baking sheets. Repeat with the other disk of dough. Gather up the scraps from both batches, reroll and cut. Sprinkle half the rounds with the sanding sugar. Bake until golden brown, about 15 minutes, rotating the baking sheets halfway through. Transfer to a wire rack to cool completely.
Before serving, spread about 1 1/2 tsp of dulce de leche on the bottoms of the unsugared cookies. Top with the sugared cookies to form a sandwich. Serve immediately.

Dulce de Leche
2 cans condensed milk, unopened and label peeled
Place both cans in a pressure cooker that will accommodate them. Cover and bring up to pressure over high heat. When the pressure cooker begins to hiss, lower the heat making sure it is still enough to maintain pressure and cook for 20 to 25 minutes. Remove the cans from the pressure cooker when cool enough to handle and let cool completely before using.
If you do not have a pressure cooker, you can cook the cans in boiling water for one and a half hours, making sure not to let the pot boil dry.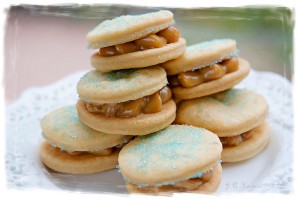 The pressure cooker is my preferred method but I realize not every household has one. There is nothing wrong with using a plain pot if you have time. If you do use a pressure cooker and are not very familiar with it, please, please, please follow the manufacturer's instructions! Pressure cookers can be dangerous! That said, I have yet to witness a pressure cooker accident and I have seen them used my entire life. Heck, I don't even know anyone who has had an accident.
The cookies were a hit and grandma's sweet tooth has been appeased.