My quest for great pancakes seems never-ending. When I made the KAF Simple But Perfect Pancakes, I really thought I had nailed it. I have made them a few times since and the end product is incredibly inconsistent. They were perfect the first time but far from it every other time. I was bummed because like I said, I really thought that was THE recipe.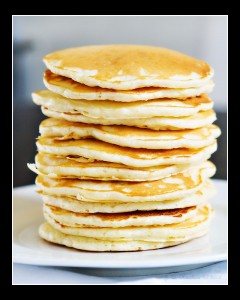 Since I got the waffle iron for my birthday, I haven't been making pancakes at all but we decided that we'd had enough waffles lately and that it was time to make pancakes again. I looked for another recipe, one that was easy but good. I used a recipe in a book by a publisher who shall not be named and modified it. The results were really good. Not quite as good as the first KAF pancakes but a million times better than the subsequent attempts. I hope this recipe is reliable and consistent because it is easy to make and pretty tasty.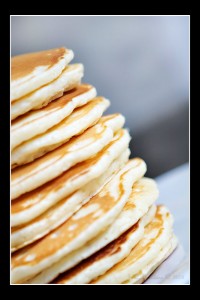 Light and Fluffy Pancakes
1 tbsp white wine vinegar
2 cups milk
2 cups (10 oz) all purpose flour
2 tbsp vanilla sugar
2 tsp baking powder
1/2 tsp baking soda
1/2 tsp salt
1 large egg
3 tbsp unsalted butter, melted and slightly cooled
vegetable oil for greasing skillet/griddle
Whisk the vinegar and milk together in a large bowl or measuring cup. Set aside to thicken while you prepare the rest of the ingredients. Whisk the flour, vanilla sugar, baking powder, baking soda and salt in a medium bowl to combine.
Whisk the egg and melted butter into the milk until combined. Make a well in the center of the dry ingredients. Pour in the milk mixture and whisk gently until just combined. The mixture should still be slightly lumpy, do not overmix.
Heat a 12 inch non-stick skillet over medium heat for 3 to 5 minutes. If using an electric griddle, heat it up according to the manufacturer's instructions. When the skillet or griddle is properly heated, grease with the oil using a brush to coat the bottom. Pour 1/4 cup of batter for each pancake onto separate spots on the skillet or griddle. Cook the pancakes until large bubbles begin to appear and the edges are dry. Flip them over using a thin, wide spatula and until golden brown on the second side. Serve immediately. Repeat with the remaining batter oiling the skillet or griddle as needed.
Makes approximately 12 pancakes
Obviously, the vanilla sugar isn't imperative but I used it because I had some and I wanted to see if it made a difference. Of course, to really know I'd have to make these very same pancakes using plain sugar. If you have buttermilk, just use 2 cups of it instead of the milk and vinegar mixture.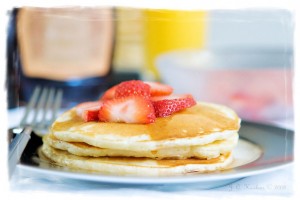 The pancakes were good and I had mine with good old Aunt Jemima syrup and some sliced strawberries. Matt had his with some pecan maple butter from Williams-Sonoma and butter pecan syrup. The possibilities are endless!