I haven't really been cooking or baking much since the baby came so I haven't participated in any blogging events for a while. I've barely had time to participate in the Daring Baker's challenge! I was browsing through www.ismyblogburning.com a few days ago and one specific even caught my eye, Local Eats Blogging Adventure hosted by the lovely Joelen of Joelen's Culinary Adventures. I had been thinking about making something very local to this area for a while but hadn't gotten around to it and this was the perfect opportunity.
What is it? You ask, well, let's see…What is named after something that grows mostly south of Miami-Dade County? It's not seafood, it's not an entree of any sort. It's tart but sweet…..it is Key Lime Pie! I learned a lot about the history of Key Lime Pie while doing research for this event. It's surprising how little we know about local dishes on the whole. We eat them regularly without giving it much thought because you know, they've always been there and that's that.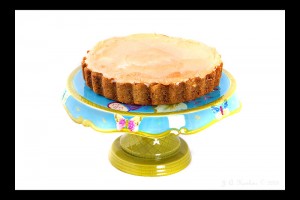 Originally, Key Lime Pie was not cooked at all. The acidity of the limes cooked and set the eggs thus setting the filling. Nowadays, because of health concerns, nearly all recipes call for a short baking period which sets the filling even more than just the lime juice. On July 1st 2006 Key Lime Pie was made the official Florida state pie. Who would have thunk it???

Luscious Key Lime Pie
for the crust:
1 1/4 cups graham cracker crumbs
1/4 cup firmly packed brown sugar
1/3 cup butter, melted
for the filling
5 eggs, separated
1 14oz-can sweetened condensed milk
2/3 cup FRESH Key Lime juice (a one pound bag)
3 tbsp sugar
Combine the crust ingredients. Press into an 8 inch deep tart pan with removable bottom. Bake at 350°F for 10 minutes; cool.

With an electric mixer, beat the egg yolks until they are thick and pale colored. Slowly beat in the condensed milk and blend well. Add the Key lime juice and mix until smooth. Pour into the baked pie shell. Bake for 15 minutes or until the filling is firm.
In a clean bowl, whip the egg whites until they form soft peaks. Gradually add the sugar and continue to beat until the meringue forms stiff peaks. Pile the meringue on top of the hot filling and spread all the way to the edges to make sure it doesn't shrink. Bake for 5 to 7 minutes, or until the meringue is light golden brown. Cool to room temperature and chill before serving.
Serves 6 to 8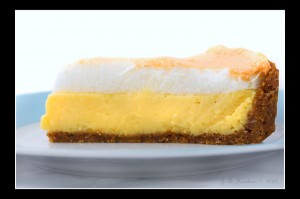 Purists seem to think that it isn't real Key Lime Pie unless a pastry crust is used but I much prefer to eat, if not to make, the cookie crust. Not only is it tastier, but it doesn't get soggy. They pie is tart, no question about it, but it's creamy and well, it's almost gone and I only made it yesterday.
Thanks to my genius husband I didn't spend half an hour squeezing tiny limes with my hands. He came up with the ingenious idea to use get this…..a garlic press! It worked like a charm! Alton would be so proud because our garlic press is no longer a unitasker!