Late last night, as I was getting ready to go to bed it occurred to me to get some dough for hamburger buns started and let it proof overnight in the fridge. I went straight to Peter Reinhart's The Bread Baker's apprentice knowing it would not disappoint. I found a recipe and got to mixing. Thank heavens for Kitchenaid!
This morning it was just a matter of shaping, proofing again and baking so the buns were ready for lunch! I made half hamburger buns and half hot dog buns but the recipe can be made into dinner rolls or loaves too.
I would post the recipe but the recipes in this book are SO long, then there's the shaping instructions, variations, etc. That said, this recipe is not difficult, just long. If you are really interested, you should at least check out the book at your local library. It is a GREAT book for any bread baker enthusiast or even those who want to start baking their own bread. It's not just recipes, he also explains why things are done the way they. This information is invaluable when you want to experiment with your own recipes.
Ladies and gentlemen….my buns….no, not THOSE buns…the flour ones 😉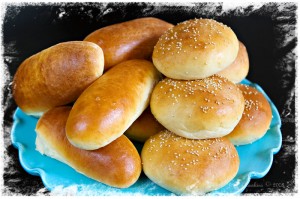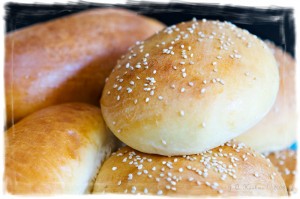 They are soft and tender and just perfect. They were a huge hit. My mom said "WOW, they look and taste like they came from a bakery!" I'm pretty sure that was a compliment! LOL