Before I moved to the UK I was under the impression that British food was anything but exciting. I mean, lets face it, England isn't exactly known around for the fabulous cuisine. What can really be said about a country whose national dish (of sorts) is not even their own but an import from a former colony? As it turns out, lots! Sure, it is no French cuisine but it is not always boring or bland. I'm talking about staples like Cottage Pie, roast beef, Yorkshire Puddings, etc but especially about my all time British favorite….Sticky Toffee Pudding.
For those who have not experienced this dessert, I'm sorry but I cannot describe in such a way as to do it proper justice. You just have to have it. I've had my fair share (OK, more than my fair share) of it and I still don't get tired of it. We were just in the UK visiting family and my first order of business was to get my hands on some. We are now back and I decided it was about time I tried making it at home so that I no longer had to wait for a trip to the UK to indulge.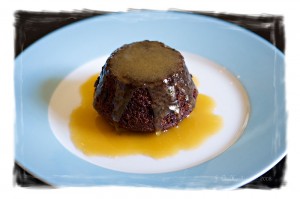 I searched high and low trying to find a recipe that was easy but authentic. It also required that it didn't contain chopped dates because my husband and I preferred no dates. In the end I adapted a recipe by James Martin and even though it did include dates, they were pureed and they made the cake incredibly moist.
Sticky Toffee Pudding
75g unsalted butter, softened
175g dark brown sugar
200g all purpose flour
1 3/4 tsp baking powder
1 tbsp golden syrup
2 tbsp black treacle
2 eggs
1 tsp vanilla extract
200g pitted dried dates
1 tbsp baking soda
for the sauce:
100g brown sugar
100g butter
200ml heavy cream
Preheat the oven to 400°F. Melt 25g of the butter and butter a 12 whole muffin pan.
In a mixer, blend the remaining butter and sugar together. Slowly add the golden syrup, black treacle, eggs and vanilla extract to the mixture and continue mixing. Turn the mixer down to low and add the flour and baking powder. Once all the ingredients are combined, turn off the mixer.
Place the dates in a saucepan with 300ml of water and bring to the boil. Puree the water and date mixture and add the baking soda. While it's still hot, quickly add the mixture to the egg mix. Once the mix is combined, divide it evenly between the 12 muffin cups. Bake for 18 to 20 minutes or until a wooden skewer inserted in the center of one cake comes out clean.
Remove the pan from the oven and allow to cool completely on a wire rack. Once the cakes are cool, remove them from the pan.
To make the sauce, melt the butter and sugar together in a small pan, add the cream and bring to the boil. Simmer for a few minutes until the sauce reaches the desired consistency.
To serve, reheat the sponge in a microwave or heat for 5 minutes in a 350°F oven. Place on a plate with lots of the sauce on the top.
Serves 12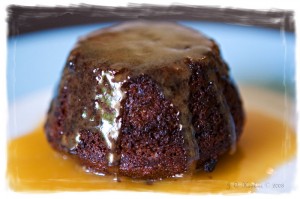 For American standards, these desserts are small but do not let their small size fool you, they are RICH! I had a hard time finishing one and that's virtually unheard of for me. While some people like it with ice cream, I prefer mine unspoiled by foreign substances 😛
Golden syrup and black treacle are not readily available in the US but can be found. If you have a Whole Foods near you, they carry golden syrup and possibly treacle but I'm not sure. If you don't then mail order is probably your best bet. The British Depot carries both and although we are lucky enough to be only about 40 minutes away from one of the branches, they do ship. Their website is http://www.bestdeal.org/british_store/
I hope that I have helped change the bad image British cuisine has, even if just a little. Sure, there are some rather disgusting things on their menu (Piccalilli anyone???) but it isn't all bad and not every dessert have such unappetizing names as spotted dick!