I am not going to make any more excuses for not blogging….life happens. From here on, I will blog (and cook for that matter) when I have the chance and I will not feel guilty about it. As much as I love cooking, baking, and blogging about it, I love my baby more and he takes priority right now.
Santa was good to me this year and I got not one, not two, not three but SIX baking books! SIX! Some of them have been on my wish list for ages but they were too expensive to get. My husband, whom I love very much, got them all for me. Here they are!
He also bought me a beautiful Tiffany necklace, which I was NOT expecting at all! It was a nice surprise.
For some reason I still can't explain, I volunteered to HOST the Christmas Day meal….at MY house. I still don't know what came over me but it was obviously a lapse in judgment. I spent a week going nuts trying to figure out how I was going to pull this off after all, we still haven't fully unpacked from the move AND I can't really do much during the week because the baby insists on being held and/or entertained (how DARE he???)! On Christmas Eve, I decided on the side dishes and it was nothing complicated because well, I was a big overwhelmed.
Things turned out alright though and since it was my family that invited to dinner, they watched the baby while I cooked. I will admit though that I didn't make dessert….I just served the Christmas Pudding we brought from the UK in November. Christmas is all about tradition, right??? 😉 I did, however, make the cognac butter to go with it.
The main dish was Apple Glazed Baked Ham. For not EVER having baked a whole ham before, it turned out great. I looked through a few recipes to see how things were done and then came up with my own version of the glaze. The ham took longer than I expected to cook which makes me VERY thankful for meat thermometers because we would have eaten undercooked ham otherwise. Well, not really undercooked since it was already fully cooked, but still.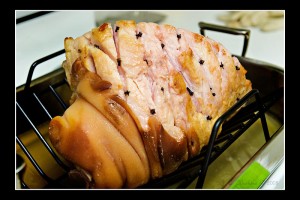 Apple Glazed Baked Ham
1 fully cooked bone in ham, 8 to 9 pounds
4 cups apple cider or juice
whole cloves
1/3 cup apple jelly
1/4 cup packed light brown sugar
1/4 cup Dijon mustard
1/4 teaspoon ground ginger
Place ham on a rack in a roasting pan. Trim the fat and skin; score the surface of the ham, making diamond shapes 1/4 inch deep. Insert one clove in each point of the diamond shapes. Add the cider to the pan. Loosely cover with foil and bake at 325°F for 1 hour.
Combine the remaining ingredients, brush some over the ham. Bake, uncovered until a meat thermometer inserted in the ham reads 140°F and the ham is heated through, brushing occasionally with the glaze.
Let it stand for 15 minutes before carving.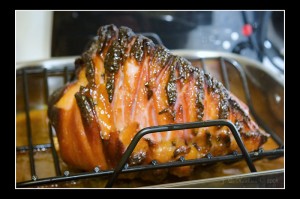 The sides were fairly easy and definitely tasty.
Bacon-Smothered Peas
3 slices of bacon, diced
1/2 onion, finely chopped
1 lbs frozen green peas
1 1/4 cups chicken broth
1/2 tsp salt
1/4 tsp ground black pepper
In a medium saucepan, cook the bacon until crispy and all the fat is rendered, about 4 minutes. Add the onion and cook for a further 5 to 6 minutes until they are tender. Add the peas and chicken broth and cook, stirring occasionally, until flavorful and cooked to the desired degree of doneness, 5 to 10 minutes. Add the salt and pepper and let sit off the heat for 5 more minutes. Serve hot.
Mashed Potatoes
2 pounds starchy potatoes like Russet Burbank, peel and sliced in 1/4 inch disks
1/2 cup heavy cream
1/2 milk
5 tbsp unsalted butter
salt and pepper to taste
Put the potatoes in a large, deep pot and cover with cold water. Add a large pinch of kosher salt and bring to a boil. Keep the water rolling until the potatoes are done. The potatoes are done when a sharp knife inserted into one meets no resistance. Drain the potatoes into a colander and let them sit for a bit.
While the potatoes are draining, wipe the pot dry and put it back on the stove over medium-low heat. Add the milk, heavy cream and butter and sprinkle with salt and pepper. When the butter is almost melted, remove the pot from the stove and rice the potatoes (using a potato ricer) directly into the milk mixture (you can also add the potatoes to the milk mixture and mash them). Return the pot to the heat and stir constantly with a wooden spoon until the desired consistency is reached, adding more milk if necessary. Taste and adjust the salt and pepper.
Braised Butternut Squash
2 tbsp extra virgin olive oil infused with roasted garlic
1 1/2 lbs butternut squash, peeled and cut into 1/2 to 1 1/2 inch cubes
1/4 cup stock (chicken or vegetable)
salt and pepper to taste
Put the oil in a large deep skillet with a tight fitting lid over medium heat. When the oil starts to shimmer, add the squash and stock and sprinkle with the salt and pepper. Bring to a boil, cover and turn the heat down to low. Cook, stirring once or twice, until the squash is tender, about 15 minutes. Season with salt and pepper to taste.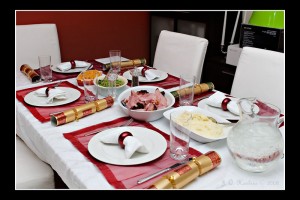 All that was made for 4 adults and 1 child and while the sides were all gone, I still have quite a bit of leftover ham. That's fine with me though, I can totally see the bone flavoring a nice split pea and ham soup.
This was also the first time I used my new All Clad Copper Core cookware! I had used the small saucepan but I got to use two other pieces and let me tell you, it felt GOOD. Now I just need a new stove because I HATE the one this apartment has. HATE it!
Just in case, here is the recipe for the cognac butter:
Vanilla Cognac Butter
85 g unsalted butter, softened
85 g, powder sugar
3 tbsp vanilla cognac such as Navan
In a small food processor, process the butter until smooth. Add the powder sugar and process until well mix. Adding one tablespoon of the cognac at a time, process until it's all incorporated.
Transfer to a serving ramekin and chill until ready to use.
Just for kicks, a couple of other pictures. First, my best interpretation of a Stepford Wife: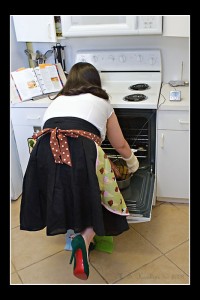 and my cute monkey wearing his Christmas Day bib. I don't know why he was so serious, he usually isn't!