It is no secret that I am kitchen gear whor……hhhmm….lover and not even having moved to a MUCH smaller place with a MMUUUUCCCHHHH smaller kitchen has tamed me. I cannot help myself…it's just in my genes. I was out today and I saw a mini bundt pan and I just had to have it. I had been wanting one for a long time and today was just as good a day as any to get it. It is also no secret that I quite possibly the world's most impatient person so I knew I needed to use it and quick. Luckily for me, I had dropped the baby off at my mom's in hopes of tidying the house up (yeah right) so I had the afternoon to myself. I did tidy the kitchen up (some) so I don't feel like I totally slacked but baking…..I just needed to do it.
I haven't baked in so long! I miss, I really do. I also miss cooking and I haven't done any of that since Christmas Day and that was the first time in months. The deal is, I just can't do it. The baby does not let me and I don't kid! He wants to be entertained and/or held all the time. Most days I can't even eat breakfast let alone make dinner. I still haven't mastered the art of wearing him on my back in the sling or the wrap so I can't cook with him on me either. So, we have been living on take out. Sad, so sad!
Anyhow, the pan came with a recipe for rum cakes and having done no prior research, I just went ahead and made that because I just couldn't wait. I modified the recipe slightly just because I refuse to follow recipes verbatim and because I like to experiment. The result was a tender, melt-in-your-mouth cake. It is not the be all and end all rum cakes but they are not bad at all.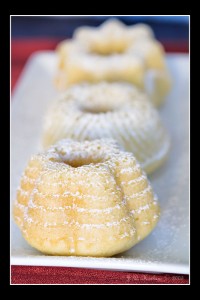 Rum Cakes
1 cup cake flour (or all purpose)
1/2 cup sugar
2 tsp baking powder
1/8 tsp salt
1/8 tsp ground cinnamon
1/4 cup milk
2 tbsp unsalted butter, melted
1/2 tsp pure vanilla extract 2 eggs
for the syrup
1/2 cup vanilla sugar
1/2 cup water
1 fl oz (1/8 cup) dark rum
Preheat the oven to 325°F. Grease and flour a mini bundt pan.
In a large bowl, combine all the ingredients; beat on low speed until moistened, then beat on medium speed for 2 minutes. Pour the batter into the pan cavities until 3/4 full. Bake 20 to 25 minutes or until a toothpick comes out clean.
In a medium saucepan combine the sugar and the water to make the syrup. Bring to a boil, stirring constantly until the sugar dissolves. Remove from the heat and stir in the rum. Using a fork or skewer, pierce the hot cakes still in the pan at 1/2 inch intervals; immediately pour the syrup over the cakes. Cool in the pan for 10 minutes, then invert onto a plate.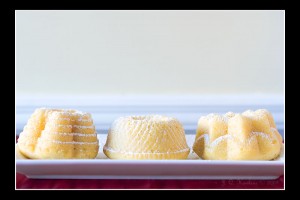 I actually found that the batter didn't actually fill my 6 cavity pan, it was only enough for 5. Shallower cakes can be made though by putting less batter in each cavity. I served them with a good sprinkling of powder sugar but it is by no means necessary.
I will definitely be looking for other cakes to make in this pan because I need to get my money's worth!