We have been eating out a lot lately because the baby does not give me a chance to make dinner. As you can imagine, this is getting really expensive so it was just a matter of time before we had to find another solution to the dinner problem. I can't let the kiddo scream while I cook so we decided it would be best to find quick things I can make once my husband gets home from work and watches the baby. Great idea. We only started yesterday so ask me how it's going in a couple of weeks.
Just because things have to be quick, does not mean they have to lack in the quality and flavor departments. For this reason, I picked Chicken with a Pan Sauce for the first dinner. I paired it with good old mashed potatoes and it was a success.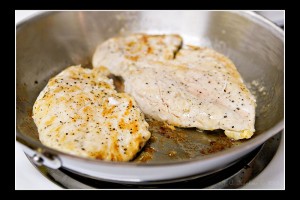 Chicken with Pan Sauce
2 skinless, boneless chicken breast halves
salt
ground grains of paradise (black pepper will do in a pinch)
2/3 cups dry white wine
1/2 cup chicken broth
2 shallots, finely chopped
2 tbsp whipping cream
5 tbsp butter, cold
Place each chicken breast between two sheets of plastic wrap. With the flat side of a meat mallet, pound the chicken until it's an even thickness of about 1/4 inch. Remove plastic wrap and season with salt and grains of paradise.
In a 10 inch skillet, melt 1 tablespoon of the butter over medium-high heat. Reduce the heat to medium and cook the chicken for 6 to 8 minutes or until no longer pink, turning once. Transfer the chicken to a platter and cover with foil to keep warm.
Add the wine, chicken broth and shallots to the skillet. To deglaze the skillet, stir and scrape the brown bits from the bottom of the skillet with a wooden spatula. Bring to the boil. Boil gently for 10 to 15 minutes or until the liquid has reduced to 1/4 cup. Reduce the heat to low.
Stir in the cream. Add the remaining butter, one tablespoon at a time, stirring well after each addition until the butter melts. The sauce should be slightly thickened. Season to taste with additional salt and grains of paradise. Spoon over the chicken and serve.
Serves 2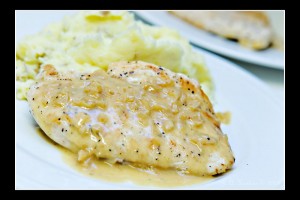 For this, as with any other pan sauce, you cannot use a nonstick pan. Pan sauces rely on stuck bits and there is no such thing on a nonstick pan. As for the wine, I have found that the four packs of the little bottles (the ones that are supposed to be one glass) works best for cooking. The quality is not excellent but they are not bad either and the best part is that no wine goes to waste because they are so small. Of course, if you drink wine with your meals then it shouldn't matter as it probably wouldn't go to waste.
This is a simple, relative fast and definitely good recipe. The best part? It's MUCH cheaper than eating out!