This is not sewing related but I HAVE to share because I am so excited!  A couple of days ago we received some fluffy mail!  It was a bit package with FIFTEEN new Bum Genius 3.0 diapers!!!! WOOT!  That may not be exciting for most of you but fluffy mail is always awesome for those who cloth diaper their babies.  As you may or may not know, we use cloth diapers.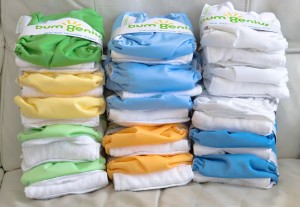 We had been using disposables for daycare because the bulk of our diapers are prefolds (require to be folded around the baby's butt) and while they would have used them, they are not the most user friendly of cloth diapers.  Disposable diapers are SOOOO much more expensive in the long run so we bit the bullet and bought 15 new pocket diapers. This, along with the other pockets and fitteds we have, is enough to stop using disposables for daycare AND stop using prefolds at home.  We will be a strictly pocket and fitted diaper family from now on.  So long prefolds!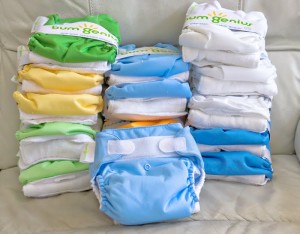 For those of you who have never seen modern cloth diapers, they are NOTHING like what they used to be back in the day.  They are very user friendly, especially the pockets, all in ones and fitteds.  I could write a book about diapers so I'll just give you the skinny on the ones we bought.  They are pocket diapers because they have a pocket between the outer water resistant layer and the inner stay dry layer.  You put an insert, or 2 or 3, in there to make the diapers absorbent.  These diapers are just like disposables, they do not let pee out and do not need plastic pants.  You put them on and take them off the baby the same way you do a disposable then you put them in a pail lined with a water resistant liner and wash them every 3rd day or so (in the washer!). These are one size fits all because they have snaps to make them smaller for young babies or unsnap them and make them larger for older babies.  So yes, they are great.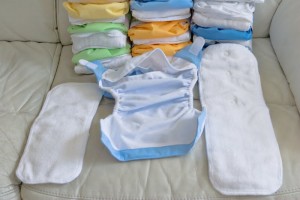 We got all the colors except for the two pink ones.
You can see more of our cloth diapers here.