I make a lot of soups because they are usually easy one pot meals but every now and then I come across a soup that blows my mind. Today's dinner was one of those soups. I didn't think it would be anything special but I was very pleasantly surprised. If you limiting your calorie intake (and we are) this is a great soup. Nice and filling and not crazy high in calories.
Root Vegetable-Split Pea and Ham Soup
1 tsp olive oil
1/2 cup chopped onion (about 1/2 small)
1 cup chopped carrots
3 cloves of garlic, roughly chopped
7 cups beef stock
2 cups diced sweet potato (about 1 large)
3/4 cup dried split peas
1/3 cup orzo or other small pasta
1 cup diced cooked ham
Heat the olive oil in a large saucepan over medium-high heat. Cook the onions, carrots and garlic for 3 minutes or until softened. Add the stock, sweet potato and split peas. Bring to a boil, reduce the heat to medium-low and cook, covered, for 40 minutes or unitl the peas are tender.


Transfer the mixture to a food processor working in batches if necessary. Puree until smooth. Return the soup to the pot and bring to a boil. Add the ham and pasta and cook covered for 10 minutes, or until the pasta is tender. Stir frequently as the pasta may stick to the bottom of the saucepan.


Serves 6 as part of a larger meal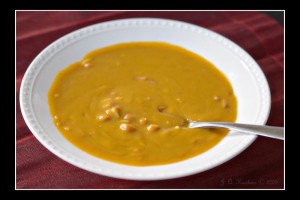 Now, I was in a hurry so I actually made the soup in a pressure cooker. If you have a pressure cooker you can cut the time back to only 15 minutes once full pressure is reached. Then you can proceed as directed on the recipe.
This soup is just delicious. The sweetness of the carrots and the sweet potato comes through but you can still taste the split pea. It's like split pea and ham soup on steroids. Delicous. This one will definitely go into the "favorites" file.