The second week of the CSA organic vegetable box is here!  Yes, I know I only posted one recipe from the previous box but rest assured we ate nearly all of it, I was just too lazy to post about it.
We picked up our box this morning and were surprised to see a few others there, including Margie (the farmer).  It had been raining and the grass was wet but we thought we'd let The Monkey run around anyway since he rarely gets the chance to be that free.  Leave it up to the spawn of a city girl to take a tumble right into a muddy puddle.  I was (almost) horrified but he just got up and kept walking.  Of course, the front of his clothes was soaked in muddy water. That was hilarious.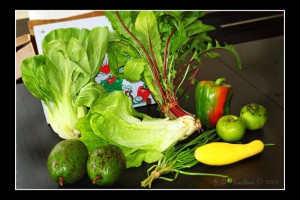 The box this week has a lot of things that I haven't tried and would not have normally bought.  Again, this is the beauty of vegetable boxes, you get to play Iron Chef a bit.  Improvise and see what happens.  I won't go into details about the contents and what the more exotic ones are (I'll leave that up to Matt) but the box had avocado, green bell pepper, garlic chives, zucchini, yellow squash, bok choy, dandelion, black zapote and romain lettuce.  We swapped the zucchini for another avocado although we wanted eggplants but there werent any in the extras box.  I don't have any set plans for any of it yet but I do think I want to make dandelion pasta.  The recipe on the newsletter caught my eye and I've been wanting to make pasta for a while so why not.  I'm researching other recipes.