I look forward to every Saturday morning now because it's CSA box day. I enjoy the drive to Bee Heaven Farm almost as much as I enjoy getting the box. I always drool over all those houses with enormous plots that I will never own. But I digress.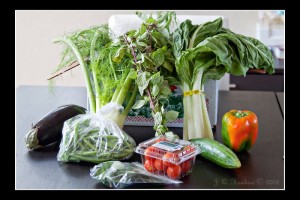 Yesterday was the first time we didn't leave anything from our box behind in exchange for something else, although we did take a goody from the extras box. This time the box had one eggplant, thai basil, green chard, one green bell pepper, one pint of cherry tomatoes, 3/4 pounds green beans, one cucumber and a bag of 5 piper betel leaves. We took fennel from the extras box.
The only thing in this box that I am 100% unfamiliar with is the piper betel. I have no idea what it is nor what do use it for. The newsletter has some suggestions but we'll see what comes of that. The fennel has the top attached so it huge, though the bulb itself isn't. I don't know what I'm going to do with it but I hope I can use it all. There's not much I have planned for this stuff since I am going on vacation for a week on Tuesday and Matt will be home alone. I really doubt he'll be doing any cooking so I gotta figure out a way to make this stuff last until I get back. I still have some things from the previous box plus there will be the box next weekend. I guess we'll be eating a lot the week I get back!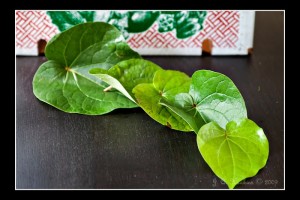 I did give the green beans to my mom because we still have some from the first box (assuming they are still good). I also gave her one of the avocados from the previous box. I think I'm gonna make a curry from the eggplant tomorrow but our AC broke today and hot curry is the last thing I want to eat in the heat.
For more picutres and info on the box, check out Matt's blog.