A few weeks ago, after we started collecting the CSA box, I was at Bed Bath and Beyond and decided on a whim to buy a pack of those green plastic bags that are supposed to keep produce fresh for weeks. I didn't have any high expectations as I've been burned by infomercials before. The weekend before last was the last time we collected the CSA box because we were in Mexico last weekend. Anyhow, I put the produce in a few of the bags and went on vacation. I checked on the stuff today and I was completely prepared to take it to the trash while holding my nose. What do you know…it was as fresh as the day I put it in bags. The bags really do work!
Of course, I didn't wanna push my luck so I cooked half of the produce for tonight's dinner. I had planned to make a curry but I don't have any grated coconut. I settled on a quick stir fry instead using some of the fennel and some of the chard. I had never used fennel before and I was quite surprised by the strong anise/licorice smell as I was slicing it. I was even more surprised when the cooked fennel, and stir fry, didn't taste one bit like anise or licorice.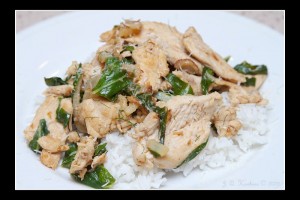 Now, I know I said stir fry and then said fennel, it wasn't a mistake. Fennel is a very Italian ingredient and stir fry and Italian aren't usually used in the same context as stir fries tend to be Asian but this works. Don't think about it as stir fry, think about it as a quick chicken saute and then it will make more sense.
Chicken, Fennel and Chard Stir Fry


4 oz fennel bulb (about 1/2 a medium bulb), thinly sliced
oil for cooking
1 tbsp butter
2 chicken breasts (about 1 1/4 lbs) cut into thin strips
1 tbsp fennel leaves, chopped
3 chard leaves, cut into strips
1/4 cup chicken stock
juice of 1 lemon
grated Parmesan to serve


Blanch the fennel in boiling water for one minute. Drain and rinse under cold running water to stop the cooking process. Drain again.
Heat a wok or large frying pan until very hot. Add 1 tablespoon of oil and half of the butter. Swirl to coat the sides. When the butter begins to sizzle, add the sliced fennel. Stir fry until golden brown and tender. Remove from the wok and keep warm.
Reheat the wok, add 2 tablespoons of oil and half of the remaining butter. Stir fry the chicken in two batches until cooked through and browned on the outside. Add more oil and the remaining butter between the two batches. Return the pork and the fennel to the wok and mix well. Add the fennel leaves and chard. Stir fry for one minute until the chard is just beginning to wilt. Add the stock and lemon juice, stir. Season with salt and pepper and serve immediately, sprinkle with grated Parmesan cheese.


Serves 4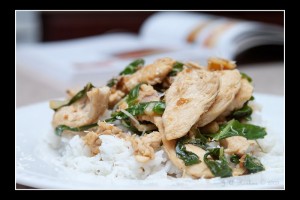 I served this over plain white but I bet it would be really good over wild rice or even mashed potatoes. Now I have to figure out what to do with the other half of the fennel bulb and pretty much ALL the top.