Let me start by saying that this is one of the few instances when I'm glad my mom doesn't speak/read a lick of English and thus not follow this blog.  Heck, I don't think she even knows what a blog is.  But I digress.
I haven't made a meal plan in eons and that is horrible because most days 6:40pm comes around, Matt gets home and I get the million dollar question "So…what's for dinner?"  My answer is usually the same: "What do you want?" This does not normally translate into "I'll make whatever you want" but more likely into "Not a clue, can you just go to Burger King and get something?"  So yes, meal plans are really essential around here especially considering I am still trying to lose weight, I'm only halfway there.
Today I decided that was not going to be the case.  I had some freaking expensive organic boneless skinless chicken thighs that I bought for The Monkey at Whole Foods a few weeks ago.  They had been in the freezer ever since until I thawed them out and cooked one for him.  I could not let them spoil so today I had to cook the chicken.  I also didn't want to have to use a whole bunch of pots and pans or prep tools cause, quite honestly, my kitchen looks like a pigsty right now and pretty much everything is dirty (I'm working on it!). So, a one pot chicken meal it was.
Now, this is the part I'm glad my mom isn't reading.  All my life I have sworn up and down I do not like "Arroz con Pollo" which is basically rice and chicken cooked together and tinted yellow with saffron or something similar.  I still say I don't like it and it's true, I don't like it the way most Cubans make it.  It's always greasy and they invaribaly use dark meat WITH bone, which I dispise.  So, guess what I made…Arroz con Pollo!  In my defense, I used the white meat part of the thigh, no bones and NO skin.  It was also very not greasy and it even had vegetables.
It ended up being a two pot meal because I needed to brown the chicken but the best part of all is that the recipe is for the rice cooker!  It could not get any easier than that!  It turned out much better than I expected it to and all three of us gobbled it right up, even The Monkey.  If you don't have a rice cooker then obviously this recipe won't do you any good but if you do have one and it's just collecting dust on the counter or in a cabinet, pull it out and get cooking, most if not all of the ingredients here are pretty much pantry and fridge staples.
By the way, the only reason I have a rice cooker is because my mom left her old one behind when she moved out.  She claims it's a piece of crap, and I agree but it served me right today.  This recipe is very loosely based on a recipe from a book called The Ultimate Rice Cooker Cookbook.  I've had this book since 2002 or so when I was stationed in Bethesda, MD and I thought I'd be doing some cooking in the barracks.  Turns out I couldn't be bothered so I had not made a single thing from it until today.
I served this with cabbage salad, great way to use my CSA stuff (the bell pepper is also from the CSA box).  The salad, if you can call it that, is nothing more than thinly sliced cabbage with salt and olive oil.  Simplicty at its best and the only way I eat cabbage.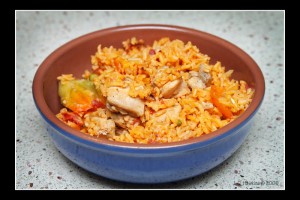 Arroz Con Pollo


4 skinless, boneless chicken thighs, cut into fourths
juice of 1 lemon
salt
pepper
2 tbsp olive oil
1/2 medium onion, chopped
4 cloves garlic, minced
1/4 bell pepper (seeded), cut into 3 pieces
2 cups long grain white rice
1/2 tsp ground cumin
1 cup lukewarm water
2 packets Sazon Goya with Culantro and Achiote (Coriander and Annatto)
1 14.5 oz can diced tomatoes, drained and liquid reserved
12 oz chicken broth
1 cup frozen peas


Season the chicken pieces with salt and pepper to taste and half the lemon juice.  Let it marinade for about 15 minutes.  


In a medium-sized skillet, heat up 1 tablespoon of the olive oil over high heat.  When hot, add the chicken and cook, stirring often, until browned on both sides.  Remove from the heat and set aside.  Set the rice cooker for a regular cycle and heat the remaining 1 tablespoon of olive oil in the rice cooker bowl.  When hot, add the garlic and onion and cook, stirring, until the onion starts to soften (about two minutes) without letting the garlic burn.  Add the bell pepper pieces, rice and cumin.  Stir well to combine.  Cook until the rice is opaque, about 10 minutes.


In the mean time, dissolve the Sazon Goya packets in the cup of water and add the remaining lemon juice.  Add the tomatoes to the rice cooker along with 1 teaspoon of salt and 1/2 teaspoon pepper.  Add the chicken stock and Sazon Goya water.  If the reserved tomato liquid is less than 3/4 cups, add enough water or chicken stock to bring it up to 3/4.  Add to the rice cooker and stir to combine.  Add the chicken to the rice, stir.  Close the lid and set the rice cooker to full cycle (if it has gone into Keep Warm mode).  Approximately 10 minutes into the cooking, very quickly open the lid and add the frozen peas.  Close and let it finish the cycle.


Stir to incorporate the peas and serve.


Serves 4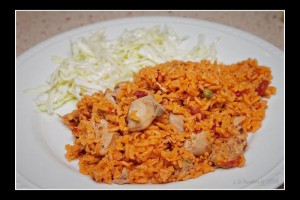 You will need at least a medium sized rice cooker for this and it doesn't really matter if it's one with all the bells and whistles or one that you have to keep pressing the "Cook" button down because it keeps going into "Keep Warm" while you are cooking the damned onion.  Ask me how I know.  If the cooker goes into Keep Warm while you are cooking the rice without the liquid, it's OK, don't freak out, my did and the rice turned out delicious!
So, I would tell my mom about this, I'm pretty sure she doesn't know you can cook stuff other than plain white rice in the rice cooker, but I'd risk having to eat Arroz Con Pollo next time I go over for dinner.  Let's keep it between you and me, alright?