We've been on a tight budget lately and I've been having to rummage through the freezer, pantry, etc finding things to cook that will work well, or at least OK, together. This is no easy task even though we have two freezers full of food that we somehow manage not to eat otherwise. Today's concoction was one that turned out to be really good. Not mind-blowing but definitely worth making again. Best of all, I used a lot of the remaining CSA chard and get this….radish tops from my own vegetable Square Foot Garden! Matt ate the radishes this past weekend but I couldn't bring myself to throw the greens away. They were not enough for a soup but I knew I was going to use them in something. This was perfect for them and I still have some left.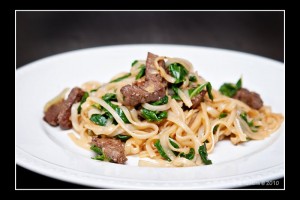 Five Spice Beef Stir Fry


6 oz beef, thinly sliced
Chinese Five Spice powder to taste
salt taste
2 tsp peanut oil
2 garlic cloves, crushed
3 cups green chard, stalks and greens separated and sliced into strips
1 large handful radish tops, sliced into smaller pieces if necessary
1 1/2 tbs soy sauce
1/2 sweet sherry (or other sweet wine)
4 oz Pad Thai noodles, soaked as per package instructions
While the noodles are soaking, season the beef with the five spice powder and the salt.


Heat 1 tsp of peanut oil in a wok or frying until very hot over high heat. Add the garlic and stir fry for 30 seconds. Add the second teaspoon of oil, heat for 30 seconds, remove the garlic from the wok and add the beef.Stir fry for 3 or 4 minutes. Add the chard stalks and stir fry for an additional 2 minutes. Add the noodles and toss well to mix. Stir fry for 1 minute. Add the chard greens and the radish tops, toss and stir to mix well. Stir fry for one minute. Turn off the heat under the wok and add the soy sauce and sweet sherry. Toss well and serve immediately.


Serves 2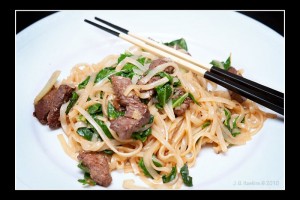 That's pretty much it! The five spice powder works beautifully here and you can definitely taste it. Yummy, yummy in my tummy! I think I'll be making this one again.