Valentine's Day is coming up in less than a month. While I'm sure you don't need an excuse to bake your valentine some cupcakes or even a cake, I'd like to give you one! I am giving away a brand new copy of Debbie Brown's Seriously Naughty Cakes! Can't find it on Amazon? Of course not, it's not available in the US! This book is a compilation of the content from the naughty cakes books Naughty Cakes and Xtra Naughty Cakes.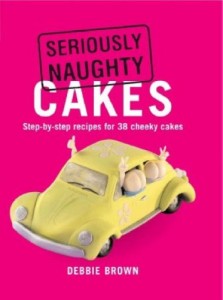 The giveaway rules are simple.
1. Bake a cake (or cupcakes) and decorate it with a Valentine's Day and/or naughty theme
2. Post about it on your blog between now and February 15th.
3. Link back to this post on yours.
4. Email me a link to your blog post on or before February 15th.
The email address is (without spaces) thymeforfood @ jqhawkins . co . uk
On February 16th I will choose one winner at random and announce it on this blog. Simple, right? Don't miss your chance to be the owner of this cute, quirky and naughty book!
Get baking now!