I have been very bad at NOT cooking lately. The CSA produce is not being used as much as we would have liked. There was so much produce in the fridge that I was starting to worry it would just spoil. Lucky those green bags do keep produce fresh for longer.
A couple of nights ago we decided that a stir-fry was in order. We really needed to use the produce and I just threw something together using quite a bit of it. I just winged it and it was actually surprisingly good (and SPICY!) I wasn't going to blog it but I figured, why not?


Hot and Sweet Chicken and Noodles Stir-Fry


2 tsp canola or peanut oil
4 oz dried pad thai noodles
1 small piper betel leaf, julienned
5 garlic cloves, minced
1 tsp grated fresh ginger
1 medium bok choi head
1 cup komatsuma leaves (or spinach)
1 cooked chicken breast, shredded or diced
1/4 cup chicken broth
1 tbsp soy sauce
1 tbsp hoisin sauce
1 tbsp hot and sweet dipping sauce
2 tsp cornstarch
Fill a bowl with hot water, place the noodles inside and let it sit for 10 minutes. In the meantime, separate the stalks and the leaves of the bok choi. Tear the leaves into smaller pieces and cut the stalks into bite size pieces. Combine the chicken broth, soy sauce, hoisin sauce, dipping sauce and cornstarch until smooth.

Place a wok over high heat, add the oil and heat up until VERY hot. Add the garlic, ginger and piper betel leaf. Stir fry for 1 minute. Add the bok choi stalks and stir fry for 2 minutes. Add the noodles and stir fry for 1 minute. Add the chicken, bok choi leaves and komatsuma stir well to combine. Add the chicken broth mixture and cook for 1 minute, making sure that everything is well combined. Remove from the heat when the greens begin to wilt.


Serves 2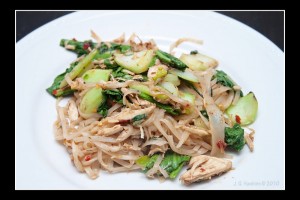 To be honest, I had no high hopes for this stir fry as it was a "throw stuff in and hope for the best" kinda cooking. Much to my surprise, it was really good. We used up all the bok choi, all the komatsuma and some of the piper betel leaves. If you don't have piper betel leaves, don't sweat it, it will be fine without.
What gives this stir fry it's spiciness is definitely the sweet and hot dipping sauce. I don't know where you can buy that commercially but coincidentally, you CAN buy some from my Etsy! I may be tooting my own horn here but this dipping sauce is damned good. I love it with just about anything and it hadn't occured to me to cook with it until this stir fry.
While I was cutting up the piper betel leaf we decided to try some. Well, it REALLY does taste like smoked sausage. I only used a small amount in the stir fry so it wasn't quite as obvious but I am thinking about using more of the leaves in something like a lasagna, spanakopita or something along those lines.