As I've mentioned before, the problem with the CSA box is that we often find ourselves with a refrigerator full of produce and no idea how to utilize it. We don't cook every day, as we should, and that makes the problem even worse. The first black zapotes we got rotted because they became ripe while we were out of the country. This time around we have about 7 zapotes sitting around, 3 of them REALLY needed to be used so I started researching ideas.
I had never had black zapote and for those who know, it is often called chocolate pudding fruit because its flesh has the same color and consistency of, you guessed it, chocolate pudding. I tried one a few weeks ago and to me it tasted like avocado. Very strange, turns out that in larger quantities (sweets, shakes, etc) it tastes a lot like mamey zapote, the kind of zapote I AM familiar with.
I had ice cream in mind but I didn't have any eggs in the house. I immediately thought of kulfi. Again, for those who don't know, kulfi is an Indian frozen dessert much like ice cream with a few differences. I did some research into how kulfi is made and the varieties of ways is astounding! They all end up the same way though so they are just means to an end. I only had condensed and evaporated milk so I came up with my own recipe based on my research. I was not expecting much to be honest but I felt like I had do something, anything, with the black zapotes because I couldn't let them go to waste.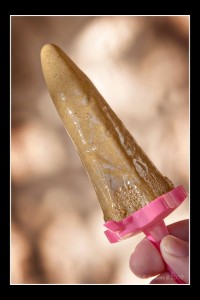 As soon as I put the mixture into the ice cream churner I knew I had done good. GOOD. Yum. I'm so glad I gave it a chance!
Black Zapote Kulfi


6 oz black zapote pulp (approximately 5)
1 can (14 oz) sweetened condensed milk
6 oz 2% (low fat) evaporated milk


Blend all the ingredients together in a blender or with a hand mixer. Pour into an ice cream churner and churn for about 15 minutes. Pour into popsicle or kulfi molds and freeze until solid. If you don't have a churner pour the mixture straight into the molds and freeze. The kulfi will just be denser.
Easy peasy! No cooking, no custards, no mess.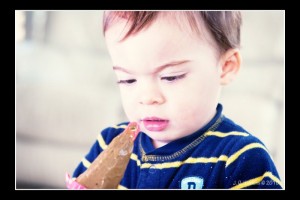 What is the difference between ice cream and kulfi, you ask? Well, the main difference is that kulfi is not whipped like ice cream is. The result is a much denser consistency which makes kulfi very, very slow melting. I personally find kulfi much creamier than ice cream, even the custard based types.
Kulfi is traditionally served on sticks but there is no law that says you can't just freeze it in a plastic tub!
Enjoy….I know I will!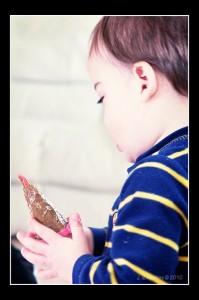 PS. There is some debate in the Thyme For Food household as to whether the correct spelling is zapote or sapote. Spanish is my first language and while I admit that I have not had to write that particular word often before the CSA box came around, I am pretty sure it's zapote.