I'm not sure why I bother to post here anymore since I doubt many people have kept up with me through my food blogging dry spell post baby but here goes anyway.
I finally made a meal plan for the week. It was about dang time. I don't know why I find it so difficult considering my sources for recipes are nearly infinite but I do. However, I hate the question "So…what's for dinner?" far more than I hate meal planning. I should say that I don't hate meal planning; I hate meal planning when I have to find recipes that sound good AND are low in calories, fat, etc. This was not one of those times, I have no idea what the caloric content of this week's recipes is as I was trying to use up the produce from the vegetable box before it went bad.
Last night we had Pork Chow Mein. It was nothing like the saucy stuff you get from Chinese take out places but I bet it wasn't nearly as unhealthy either. It was actually pretty tasty, too bad it was also very little. We needed twice the amount but we are piggies sometimes.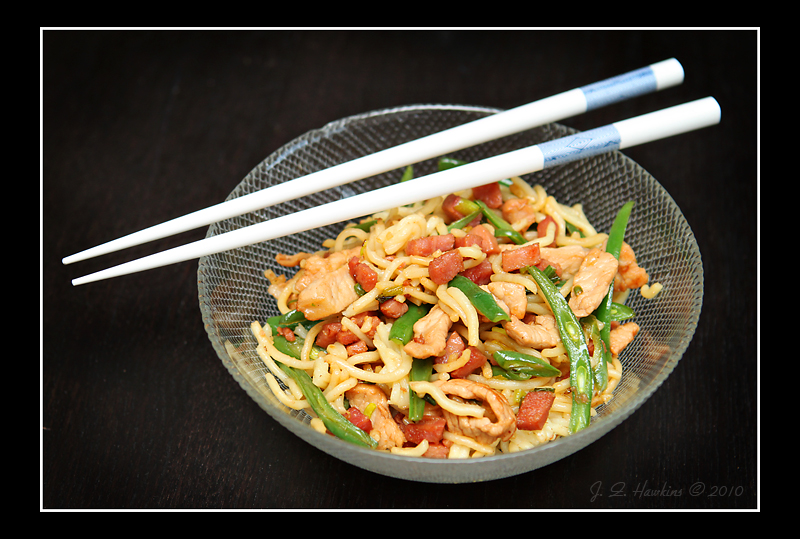 Pork Chow Mein


6 oz lean, boneless pork chops
3 oz diced ham
1 tbsp soy sauce
1 tbsp rice wine vinegar
2 tablespoons peanut oil
1 7.1oz pack Stir Fry Hokkien Noodles (precooked)
2 cloves garlic, finely sliced
a handful fresh green beans, thinly sliced
4 large scallions or onion tops, finely chopped


Cut the pork chops diagonally into thin strips. In a bowl, combine the pork with half of the soy sauce, vinegar and 1/2 tbsp of peanut oil. Let the pork sit in the liquids, seasoned with salt and pepper, for 15 minutes.
Set a wok or frying pan over high heat. Add 1/2 tbsp of the oil. When the oil is hot and you can see a little smoke rising up, add the pork with the juices and the ham. Cook over high heat, stirring continuously, for 2 minutes. Remove the meat to a plate.


Reheat the wok and pour in 1/2 tbsp of oil. When it is hot add the garlic, green beans and scallions. Stir fry for 2 minutes without letting the garlic burn. Add the noodles and cook for 2 more minutes, stirring constantly. Add the meat to the wok and cook until heated through, 1 or 2 minutes. Pour in the remaining soy sauce, vinegar and oil. Cook until hot, about 3 minutes.


Serves 2
You can slice the beans in any way you want, you just have to make sure they are able to soften up a bit during cooking.
This is a pretty easy dish and I think I'll probably be making it again at some point.