We go through life often taking things for granted. People and come into our lives and go and only then do we realize how important they were. The same goes for places, especially places we live in. We spent our time there saying how much we dislike this or that about it but rarely see the positive. Then we leave for good and we realize what a big impact that place had in our lives. Years down the road you still find yourself yearning to go back, even if just for a little while. For me this place is Naples, Italy (and London to a lesser extent).
I can't say that I wasted my 3 years there but I definitely did not appreciate them to the fullest or enjoyed them to the fullest. There was so much left undone that it made my departure bittersweet. While I lived there it never occurred to me that one day I'd miss it. As a matter of fact, I was certain that wouldn't. Little did I know that the dump that is the Campania are, literally, had grown on me and would be with me always. This is sappy, I know, but it really is how I feel.
I remember the food the most (DUH!) and it was good. Boy, was it good! I had never had food that fresh in my life. I remember the very first time I went to a restaurant there I ordered scampi and the waiter brought me the plate the scampi was so fresh it was looking at me….cooked but intact. It does not get any fresher. This freaked me out but once I got past the ick factor it was SOOO good. One of my favorite dishes from Campania is saute di vongole (sauteed clams). It is served as an antipasto and it's out of this world. They make it very simply, the clams are just steamed in wine, olive oil and garlic then served with bread on the side to soak up the delicious juice. Seriously one of the best things I have eaten my life. So simple yet so incredibly delicious. I remember sitting in the outdoor area of a particular Aversa restaurant (can't remember the name) on several occasions enjoying the vongole before my pasta came. I miss those days and I wish I could turn back time, I'd take more advantage of it.
I'm not telling you all this just for the sake of reminiscing, although reminiscing was what prompted me to make this in the first place. Today I made fettuccine alle vongole and of course I used a traditional Neapolitan recipe. It was so good; not quite like that of Naples but good nonetheless. This is the same saute de vongole served in Naples except that pasta is used to soak up the clam juices instead of bread. I'm so glad I made it, every bite was a like a trip back Naples and I liked it.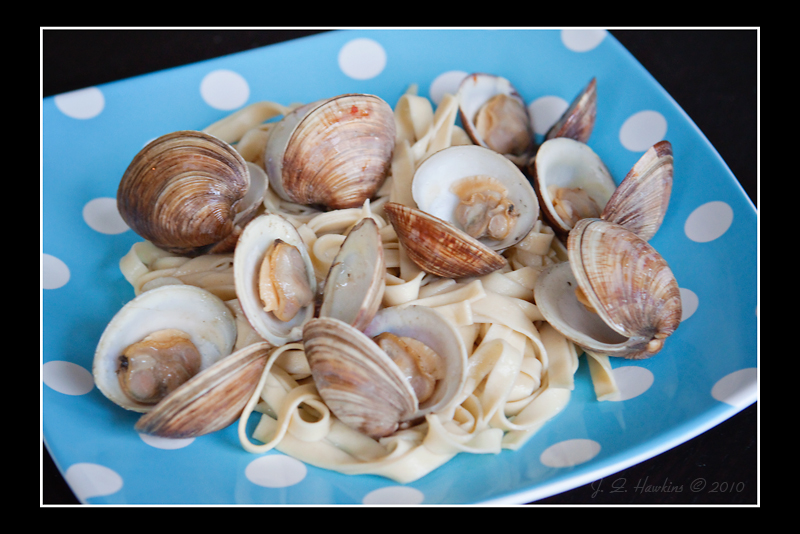 Fettuccine alle Vongole


1 tbsp extra virgin olive oil
1 tbsp white wine
1 garlic clove, thinly sliced
a pinch hot red pepper flakes
1 pound clams (I used littleneck)
4 oz dried fettuccine


Bring a large pot of salted water to a boil.


In a lidded pot over medium low heat combine the oil, wine, garlic and hot pepper flakes. Cook until the garlic just begins to color. Add the clams, cover the pan and shake a few times. Increase the heat to medium high and cook, shaking the pan a few times, until the clams open, 3 to 4 minutes. Remove the clams and set aside.


Cook the pasta until very al dente. Drain it and turn into the pot with the clam juices. Toss and cook over medium heat until the pasta is done to taste. It will absorb all of the the clam juices. Pour the pasta onto a plate and top with the clams. Eat immediately.


Serves 1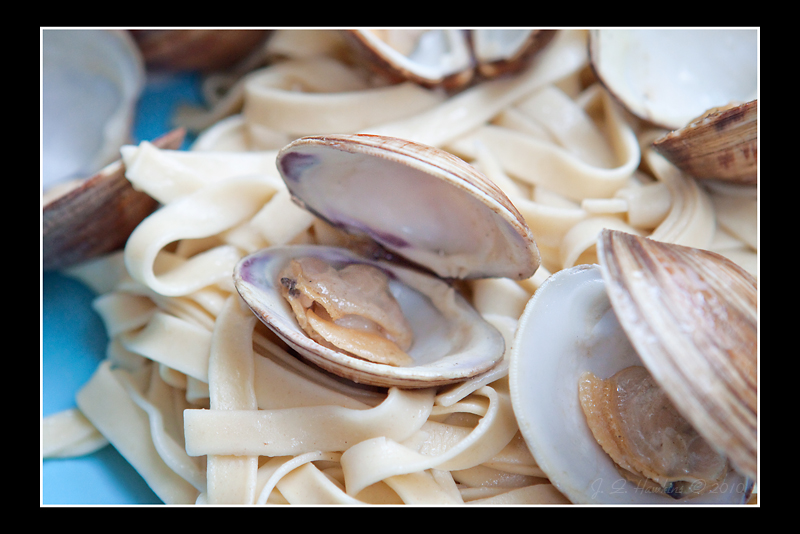 I made just one serving because Matt does not like clams. A pound of clams seems like a lot but most of the weight is the shell. My pound of clams had 10 clams…..I needed 20 more…but I LOVE clams.
This quick and simple dish was a trip down memory lane. I miss Naples, chaos and all.