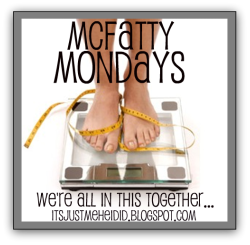 I decided to join the McFatty Monday crowd since I seem to be posting about weight loss, running, and what not so often.
Even after the surgery, I am nowhere near where I want to be. Not only do I want to lose more weight (15 pounds or so), but I also want to one up and just get in shape. With that in mind, I decided to give the weight training, and maybe cardio, portion of Body for Life a try. I'd be doing the weight training on my C25K off days and the cardio, if I do it, on my C25k days, right after the workout and before cooldown.
Today was the first day of BFL weights. I did the upper body workout and I'm positive that come tomorrow, I will not be able to lift a finger. FML.
Some scary numbers:
Current weight: 135lbs (give or take depending on the swelling)
Height: 5'1.5″. However, half inches are rarely found in any fitness measurements for height so I use 5'2″
Goal Weight: 120lbs
Starting Weight: 168lbs
Loss to Date: 33lbs (give or take depending on the swelling)
I hope to be swimsuit decent by next summer!
So, join us on the weight loss wagon and see where it takes you!