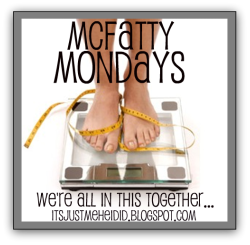 It's Monday again! I have been doing the C25k runs on Tuesday, Thursday and Saturday and last week I stared doing the weight training part of Body For Life on Monday, Wednesday and Friday. I don't particularly enjoy going to the gym every day so I decided to try something. This week I'm testing whether doing the C25k program AND the weight training on the same day works for me. I did it today and while I was dead tired at the end, I'm glad I got it out of the way. Now my legs have a chance to recover until Wednesday.
This week is week 4 of C25k and I was actually pretty scared about how it would go. The runs went from 3 minutes to 5 minutes and I wasn't sure I was going to make it. They were hard, I won't lie, but they were not nearly as horrible as I thought they would be. For the first time in my life I had sweat literally dripping off my body. The worst part, I think, is that I get bored on the treadmill and there is no air movement in the gym. Those 5 minutes lasted an eternity so I'm REALLY scared for next week and all the weeks after that. Ideally, I'd run really early outside, to be done by 7:30am but that means I'd have to wake up before my son does and I'm just not up to it. By the time I actually leave the house to go to the community gym it's 8:30am or so and WAY too hot to run outside.
We'll see how this week goes.