Matt set the alarm for 5:15am this morning to give us plenty of time to get ready and get out to Coral Gables for the race today, which was supposed to start at 7am. In the morning I heard "Oh, sh!t! June, the alarm didn't go off, it's 5:59!" Nice. We had one hour until the race started and was still in my jammies. The place where the race took place is about 30 minutes away and I still had not picked up my race packet with the bib. Not the best way to start the day. I got dressed in record time in we were out the door within 10 minutes.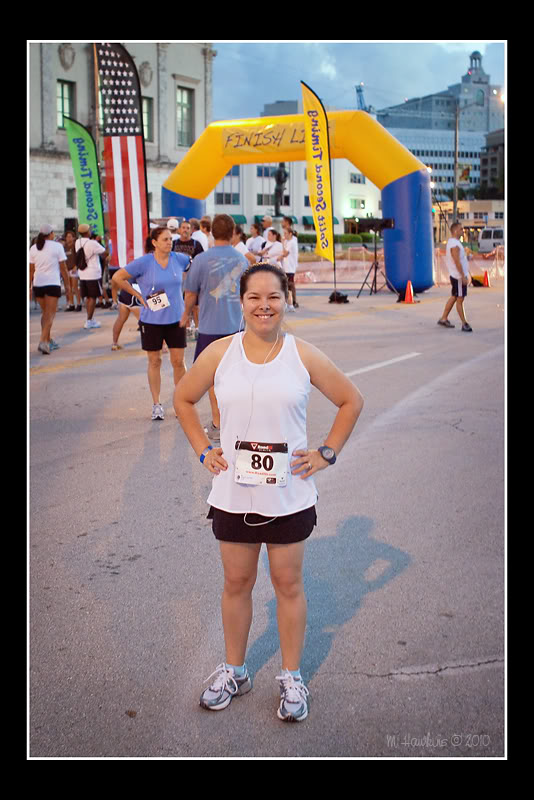 Left wrist: Garmin FR405cx. Right wrist: RoadID Elite.
Under my shirt holding my iPhone: iFitness belt.
I got my new Garmin Forerunner 405cx last night and I still had to set it up since it had been charging overnight. I had to do that in the car. More on the Garmin later. I was actually not nervous this time around. However, I really needed to use the toilet, which I didn't get a chance to do at home. I figured when I picked up my bib, I'd go to the porta-potties. Well, the race was less than 5 minutes off and the porta-porty line was enormous. Crap! Thankfully, not literally and I was hoping it stayed that way. I took my place at the start line along with I don't know, 300 others, and when the gun went off, off I went.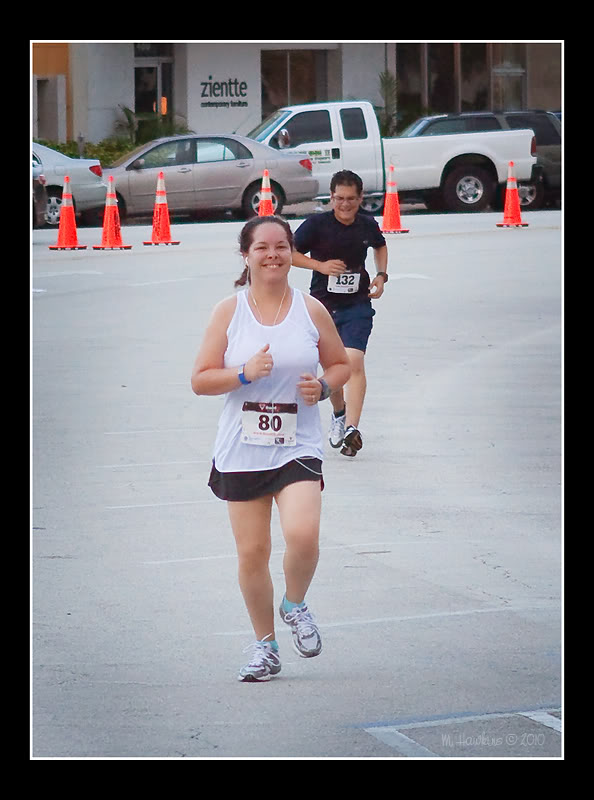 It was hard from the beginning. I was uncomfortable because of the potty issue, it was humid and I wasn't very well hydrated. It didn't get any easier as it went. I started off faster than I should have but I adjusted my pace when I realized it. The Garmin gave me a mile by mile pace as I went along with distance, etc. Kickass little piece of equipment. The course was around the Coral Gables country club. If you not familiar with the area, Coral Gables is a posh neighborhood in southwest Miami. The houses there are right out Architectural Digest. During this runI had time to admire the nice neighborhood I don't live in but hope to one day HA!.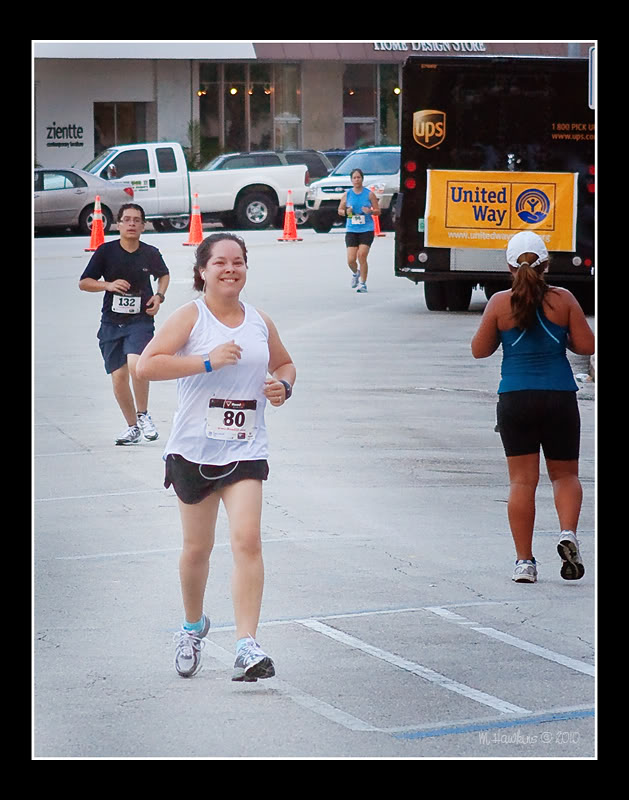 Anyhow, it was hard all the way. I finished at 37:53, over a minute slower than the previous race. I was hoping for less time but oh well. I think I did better the first time because I started fast but I didn't really slow down considerably until after the 1st mile, which means I gained some time. Maybe I will try that again next time and see how it goes. I don't think I'll ever be the negative split kinda runner (or jogger even!). On the bright side, this is still faster than sitting on the couch!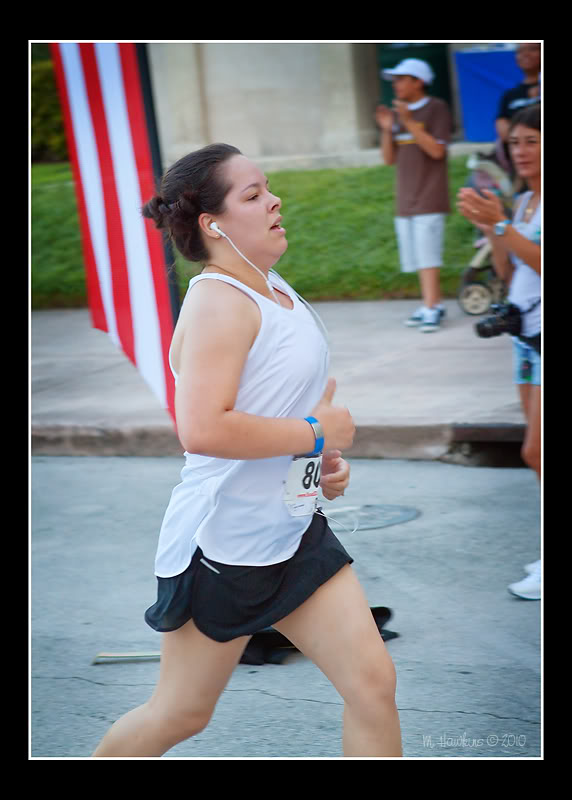 By the time I crossed the finish line, I thought I was going to die and then it started raining. Still no potty. Off to the car we rushed and on home. But not before puking, of course.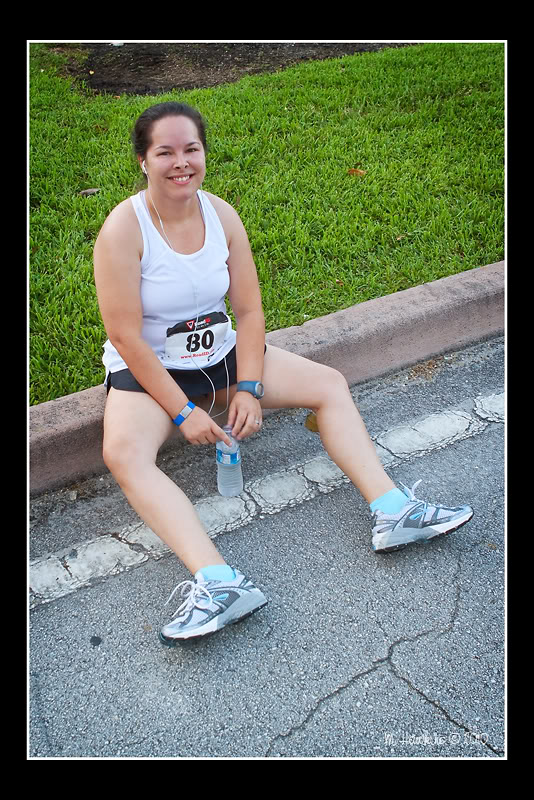 I might as well have been passed out here, cause that's how I felt.
I decided to try out running skirts so I bought one yesterday. It was comfortable except the short part (there's compression shorts under the skirt) was too short and my thighs rubbed. I did not chafe, I had applied copious amounts of Body Glide, but I still don't like the feeling of the rubbing. That said, I liked running in a skirt from the aesthetic point of view. The shirt also rocked. When I got home and took it off I realized I had worn it inside out LOL.
Race Registration: $25
Running shoes: $99
Running tank: $25
Maximum impact sports bra: $42
Running skirt: $45
Sucking your gut in when running past a hot cop: Free
Still feeling like a girl when drenched in sweat and smelling worse than a high school male locker room: Priceless.
My husband actually stuck around the this time so he got some pictures. They are not great, it was still fairly dark without flash, but I dare say they are better than the official pictures (which are not up yet and thus I haven't seen).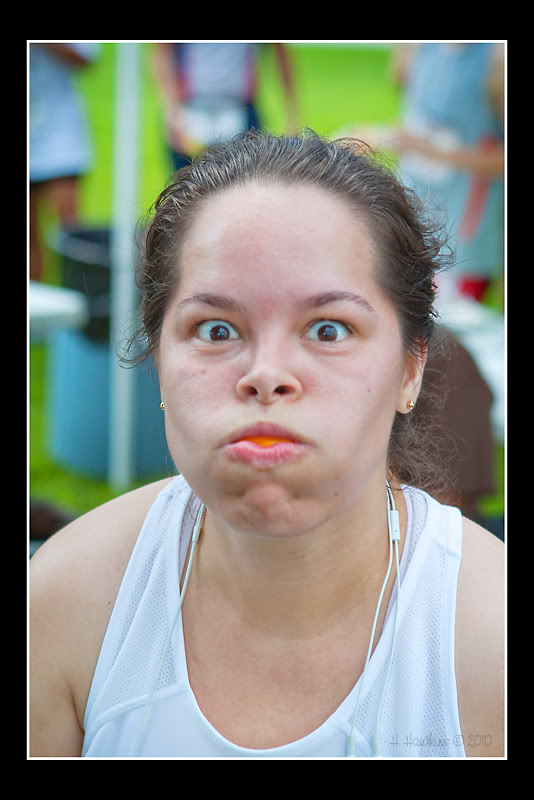 This is what happens to those orange wedges! Just
On to the Garmin. It kicks ass. It's the huge honk of computer on my left arm. When I uploaded the workout, this is the info I got (click on it). The time and distance is slightly off from the official because I forgot to stop the watch as I crossed the finish line. I'm in love. The short line going back towards the course is me making a beeline towards the portapotties in a failed attempt to use them (NASTY!)