All hail the new ride: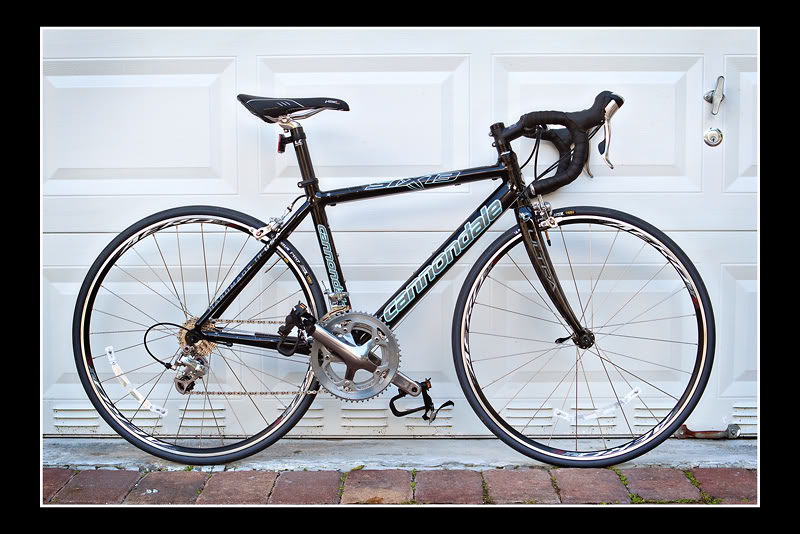 2008 Cannondale Six13 Feminine 3 Double .
Remember THE bike? This is it. I went to put a down payment on it the day before yesterday to put it on layaway. I was told that because there were only two left I could not put it on layaway. After much debating and convincing, it came home with me that day.
Here are all the specs for the bike. Even though it's a 2008 model, the bike is brand new. That is why I only paid 44% of the original retail price. Other models in the store from this year cost more and were not nearly as good a bike as this. As they put it, this bike is the Corvette and the other bike I tried the Focus. The choice was clear. It is the 40cm one (smallest) with 650c wheels. With the reflectors and pedals (which don't come with the bike), it weighs 19.5 pounds. The hybrid I've been riding weighs 27 pounds.
Anyhow, I got fitted yesterday but I was wearing the wrong shoes so I'm positive I have to go back and get refitted. I went out for a ride yesterday afternoon and it is very clear that this bike is no hybrid! It pretty much glides on the road but the riding position is nowhere near as comfortable as the riding position on the hybrid. That was, however, to be expected. I rode for about 30 minutes. The first 15 minutes of the ride were great. I got up to almost 19mph at one point. Then I turned around and I hit a brick wall. You can see it on the speed chart, after 15 minutes, it just went way down.
Well, it was the wind but felt like a brick wall. The ride back to the car was hellish. I was pedaling and felt like I was going backwards. I only managed to pootle along at 10mph and even then, it was HARD. Oy. I was against the wind the entire time and I thought I was going to die. The thought of calling my husband, who was working 40 minutes away, to come pick me up and drive me the rest of the way to my car (ONLY THREE miles) did cross my mind. One of the hardest part was actually holding my head up. I have a sore neck today, I need to work on that. I was also having pain on my left knee, that's what makes me think I need to go back for another fitting.
I finally made it back to the parking lot (I went to a local National Park visitor center as my starting/end point) and decided to ride up to some picnic tables to take a break before getting in the car. When I was at the tables I lost my balance and rode right into a table with a couple having lunch. It was freaking hilarious. They had their back to the road so they didn't see me coming. The woman jumped about 3 feet in the air. This must have been quite a sight all around, especially if someone had been watching me on the ride back. I'm so clumsy. I should add that I didn't actually run into them, just the table. No one, and no bike, was hurt.
This story wasn't funny as it was happening but when I was telling my husband, I just couldn't stop laughing. I was cracking myself up. Really, you had to be there. Note to self, do not go on any group rides until you can ride more than 8 miles without wanting to die and be put out of your misery.
The ability to ride 21.5 miles on a hybrid bike =/= the ability to ride even 8 on a road bike. I am stubborn though so I will keep at it. Not to mention that if I don't, I may find myself being served with divorced papers, the bike wasn't cheap.