The day started off on the wrong note.  I woke up at 6:29am and realized my alarm didn't go off.  It was set for 6:10am but my phone was just frozen, it was not doing anything at all and I was certain it had bitten the dust.  We rushed and were out the door by 6:45am I think.  That is record time.  The Monkey had his breakfast in the car.  Thankfully there wasn't much traffic….until we got off the expressway and tried to get in the park.  The line to get in was epic.  We were already running late and I was thinking about just getting out of the car and walking in.  To add insult to injury, I was in dire need to use the toilet.  I was seriously worried that if I didn't get a chance do so before the race, I'd pretty much crap myself on the course.  Pardon the explicitness but this is an all too common issue with runners, the trots. It's not pretty but it happens even to the best of runners (hello Paula Radcliffe!!!).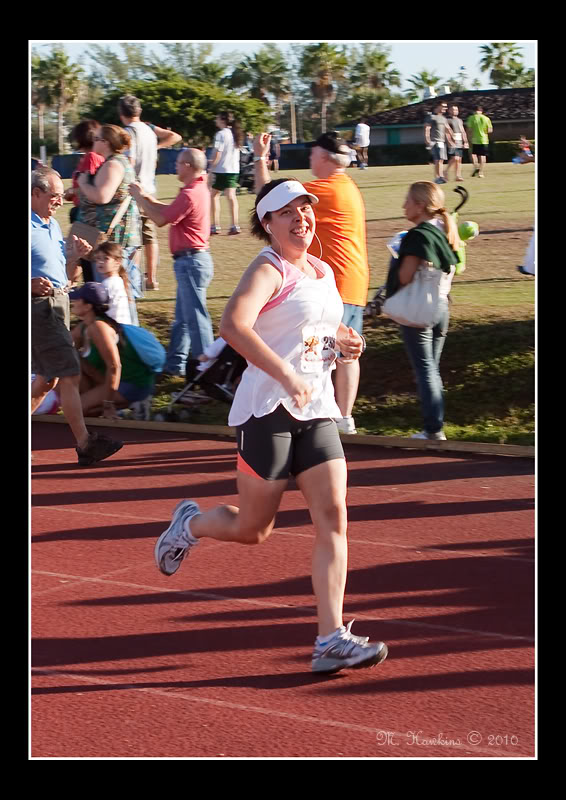 HORRIBLE picture of me (my face), I don't know what I was doing but man, look at those legs!  
The legs are the only reason I included this picture 😛
I finally got out of the car and jogged to the porta-potties while Matt drove in.  Thankfully, there wasn't a long line and I was able to take care of business before heading out to the start line.  At this point, yes, by the porta-potties, I met up with Damaris, a local running nut I met on Runner's World Online.  Porta-potty randevouz, glamorous. Anyhow, I did my business, the crisis was averted and  I made my way to the starting line, or more like the starting mob.  WOW, there were a lot of people! I couldn't even see the starting line for a while.  I made my way as far up as I could to line up with the 10 minute mile group and waited a few minutes for the gun.  Honestly, I don't know why they bothered with pace markers, no one followed them.
The gun went off, I didn't hear it, and people started walking.  It took me a while to get to the starting line (thankfully it was timed at the start and the end, not just the end) and off I went.  It was hot, humid and the sun was just blazing.  To my recollection, the run went something like this:
Mile 1:  Wow, there's so many people here!  Push-shove-weave through walkers.  Man, it's hot and I'm already thirsty.  I've been running forever, what do you mean it's only been .77 of a mile???  WOW, I'm running sub 10 minute mile, I may actually break 30 minutes today.
Mile 2:  Hhhmmm…..I'm not sure I'm alive, I think I may actually be dead.  Push-shove-weave through walkers.  Where are all these walkers coming from??  What the heck?  Run through water station.  Crazy woman in front of me came to a dead stop for water and I rammed into the back of her and nearly ate the road.  She looks at me like it's MY fault.  Am I there yet?  No?  I want to stop.  So I stopped and walked for 5 seconds.  Whatever, it's way too hot.  Still running sub 10 minutes!
Mile 3:  OK, I can't give up but another 1.1 miles seems impossible.  Just….one….more…mile.  Get more water, cup too full, dang it.  I should have brought my own water.  Man it's hot! and crowded.  and humid.  Am I going to remember all this for the race report?  I wonder if I can see Damaris going the 10k route to cheer her on. No Damaris.  OK, only half a mile to go.  I don't think I'm going to make it.  This fvcking sucks, why do I do it again? I don't know.  OK, I can see the track now and the finish line.  Wait, that's a FAKE finish line! Damn these people!
.1 mile  sooo…far….to….the….finish…..I can do it, I think.  OK, so I won't break 30 minutes but I'll definitely PR (personal record).  OK, almost there.  Hey, there's Matt!  I better wipe this look of pain off my face and smile.  Maybe I'll just pull a stupid face. OK, here I go…crossing the line…YES!  Holy crap I'm absolutely shattered…sit down.
So yeah, what a stream of consciousness.  I was listening to music the whole time but obviously it wasn't helping to keep me distracted.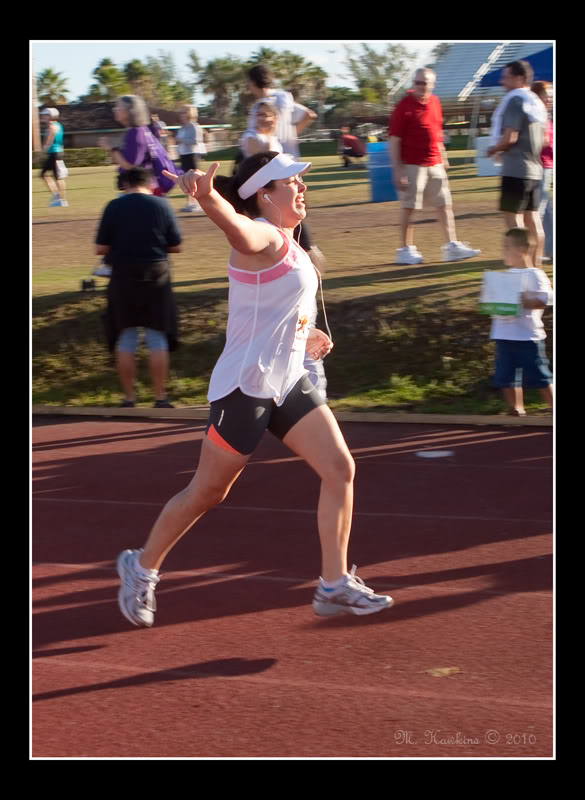 Hello, bat wings!  Yuck.  Legs, again.  That's the best thing about my body.  
Hey, at least I don't hate it all.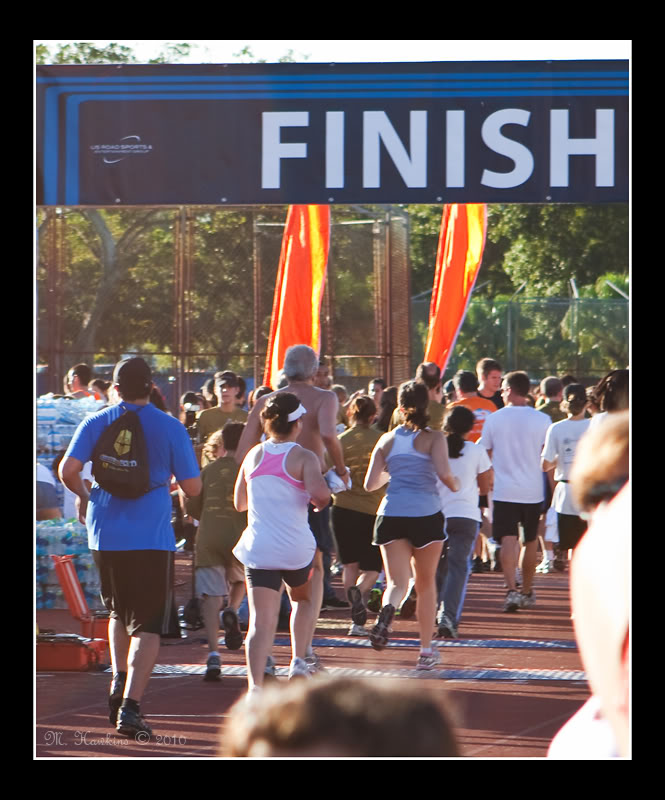 Oh yeah, I was really there and finished, see?
My feelings on the race are mixed.  Obviously, I'm happy with my  time, I set a new personal record and broke the last one by 1:20, that's a lot for a month between the races.  In addition, I did this under horrible conditions so it's even more impressive (to me at least).  I felt the course was too crowded, they should have capped the event at a much smaller number.  There were 4000 runners all starting at the same time.  Walkers and strollers all over the place, they didn't bother to stand at the back of the line.  I spent the entire race weaving in and out of walkers and strollers.  My Garmin shows I ran 3.17 miles and that's because of all the weaving.  Also, the race started too late.  7:30am is too late to start a race in Miami especially now that by 7am the sun is already fully out.  It was so hot and miserable that I pretty much wished I wasn't running at all.  It didn't help that I went all out because I was shooting for a sub 30 minute 5k.  I'm convinced that if the course hadn't been so crowded I would have achieved this even in the heat and humidity.  I finished in 30:45.30 (30 minutes, 45.30 seconds).  That was my Garmin and my official chip time as well.  Gun time indicates it took me 3:59 to get to the start line.  I finished 29 out of 155 in my age group and 713 over all.  Not too shabby.
Ah well, I lived to race another day.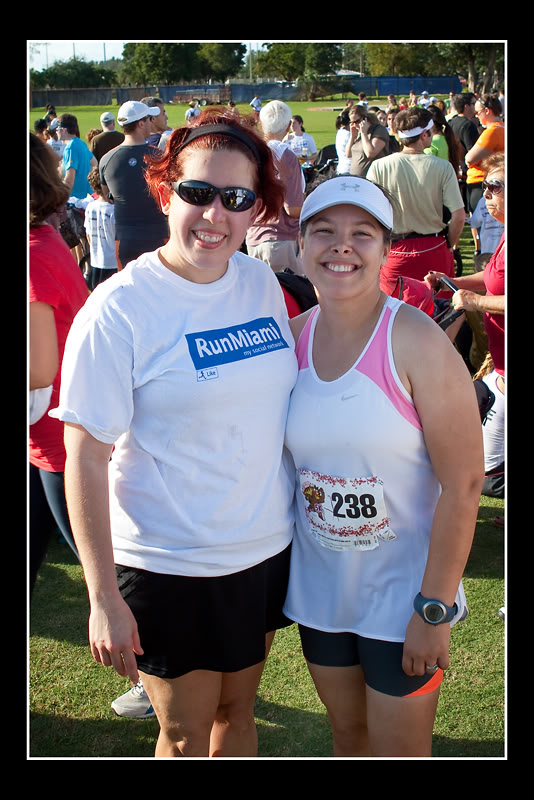 Damaris and me.  Smart girl, she changed into dry, non-stinking clothes!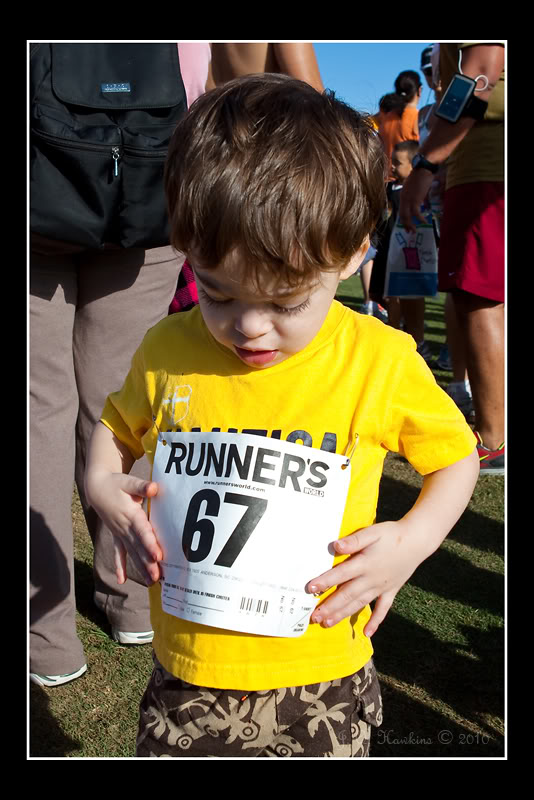 What the heck is this, mommy?  
I know I'm biased but this is the cutest runner I've ever seen.
I'd normally go home at this point but we were waiting for the kid's race and for Damaris to finish her 10k.  The Monkey was starting to get cranky but we hung around anyway.  Finally met up with Damaris again and got some pictures, then went off to the kid's race.  I didn't think he would run since he was feeling pretty crappy but we gave it a shot anyway.  He ran for a little bit but then wanted to be carried.  You know, I often want to be carried to the finish line too.  It was a short run, 50 yards, so I carried him the last 30 yards and through the finish line.  I was very funny watching a bunch of 2 year olds run.  They all got medals and The Monkey loved his.  I have to start him young so by the time he's my age he will have already set world records and not just be starting out 🙂