On Saturday morning, I woke up bright and early and headed out to my second 10k, the Holiday Run. It was fairly chilly (for South Florida) which was a nice change from the disaster that was the Turkey Trot a couple of weeks before. I was number 3038 and I was worried that there were going to be so many people at the race but alas, it was just a number system and there were not thousands of runners like at the Turkey Trot. The race was pretty close to my house so we got there with plenty of time to spare. I was very pleased to see there were a lot of porta potties (and no lines!), pace markers, announcement for strollers and walkers to the back, etc. I did a little warm up to get literally warm, I was freezing and then headed out to the start line and waited. The 5k took off at 7:30am and the 10k took off 10 minutes later.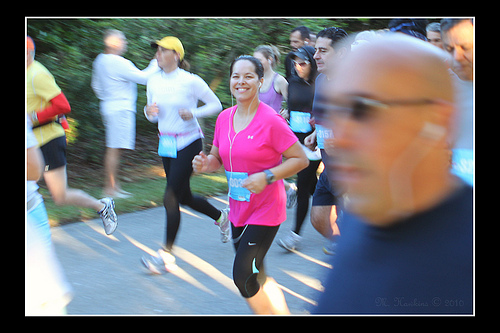 It took me only a handful of seconds to get to the start line, unlike at the Turkey Trot, and then off I went. I didn't really have a goal, I just wanted to finish and see if I did better on a flat course than at my previous 10k, the Key Largo Bridge Run. As I ran, I started warming up and then the temperature just got comfortable. It wasn't hot but it wasn't cold. It was just perfect. I tried really hard not to look at my Garmin but I'm a sucker, I looked….a lot. Surprisingly enough, there were not a lot of walkers, even on the 5k. I think I only passed a handful of walkers and they were walking single file all the way to the right of the course. There were also few strollers and they started at the back. That was nice.
I was running along and a girl in a black jogging suit caught up to me and we ran along side, ignoring each other, for a good while. Next thing I know there's a huge gap in front of me and a huge gap behind me. This girl and I were pretty much running alone, then I lost her. I closed the gap but I think it was because those in front of me were fading, I was running at the same pace. When I hit the 5k mark, I looked at my watch and realized I was run that part 2 minutes faster than my previous best 5k time, I ran in in 28 minutes and some. Sweet! At that point I thought I could actually break one hour for this thing and that's when I really set my goal. I was feeling great at that point so I was confident, perhaps foolishly so, that I would break the hour.
I picked the pace up but only very slightly as I still had 5k more to go. At this point I started passing people left and right, lots of them had passed me before but were clearly running faster than they could sustain. I just ran and ran. When I had about a mile and a half to go, I was feeling myself start to fade but I was still running alone. I passed some other people, mostly older runners. At this point it didn't even cross my mind that I had any chance to place. As a matter of fact, it never crossed my mind, not even as I crossed the finish line.
I slowed down a bit during mile 5, I was tired. I kept looking at my Garmin and thinking "Man, I can still break an hour but it will be close". As I turned the corner into venue and could see the building housing the finish line, I picked it up and ran, hoping to break the hour but not very hopeful at this point since I was cutting it VERY close. I turned the corner into the finish line and saw the clock said 1:00:02 or something like that. My first thought was "Dang, so close!", then I remembered that was gun time and not my actual time. I looked at my Garmin, it read 59:48 and I knew I'd make it. Next thing I know this woman in the black jogging suit ran right past me and crossed the finish line 2 seconds ahead of me. I crossed at 59:53 flat, only 7 seconds shy of the hour. It was close but I made it.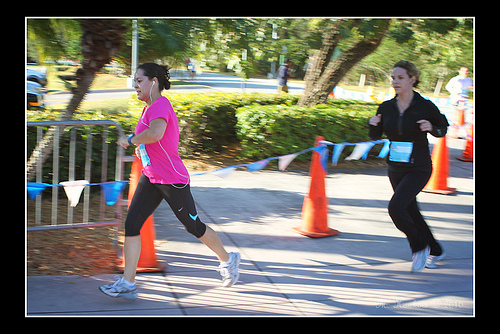 Said woman in black jogging suit. I wasn't nearly in as much pain as the picture suggests.
As soon as I started walking, I started dry heaving. I thought I was going to barf all over the finish chute. I walked away as fast as I could and looked for a trash can but there were people around all of them. Then I went to a flower bed but alas, I didn't puke. Excellent. This is when my husband found me and I could barely muster the words "I broke a freaking hour!" This is a huge accomplishment for me considering I'm a new runner and this was a personal best by almost 5 minutes.
I caught my breath but needed to sit so we found a chair. I drank a bottle of water and had half a banana then walked to the results wall to see the official number. I wasn't up yet but the first two women in my age group to finish were already listed. Their times indicated that I'd actually be in 3rd place. Holy crap! Could it really be? I mean, I'm freaking slow, it never crossed my mind that I'd come close to the front of the pack (for my age group) let alone place! I told my husband and he was excited but told me not to get my hopes up. We waited for the results to be updated and my heart sank to the bottom of my stomach and I saw I'd actually ended up in 4th place. Guess what, the woman in the black jogging suit beat me by 13 seconds! Even if she hadn't passed my and crossed the finish line 2 seconds ahead of me, she would have still beaten me by 11 seconds. She crossed the start line 11 seconds after I did.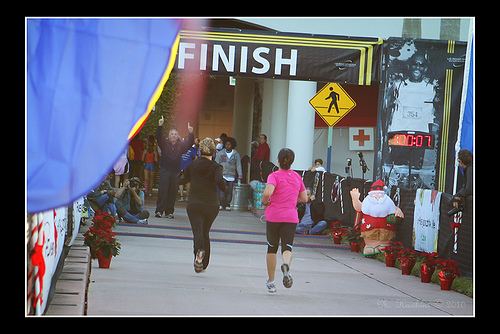 I was gutted. She must not have thought she won either (I mean, our times aren't exactly winners' times) because she didn't stick around for the awards, she's not on the age group podium pictures. I didn't actually know it was her until I looked up her bib number in the race photos (yes, I'm stalkerish like that, I wanted to see who beat me!) and then saw it was her in the pictures my husband took. Anyhow, good for her. I can't complain, I hit a PR for the 5k AND the 10k so it was a good day for me. That said, 4th place is the suckiest place.
This was a great race and I definitely plan to run it again next year.