Every once in a while I make a meal for the sake of eating something but not really expecting great things from it.  Every once in a while those meals, simple as they may be in preparation and ingredients, surpass all the expectations I never had.  This meal was one of them.
I had defrosted some ground beef with the intention of making enchiladas but then decided I didn't want enchiladas again and I wanted to try something else. I looked through some books and finally opened one I had not opened very often before.  The book had some pages doggie-eared and I opened it to the first one.  Kufta Mishwiya.  Bingo!  Of course, I needed a starch because that's how we roll so I looked in the same book for a rice recipe.  Rizz Mufalfal.  The name of the book is From the Lands of Figs and Olives and I've had it for a long time.  It is a book with traditional recipes from the Middle East and North Africa.  This is probably one of the first cookbooks I ever bought so I've had it for about 10 years or so.  I had not made anything from it yet and now I wonder what took me so long.
I haven't traveled much through the Middle East and North Africa. I've only been to Egypt, Tunisia and Bahrain but, for the most part, I have fond memories of the area.  Mostly about food but that's the case with most places I've been to.  I am a big carnivore so I'm always drawn to rotisseries, spits, etc.  When I was in Egypt someone I knew locally took me to a small hole in the wall type restaurant in the middle of a souq in an area of Cairo that tourists would probably never find on their own.  I had the best kufta of my life there.   This person, a Canadian living in Cairo and working for National Geographic, took me some other great places I'd never have found on my own but I digress.  I also had a lot of kufta on my own in the two weeks I was there.  So, when I think Middle Eastern food, I think kufta.
The kufta and the rice are very, very easy to make but man, do they taste good.  The process of almost frying the rice in butter before cooking it in the water makes this taste like no rice I've ever had.  It cooks up beautifully.  I added some yellow coloring just for kicks but it does not impact the taste at all.  The picky eater in the house, my husband, agrees with me in that this is seriously good stuff so I suppose I'll be making it again.
This isn't actually Egyptian style kufta, it's Syrian and Lebanese.  The recipes are adapted from the book.  Now that I look at them in the picture, they are not very good looking once cooked, they look rather hhmm….shady.  However, I can guarantee they do not taste like what they look like!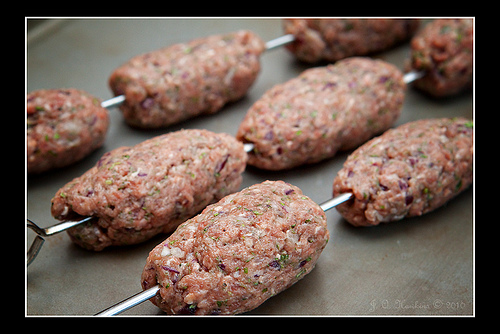 Kufta Mishwiya


1 lb beef (it does not have to be ground but it's fine if it is)
1 small onion
two handfuls fresh parsley
salt and pepper to taste
1/4 tsp cinnamon
pinch of ground allspice
pinch of ground cayenne pepper
4 tbsp butter if frying


In the bowl of a food processor, chop the onion and parsley.  Add the beef and the rest of the ingredients and process until it is all combined and looks like a paste.  Form the meat into cylinder shapes around a skewer.  If using wooden skewers, soak before using.


Broil in the oven or over charcoal or fry in a frying pan in heated butter, turning frequently to brown evenly. 


Serves 4
Rizz Mufalfal (Arabic Plain Rice)


1/4 cup butter
1 cup long grain rice
2 cups water
salt to taste
(yellow coloring if desired)


Place the butter in a saucepan with a lid and melt.  Add the rice and stir-fry on high heat for a few minutes.  Make sure not to burn the rice.  Add the water and salt and bring to a boil.  Reduce the heat to medium-low, cover and cook for 15 minutes or until the water has been absorbed.  Remove from the heat and allow the rice to finish cooking in its own steam, covered. for 5 minutes.


Serves 4