I wasn't sure what I was going to do during the race. I wanted to break 30 minutes but I wasn't going to go to hell and back for it.
A running friend and I started out together and ran together for about half a mile. At that point she started picking up the pace slowly and eventually left me in the dust, quite literally, it was unpaved. I lost sight of her and could only see her heading back after hairpin turns. We positioned ourselves well I would say. The mob started out big but eventually it evened out. I recall passing quite a few people and only being passed a couple of times. One of those times was by a man who I eventually passed when he started walking. I ran most of the race with no one behind me for a good distance, I was pretty much the last person in the front of the pack. That's pretty funny to me because I'm slower than molasses on a cold day and I'm usually in the middle of the pack.
The course was long by about 1/10 of a mile. Don't lecture me on how my Garmin is not accurate, etc, First of all, there were no tangents to run. The course was very narrow, it was so narrow at times that it was impossible to pass anyone without shoving them out of the way. Everyone's Garmin (at least everyone we talked to) measured the same distance, 3.20 – 3.23. This was not a certified course. It was definitely long. Not only long but it had an insane amount of turns and curves including some hairpin turns. There were also several different surfaces from grass to concrete to trails and everything in between. That was definitely interesting. The 1st over-all winner came in at 20:XX so that's an indication of the "difficulty" of this course as first over-all winners usually come in at least a couple of minutes before 20 minutes.
I started out too fast and then faded. I really should have started slower but I was feeling good. Ah well. I was beaten by a few seconds by a little kid. The shame! It was all gun time and it took me 8 seconds to cross the start line so my official time is 8 seconds slower than my Garmin time. After all was said and done, I placed 2nd in AG (yes, there were more than two of us!). Clearly, this race was just full of slow mo'fos like myself 😛 The girl that placed 3rd in my AG was over 5 minutes behind me. My official time was 29:48 and my Garmin time was 29:41.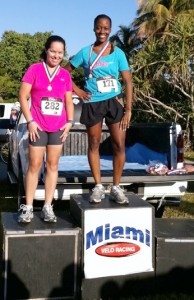 So not only did I finally break 30 minutes (even on a long course) but I got my first piece of Age Group hardware! Hopefully this is one of many!