A1A, Beachfront Avenue! Girls were hot, wearing Brooks and Mizuno… I had to (it's a spoof of Vanilla Ice's Ice Ice Baby, just in case you are not a dork like me).
I had been waiting to post about the race in hopes that the official photos would be posted but apparently it takes up to 4 days and I need to write while it's still fresh in my mind.
I suppose this picture is a spoiler!
The day started early. As a matter of fact, I got zero sleep the night before the race so it was a REALLY long day. I just lay in bed awake, tossing and turning. Part of it was nerves and part of it was the fact that I've been having trouble sleeping lately. I had set the alarm for 3am since I had to be out of the house by no later than 4 and I always take forever. Yesterday was no exception, I left JUST before 4 despite the fact that I had gathered everything, gotten it ready and laid it out the night before. I'm a woman, what can I say.
I got on my way hoping there would be no traffic near the race course because the race was supposed to start at 6am and it takes one hour with normal traffic to get there. I'd hate to think how long it would take in seriously heavy traffic. Thankfully, the route I took had no traffic at all. I drove to the finish line where I had purchased a VIP parking spot the day before. It wasn't much more than I'd have to pay at the meter anyway and the idea of not having to frantically look for a parking spot in the many local garages was really appealing. Anyhow, I parked with no problem whatsoever, braided my hair, got otherwise ready for the last time and went on the shuttle to the start line. There I met up with a local running friend, Damaris and we barely had time to use the potty before the race kicked off at 6am sharp.
I was freaking out, I won't lie! It wasn't hot yet but it was very humid and I knew it would be hot. The gun went off and off we went. It took me about 4 minutes to get to the start line and then I started running. Well, more like jogging, it was really crowded for the first couple of miles and then it slowly started to clear up as crowed spread along the course.
I was feeling pretty good during the first few miles. I was running slower than my expected pace but I figured I'd be able to kick it up in the latter half of the race (yeah, that worked out). Mile 3 had the only "hill" of the course, a smallish bridge. It wasn't fun going up the bridge but it wasn't terrible difficult, however, I was glad it was here and not at the end of the course.
At around mile 4 we took a turn to enter the park and at this point the runners leaving the park ran in the opposite direction. I thought that they were just a few minutes ahead of me but it would turn out they were actually VERY ahead of me as the park part of the course was actually fairly long. It had been dark until then, then the sun came up. The nice thing about running in the park was that the trees shaded the course and provided some much needed cooling. At some point around here I ran next to a lady who was just all smiles. I jokingly told her that she was way too smiley and she replied "I'm just happy to be running!". That put a smile on MY face, which I needed.
As I left the park and turned left onto A1A, it was obvious that from then on there would no shade and no cooling. I was still feeling alright and I was still hopeful I'd be able to kick up towards the end. Then reality kicked in. I just ran and ran and there were hordes of people running in the opposite direction, towards the finish. I kept wondering "How far ahead of me can they really be??" (far, is it turned out) and "Why the hell am I doing this???" and more importantly "Why the freak did I registered for another one of these in TWO weeks??" . The dang turn around point just seemed to never come. It finally came at around mile 9.5 and I seriously considered calling it quits then. At that point, I had already taken a couple walk breaks because I was getting really bad side stitches. I was well hydrated but the sun was really taking a toll on me. I'm soft, what can I say. Anyhow, I kept going, slowing down when I had to and took a couple more walk breaks of a few seconds when I got the side stitches again. Taking the first walk break is a double edged sword; once you resign yourself to taking it, the next few ones just come too easily.
Somewhere between mile 10 and 11 there was a beer station and many people were actually taking the cups. I didn't because I don't like beer but it sure made me chuckle. This part of the course completely unsheltered, parallel to the beach and the sun was completely out and with a vengeance. I figured I had made it this far and by golly I was going to finish come what may.
I hit mile 12 and I was off into uncharted territory. My training runs only went up to 12 miles so this was completely new to me. I actually started getting choked up almost to the point of being unable to breathe. Not because I was huffing and puffing but because I was holding back the tears. Tears of happiness, exhaustion and I don't know what else. I had 1.2 miles to go, I was REALLY going to do this. I tried to pick up my pace but I could not, I just didn't have it in me. Every time I decided to just go for it I ran out of steam. The last stretch of mile 13 and onwards was in the finish line area and I could see the chute. I hit mile 13 surrounded by race spectators, people having breakfast at the cafes, people just hanging out on the beach cheering the runners on.
At that point I knew that I could, if nothing else, take a shot a little sprint and so I did. I passed some people on the way and FINALLY crossed the finish mat. I thought I was going to burst into tears but I managed to regain my composure. I stopped my watch as I crossed the line but I thought I had only hit the lap button and hit the stop/start button again. This made the timer keep going and I didn't realize it until minutes later. My official time was 2:21:48. I'm happy with that time, as a matter of fact, I'm happy that I finished at all. In IDEAL conditions I should have run it in just over 2:10 but these were FAR from ideal conditions. By the time I finished running, before 8:30AM, the temperature was already well into the 70's and the humidity was still high.
I got my medal, drank some water, ate a banana and a bagel, had my picture taken at the sand sculpture and headed home completely satisfied with my performance and pretty damned proud of myself. I wasn't so much proud for having run a half marathon, I was proud but not quitting when I had wanted to so many times. I was proud that I stuck it out even though being sagged to the finish would have been way easier. But hey, then I wouldn't be a half marathoner!
My quads are sore today although not excruciatingly so. Aside from that, I feel pretty good!
Here's the bling!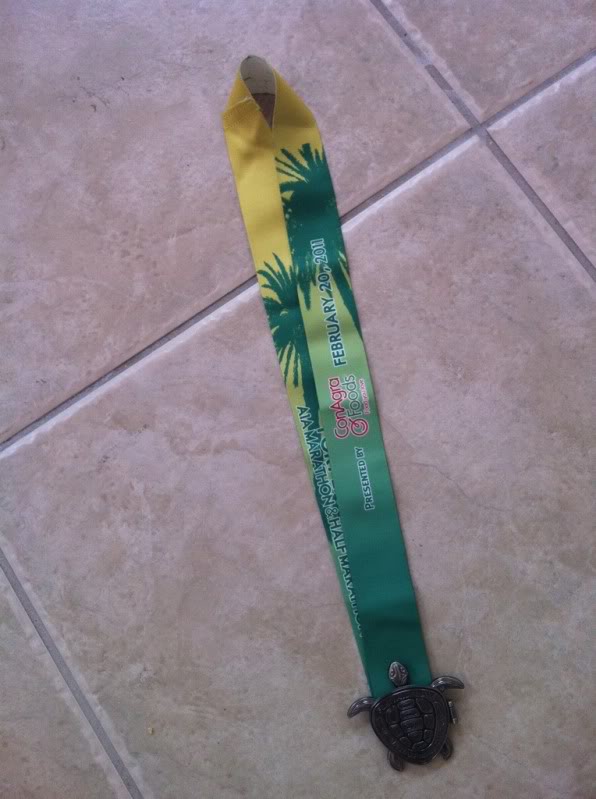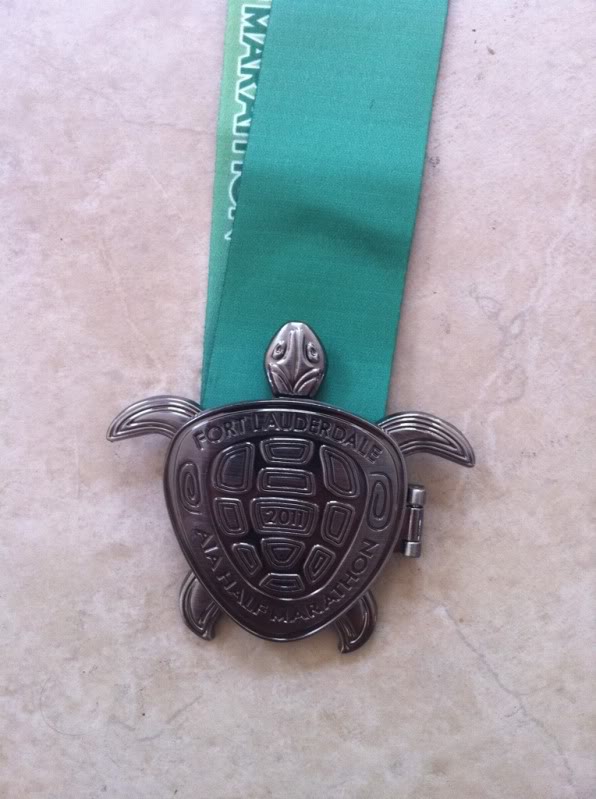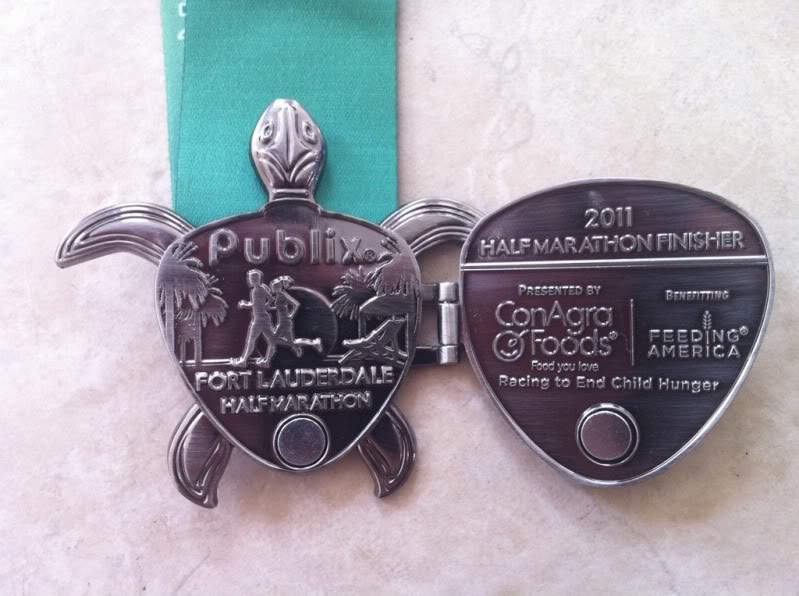 The Garmin data if anyone is interested. I got confused by the full marathon mile markers once or twice and hit the lap button when I shouldn't have, hence the crazy laps.