It's been nearly a month since I posted last and it's been a month since the new semester started. Coincidence? Not. This, my friends, is what I've been up to: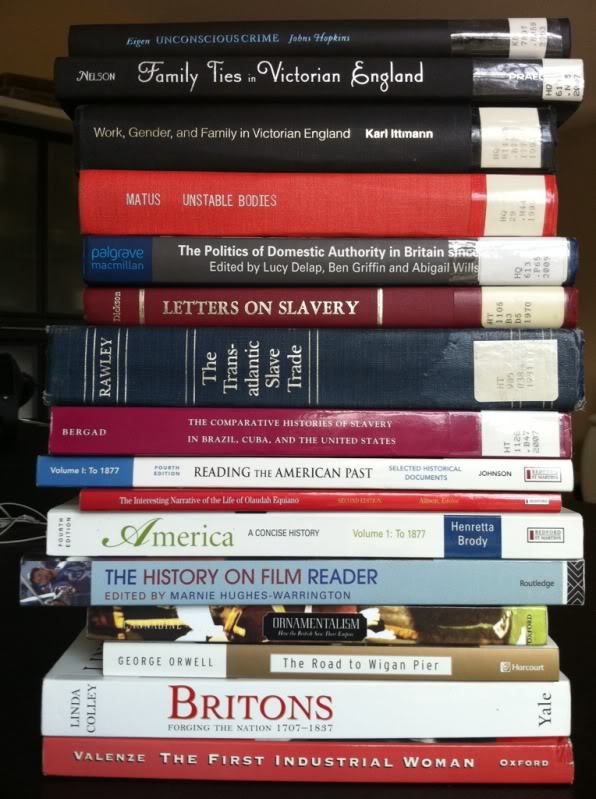 That pile does not even include articles, handouts, online resources, movies, etc that I have also been reading and watching. It is also "only" one semester of three classes' worth. The bottom eight books are required readings for the classes and the rest are for research. Why would an engineering major need to read so many history books? Well, they don't. Huh? That's right, I never actually talked about the change in majors.
Last semester was the hardest semester so far for me. It was also my first (and ONLY) semester as a science major. I went from a highest honors graduate, alumna of a national honor society, excellent student (if I may toot my own horn) to a lousy student who couldn't concentrate during lectures, couldn't retain any information, couldn't bring herself to pick up a book and study, etc. I hated all my classes, I hated the subject, hated not being able to absorb any of the material due to sheer lack of interest and hated not doing well or even mediocre. Of course, you can't do well if you can't even sit in lecture for five minutes without your mind wandering off who knows where. So, in a nutshell, as much as I like to read science and about science, turns out science is not a good career choice for me.
This wasn't one of my best times, to be sure. The disappointment and failures in my academic life trickled down into my personal life and I was miserable. I even considered not going back this semester. However, I have too much time involved in this to just quit altogether. So, after much, much, much debate and soul searching, to put it in a cheesy way, I decided to simply change majors. I had gone into being an engineering major for the wrong reasons. I went into it because it would actually make me a decent living. The caveat, however, is that I'd actually have to get the degree to make said living. If I didn't like it as a student, how would I like it in practice? If I was going to make it through the rest of the time left to complete my degree, I had to choose something I liked, something I'd enjoy studying. I needed to go into it for the right reasons and if that meant I'd have to do something totally unrelated after graduation, at least I wouldn't have been miserable as a student.
The result was the decision to go into something I have always enjoyed, the one subject I always said I'd get a degree in if money wasn't a problem. I changed my major to history. We are only 4 weeks into the semester but I can honestly say that, so far, I have no regrets whatsoever. I ENJOY going to class, I enjoy the lectures, I enjoy doing the reading, I enjoy doing the research, etc. Simply put, I enjoy studying something I enjoy. While I am a bit overwhelmed about the sheer amount of reading, I actually find myself excited about doing the research for the papers. As you can see from the picture, the reading is not light, it's actually quite substantial but I am actually doing it. You can be sure that if it was engineering or science major related, I'd be nearly ready to jump off a bridge. Looking back at my college history, the classes I always did worse in (although not bad, just not as good as the others) were the sciences. My best classes were always the humanities and social sciences. Why did I not think of that before? I really thought I'd be able to get through an engineering degree and I would have been able to had I had any real interest in it. So, while I may not leave college a biomedical engineer, I sure as heck will leave well read!
Lesson learned: In college, study what you love. Don't think about as preparing you for a living, think about it as preparing you for a life. Then hope you don't end up flipping burgers.