Last weekend, after not having done any block workouts in preparation, I completed my first duathlon. I had to get up VERY early to be in Pembroke Pines at 6:00AM or so (the drive is about 45 minutes). I got there with plenty of time to pick up the packet, get body marked, set up my transition area, etc. Then I met up with my boss, who was also there but doing the triathlon. His bike is nice. I have bike envy. Must…get…a…tri….bike….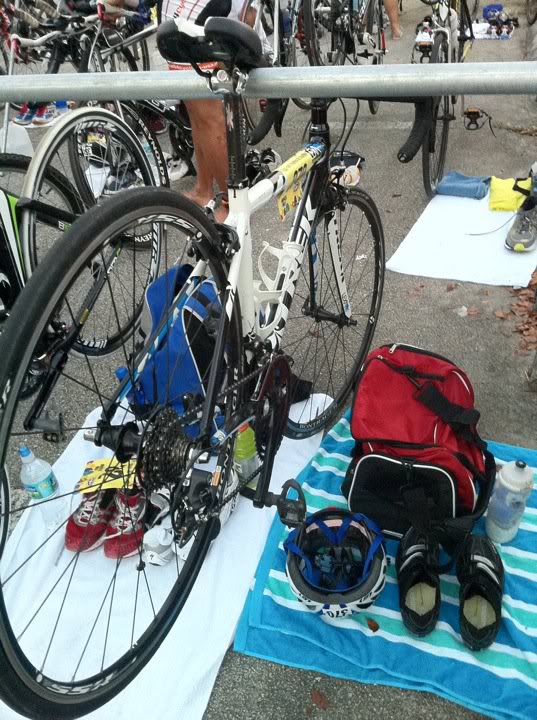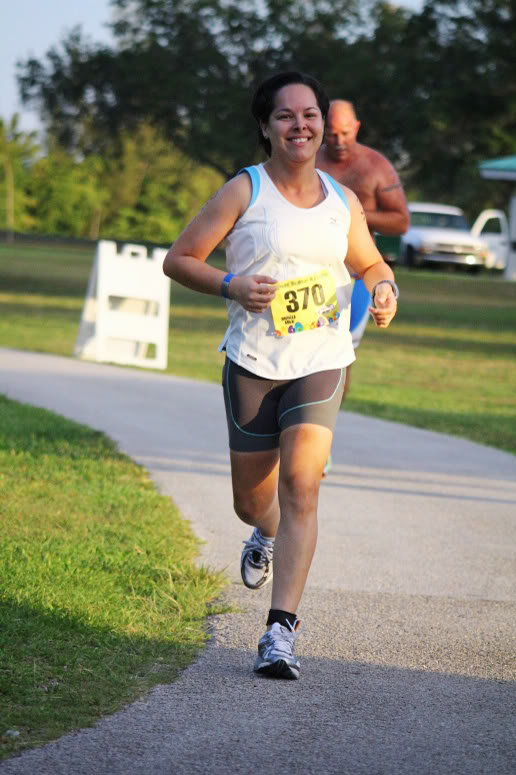 The race kicked off at 7am but the duathlon wave started at 7:15am. There weren't many duathletes, 108 or so, so the field wasn't crowded. Good thing because the run is on a very narrow path. As soon as I took off, I knew I was in trouble. Life has been busy lately and I haven't been running much. The week of the race I didn't run at all. I got tired right away and I didn't think I'd make it. However, I manged to run the first run well, 1.5 miles, and turns out I was tired because I was running faster than I ever have. I completed the first run in just over 13 minutes, which is about 8:49 minutes per mile. No wonder I thought I was going to die. That is slow for many but freaking fast for me. I finished 3rd in my age group for that leg.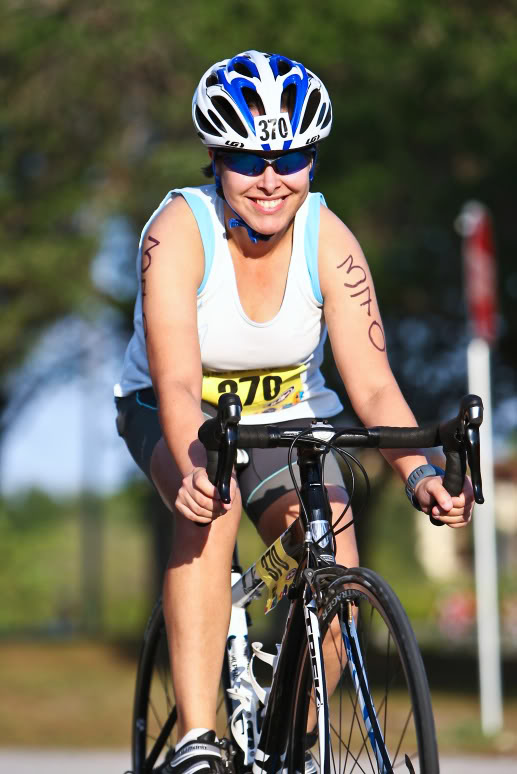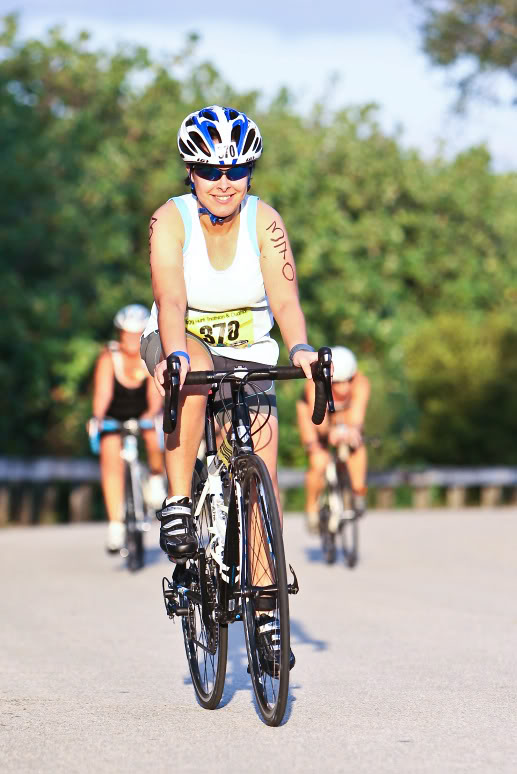 Then I went into transition and sat down while changing my shoes from running shoes to cycling shoes. I sat down because the run had almost killed me and I wasn't in it to race, just to complete. The bike leg wasn't very hard but I did give it everything I had. So much so that my tank was nearly empty by the time I got to the second run. THAT run was HARD. The bike leg had completely taken it out of me so I walked a lot in that second "run". It took me 4 minutes longer to finish the second run than it did the first, and the distance was the same. However, my bike leg was the fastest in my age group! I finished first there. In the second run, even with all the walking, I finished 4th in my age group (out of 8). Of course, I didn't find any of this out until after I got home.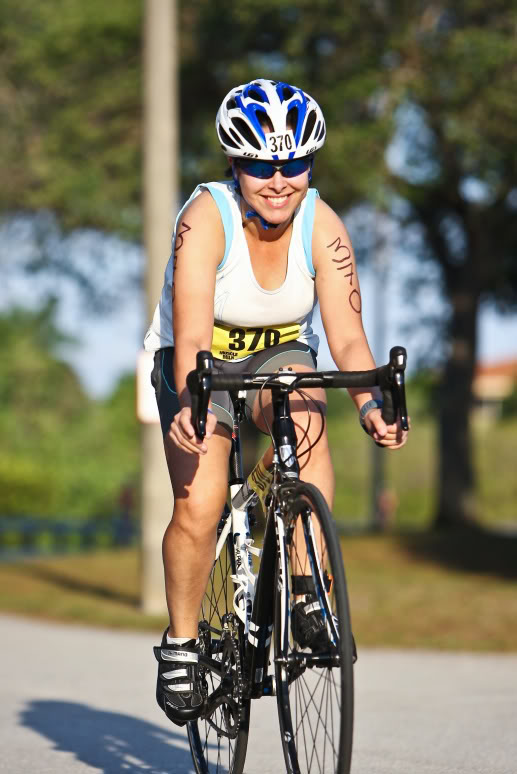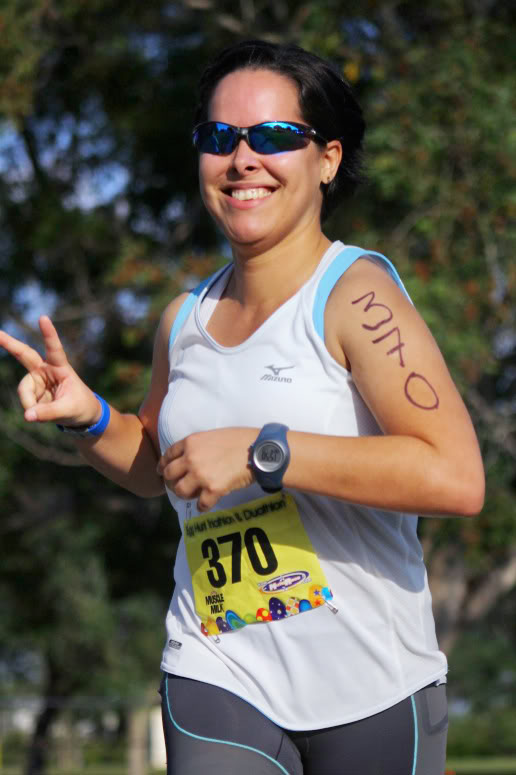 After I crossed the finish line, I down a bottle of water in about 4 seconds….then proceeded to run to the bathroom and puke. That's how you know you gave it all! My boss showed me how I could get my times before I left so we walked up to the race director's booth. I was given a little print out with my times, which I thought were good, especially the first run. I was very happy about that run's time. Then we went to see the list of winners/placers just for kicks. I told my boss "hey, it's not like I'll have placed!" MUCH to my surprise, I'd actually placed 3rd in my age group! He placed 4th in his although his times were MUCH faster than mine. I stuck around for award ceremony only to find out that the race director had actually forgotten to bring all the medals and only the 1st and 2nd place in each category would get them there, the rest would be mailed. So I'm still waiting for my medal to arrive. Not bad for my first duathlon! And by the way…as far as USA Triathlon is concerned, I am in the 30-34 age group. The age they use is the age the athlete will be on December 31st of the year of the race. Guess what….I'll be 30 very soon. WAHHHHH…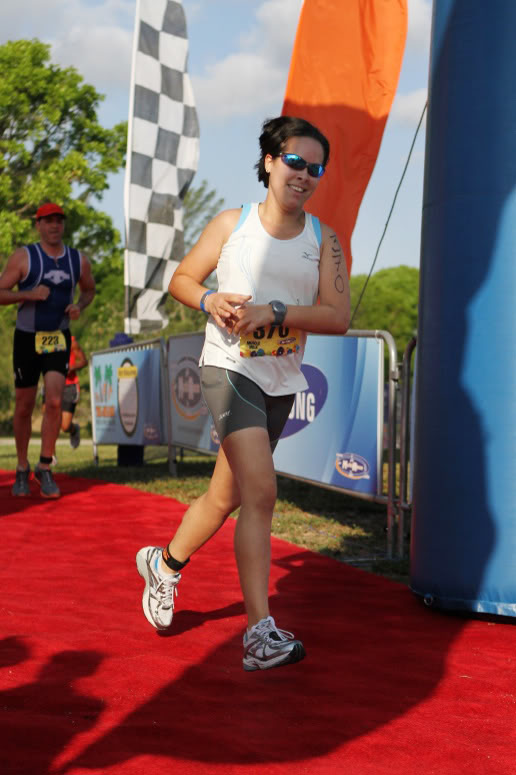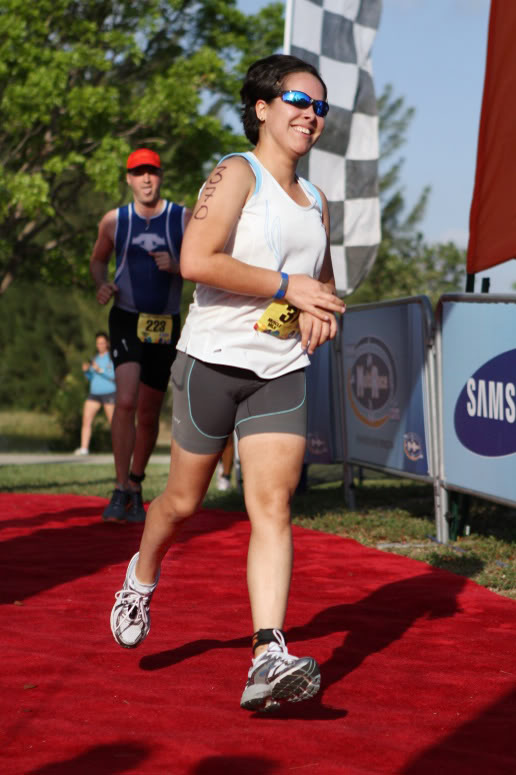 Lessons learned….TAKE WATER ON THE BIKE EVEN IF IT MEANS ADDED WEIGHT. I was SOOOO thirsty and I REALLY wished I'd have thought of taking water. Also, don't give the bike everything because there's still a run left after that! Overall, I'm pretty happy with the results. Here's the complete timing info (T1 is run to bike transition, T2 is bike to run transition):
Overall Details
Time01:14:58.34
Category Place3 of 8
Overall Place68 of 108
Gender Place26 of 54
Category Percentile+71
Overall Percentile+37
Gender Percentile+53
Swim/Run0:13:14
T11:42
Bike0:40:23
T21:54
Run0:17:45
Swim/Run Split Details
Time0:13:14
Pace0:08:49 min/mile
Category Place4 of 8
Overall Place70 of 108
Gender Place28 of 54
Category Percentile+57
Overall Percentile+36
Gender Percentile+49
T1 Details
Time1:42
Category Place4 of 8
Overall Place87 of 108
Gender Place41 of 54
Category Percentile+57
Overall Percentile+20
Gender Percentile+25
Bike Split Details
Time0:40:23
Speed16.34 mph
Category Place1 of 8
Overall Place56 of 108
Gender Place19 of 54
Category Percentile+100
Overall Percentile+49
Gender Percentile+66
T2 Details
Time1:54
Category Place6 of 8
Overall Place94 of 108
Gender Place45 of 54
Category Percentile+29
Overall Percentile+13
Gender Percentile+17
Run Split Details
Time0:17:45
Pace11:50 min/mile
Category Place4 of 8
Overall Place82 of 108
Gender Place38 of 54
Category Percentile+57
Overall Percentile+24
Gender Percentile+30