Short version: I did my first trail race on Sunday. Came in 10th out of 46 women at 56:57, less than 10 minutes behind the female winner. Missed the turn for the 5k finish, lost some time, puked, got hooked on trail running and can't wait for the next race.
Long version:
I did my very first trail race, and trail run for that matter, this past Sunday. I saw this company, down 2 earth, a while back online and I thought "Oh, I'd love to do one of those trail races!" but never gave it much thought. Earlier this month I finally signed up because my friend Damaris was doing it. She had registered for the half marathon though, not the 5k. I was too apprehensive to register for a half marathon on a surface I had never really ran on before. Even the morning of the race she was dropping hints that I should change to the half marathon but I didn't. Boy, am I glad I didn't!
I got to the site and I hadn't stepped out of my car when I was already being devoured by insects. They weren't mosquitoes, just tiny little who knows what suckers. Thankfully I had brought bug spray anticipating this, after all, it was a run in the woods in the summer in Florida. I pretty much bathed in the stuff and the insects left me alone the rest of the time. It was a very small race, as these things go, with no chip timing, only gun time and they call your number as you cross the finish line while someone writes it down along with your time. Old school.
There were three distances, HM, 10k and 5k and each distance has its own heat/wave start. The first one was the HM and off Damaris went. The 5k was last. I started relatively slow, doing not much over 10 minute miles. I honestly had absolutely no idea what I was up against so I had to take it slow or risk burning out too soon. Almost as soon as we ran into the woods, the proverbial shit hit the fan. This was not a dinky, hard-packed gravel trail with ample room and no roots. Oh, no! This was a narrow trail with room for only one abreast for most of it. There was a clear path but clear only in the sense that it was marked and had no grass/underbrush. There were roots everywhere, uneven surface requiring to either jump up or down them, mud, and we even had to cross a creek by walking over two logs turned on the sides. One slip of a foot and won into the nasty creek water you went. Fun, really!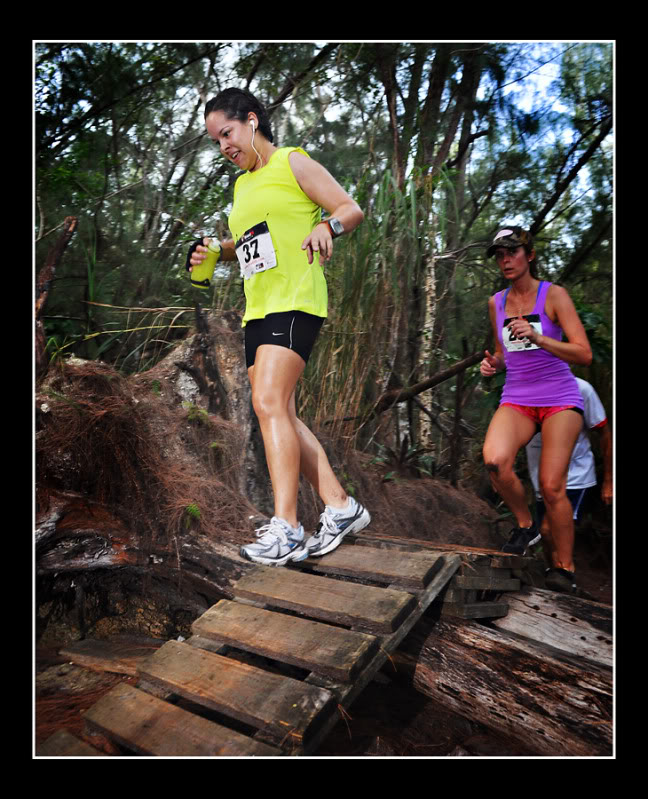 I'm the (literally!) hot one in green. I look like I was dunked in water. It was sweat and bug spray.
There were other pictures of me taken but for whatever reason the photographer didn't upload them.
I did the post processing.
I was at the front of the pack for the 5k for a while but eventually we caught up to the slower 10k and HM runners, and mixed up with them. This made it impossibly to know where you stood as far as placing but that was OK, I wasn't in it to race, only to have fun and see how it went. I ran mostly but there were parts where you just had to walk and other parts when you'd get stuck behind a line of slower runners or walkers and you simply couldn't pass them. I took those opportunities to walk too :P. It was really exhausting!
There were no mile markers, which, as a road runner, I"m used to, so my only way of know how far I had run was by looking at my watch. GPS watchers are not 100% accurate in the open areas and they are probably even less accurate in the woods but it was a good approximation. It just felt like the course went on forever. When I watch said I had 2.5 miles, I felt was the was finally too far away. With about .25 to go before reaching the 5k point, I picked up the pace as much as I could given the terrain was the most uneven of the course. I ran and ran thinking "The finish line will become visible any time now!" But it didn't it turned out that, as is common with trail races (or so I hear), the course was long and I ran 6k, not 5k.
Picking up the pace to soon before finishing really took it all out of me. At one point I had to stop and lean against a tree because I thought I was going to pass out. Then I came to a clearing where they had water. Once I had water, I started running again but ran past the 5k turning point and into the second loop, towards the 10k and the HM. I turned around when I realized this but could not, for the life of me, figure out where the heck to go for the 5k finish! I asked one of the volunteer and she said "Just down the hill!" yeah, but where the heck is the freaking hill? It wasn't very well marked and some of us were running around like chickens with our heads cut off. I FINALLY figured out where to go but I had already lost about 4 minutes in this shenanigan. The finish line finally appeared and I kept thinking "I hope I make, damn it I'm going die!" Then I ran right past the finish line as I heard my number and time being called (56:57) and right into the woods on the other side and proceeded to puke my guts out…through my nose. After I wiped my face and drank some water, I looked at the schedule to see when the next trail race was; I can't wait to do that again! Minus the puking hopefully. I'm glad I did not switch to the half marathon because there was no way I could have finished even 10k.
Despite everything, that was the most fun I have ever had racing. Really, really fun. Challenging, very challenging, but very fun and I honestly can't wait to do it again. Now that I know the course and know what to expect, I can plan better and pace myself better (and hopefully do better). Turns out I did pretty well for my first trail race. The winner female (no age groups, only gender) came in at 47:04 and I came in 10th out of 46 in 56:57. Would have been much faster had I not missed the stupid turn for the 5k finish. I'm pretty pleased with my time, my calves were only mildly sore the day after and I'm absolutely hooked on trail running. Too bad trails are pretty much nonexistent down here.
July 31st is the next race….and I'll be there!
This company also does off-road triathlons and duathlons. I thought about doing one but mountain biking scares me.