I wasn't going to blog about this last race because, well, it sucked, but I guess not all races can be good and you can learn even from the sucky races.
The race was the first round of the Mack Cycle Triathlon/Duathlon Trilogy in Key Biscayne. First of all, these races are in the middle of the summer and the weather sucks. The day of the race was hot and humid but at least it was overcast so there was no sun beating down on us. The duathlon wave was supposed to start at 7:15am but for whatever reason it got delayed and we didn't start until 7:25am or so. Fine, what difference does 10 minutes make? Not much.
There were only 90 duathletes so it was a pretty small start and first run. I lined up at the front because I'm optimistic like that and started out WAY, WAAAAY too fast. I just took off with the front of the pack runners and went for it. As soon as I started I knew it was going to be a bitch because it was so stuffy I could hardly breathe. I kept going and less than a quarter mile into the run (it was a 1 mile split) I thought I was going to collapse, then I looked at my watch and saw I was going at a 6 minute mile pace. No freaking wonder I thought I was going to die! As per the watch, I peaked at 5:02 minute miles. I slowed way down and finished the first split in 9:23, which is much, much slower than my pace for the previous duathlon, which was actually 8:45 minute mile pace. Of course, that other race had more agreeable weather and I did not start as fast. Run 1 Garmin information.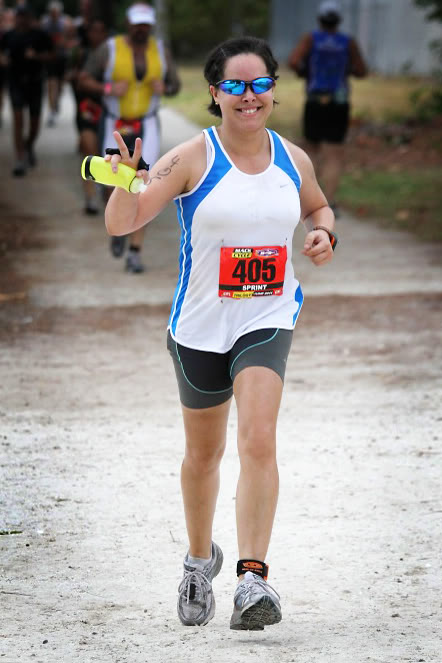 Transition went OK, I really haven't worked on speeding it up mostly because all I really have to do is change my shoes and put my helmet on or take it off. I got on my bike and felt good. Even after going up the Rickenbacker bridge twice, I still felt good. Going down that bridge is the best feeling in the world; just tuck in as compact as you can, hold on to the handles and coast. I peaked at 31mph going down the second time. Again, I was feeling good, I was doing a pretty decent-for-me speed and was still holding back a bit because I know there was a 5k to be run afterwards. Thirty minutes into the bike split, with only 3 miles to go….bam! I got a flat. I don't recall running over anything, all I remember is hearing the hissing sound from by rear tire losing the air. This was really annoying because the Sunday before I had gone to Key Biscayne to train and get what…I got a flat! I've only had 4 flats while riding, and 50% of them have been in Key Biscayne, where I've only ridden 3 times. Key Biscayne is curse for me, I tell you.
I pulled over to change the tube. Changing the tube was actually fairly quick for someone who hasn't had a whole lot of practice. However, putting the freaking wheel back on was a freaking mission! I was about to pick up the stupid bike fling it into the bushes. After 15 minutes I FINALLY got the freaking thing back together. At that point, I was really, really, REALLY tempted to get a SAG ride back to transition, pack up and call it a day. I had lost so much time that I didn't really think it was worth it. I decided that I really did not want a DNF (did not finish) next to my name so I just set out again on the bike with the intention to just take it really easy, just to finish. Bike Garmin information.
At this point, the tire changing operation had zapped all the energy and the motivation out of me. I rode easy back to transition, which was great because it gave me a change to practice taking my shoes off while still on the bike. I racked my bike, changed to my running shoes and started the last run split, 3.1 miles, easy. I'm so very glad I brought my handheld water bottle because there was ONE water station in the 3.1 mile course and it was hot as a Hades. I did actually attempt to run it easy at first but I was D.E.A.D so I ran/walked the whole course. This course, which is different from the previous years, was all trail and very narrow. A small section was paved, a small section was grass and a small section was wet sand. Good times. All in all, this was my slowest 5k ever, unsurprisingly. I did start running where spectators could see and through the chute, gotta keep up appearances! 😛 Run 2 Garmin information.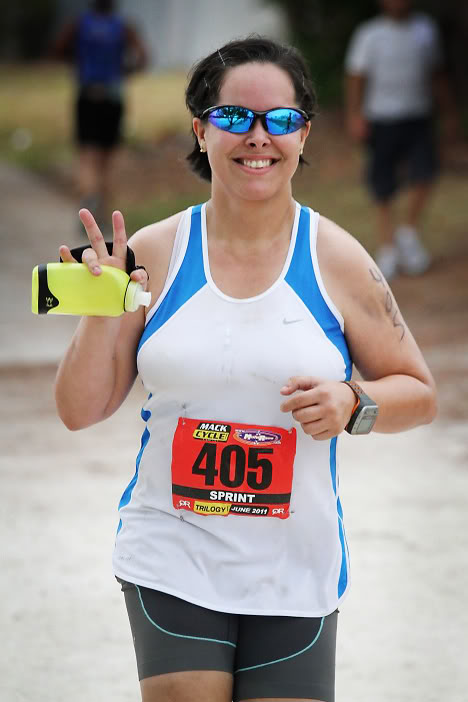 I felt like I had been dunked in hot soup. I was sweating so much that
my number, on my left arm, was starting to bleed.
Dirty shirt thanks to tube changing operation
Of course, there were only 3 of us in my Age Group so I still managed to win a medal. It wasn't even close though. The girl that won the Age Group came in just a few seconds over one hour, the girl that took second came in at 1 hour and 16 minutes and I came in at 1 hour and 43 minutes I think. I never stood a chance for 1st place but I'd like to think that, had I not had bike issues, I'd have come second, who knows. Also, I've talked to a few duathletes/triathletes right after the race and since then and it seems that most would call it quits if they got a flat during a sprint race. Shoot, I wish I'd known that then!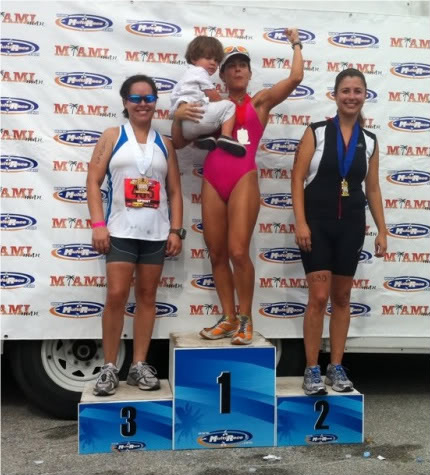 I wasn't going to stay for the awards, after all, I did come last. However, they started as I
was packing up so I thought, "what the heck?" Next time I'm bringing my kid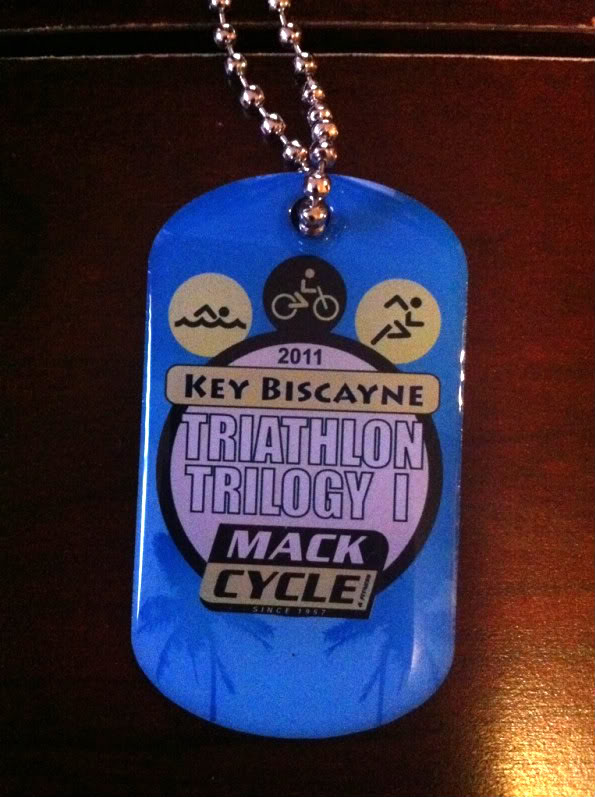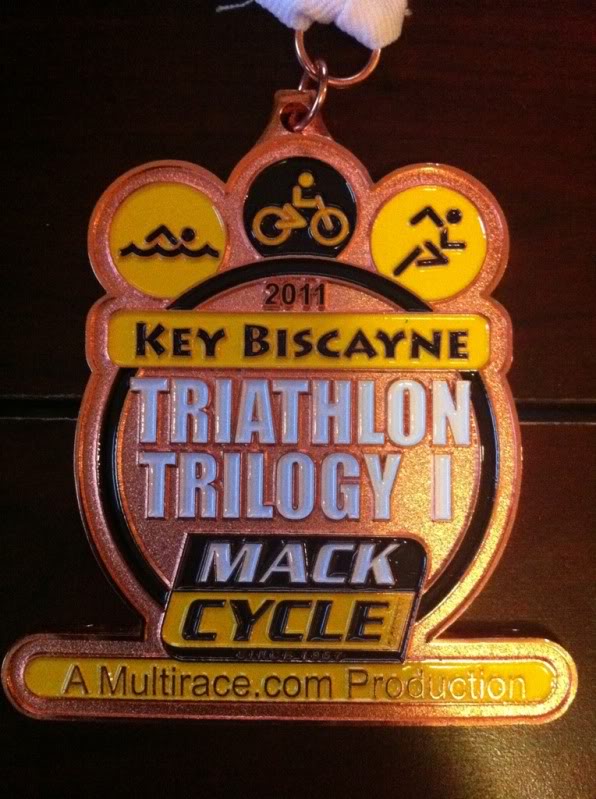 The next race in the series is July 17th, just 3 days before my birthday. I can't imagine the weather is going to be any better but I'll hopefully not get a flat tire.
On an not so unrelated note, because of all the duahtlons and the ability to use the watch in the rain, I upgraded my Garmin 405cx to the 310xt. L.O.V.E I.T. I got it two days before the race and tested it out in the multisport mode to see how it works; like a dream, that's how it works! For the race itself I programed a multisport event and included transitions so all I have to do is press the lap button to move from one split to the next. So, press start to start the first run/swim, then lap to end that and go into transition 1, then lap again to end transition and start the next split and so on then stop to end the event. Just a single button! I had to go through several screens, not buttons, on the 405cx to change from one sport to the other and, because it is not a multisport watch, it did not include transition times. The watch is pretty big but it's not cumbersome; the 405cx is marginally more comfortable on my small(ish) wrists but the 310xt is not by any means uncomfortable. I've been using it in training and I love that for the run-bike or bike-run bricks I can just push a button and change sports. I'm very pleased with it so far.